In May 2022, Binance Labs officially launched its Incubation Season 4 program to support promising projects in the blockchain space. With over 500 projects participating, Binance Labs has selected 14 standout and highly potential projects, including Playbux which is a shop-to-earn platform integrated with metaverse, focusing primarily on consumer experience. This platform serves as a stepping stone to bring web2 users closer to the web3 world through the combination of e-commerce and metaverse. To understand more about Playbux, please refer to the analysis below.
What is Playbux?
Playbux is focused on enhancing user experience and aims to facilitate trading of goods and services while providing cashback rewards through the creation and development of a metaverse. This platform is dedicated to providing an easy access to the world of web3 for users.
Upon joining Playbux's metaverse, users will be granted the ability to generate personalized NFTs and establish unique nametags to represent themselves within the realm of Playbux.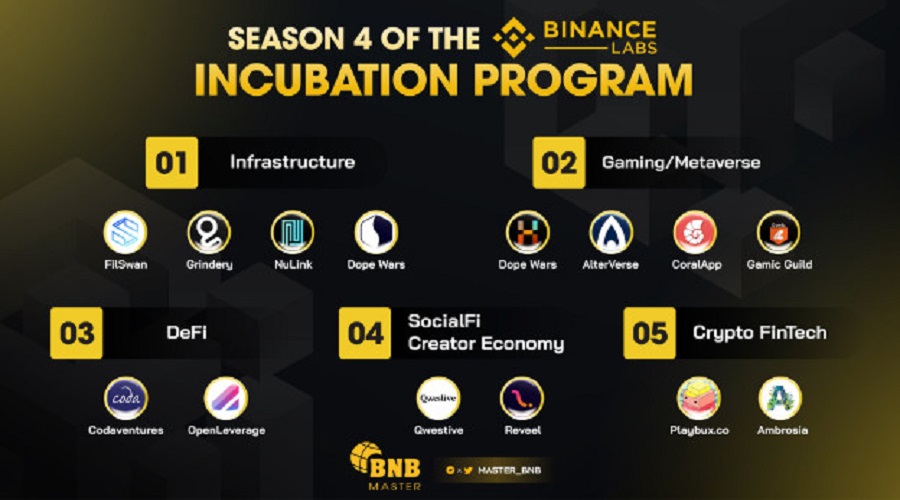 Playbux project details
Currently, the Playbux NFT is listed on both Opensea and Tofu Marketplace, and it currently ranks first in terms of transaction volume on Opensea (at the time of writing).
The project will launch its Pre-Alpha version on February 15th, 2023 and conclude on June 30th, 2023. To commemorate the Pre-Alpha launch, the program offers an Airdrop campaign with a total prize pool of 1.8M PBUX, offering 30,000 PBUX daily, with the largest prize value up to 10,000 BUSD. If you are interested in participating, please follow the program guidelines and requirements to join.
Step 1: Check in to get BRK every day (or buy Playbux Pass or Playbux Premium Pass to get more BRK).
Step 2: Join Claw Machine to exchange Playbux NFT (1 BRK ~ 1 turn) or buy NFT directly on marketplaces (Opensea or Tofu).
Step 3: Retweet and tag your friends
Step 4: Stamp NFT
On a daily basis, users will receive a certain amount of points and tokens based on the rank of their held NFTs. The quantity of tokens may decrease if there is an increase in the number of individuals participating in stamping on that day.
Moreover, users can participate in the Shop-to-earn feature to receive cashback credit on a daily basis. The top 100 individuals who accumulate the highest amount of cashback credit throughout the event will be awarded a free NFT.
Playbux products
Game Center
Users can interact with Playbux's Metaverse environment and participate in various games to have the opportunity to receive NFTs.
Shop-to-earn
The platform enables users to purchase physical goods in the real world and receive codes, which can be used to exchange for metaverse items or PBUX tokens within the metaverse. To date, Playbux's shop-to-earn platform has integrated over 20,000 stores and e-commerce websites worldwide. This feature provides an efficient way for users to earn PBUX tokens and utilize them for metaverse transactions. The platform exemplifies Playbux's dedication to creating a streamlined, user-friendly experience for its community while offering practical and innovative solutions for its customers.
Investor/Partner
Playbux has successfully raised more than $2 million in funding from notable institutions including Binance Labs, Tron, Gate.io, Ankr, Lingfeng Capital, CertiK, Math Wallet, IMO Ventures, and Old Fashion Research.
The development and sponsorship of Playbux are under the management of myCashback, a company that operates cashback solutions for major Telco companies and e-wallets with a user-base exceeding $50 million worldwide.
Tokenomics
Currently, Playbux has 2 types of tokens:
$PBUX: governance token
$BRK (Brisk): in-game token
Token information
Token symbol: $PBUX
Total supply: 400,000,000
Development roadmap
The project is currently in the Pre-alpha stage.
Q2/2023
Open for sale NFT Mystery Box
Integrating Playbux NFT into Metaverse
Launching Alpha Launch
Q3/2023
Integrating multi-chain into metaverse
Launching Open Beta
Q4/2023
Open token sale $PBUX
List of tokens on exchanges
Introducing Playbux's metaverse system
Introducing the personal land system on metaverse
Q1/2024
Introducing the Playbux SDK
Conclude
Playbux is a promising project that offers a range of unique products and features. The project already launched its Pre-Alpha version on February 15th, 2023, and is set to conclude on June 30th, 2023. Notably, Playbux has secured investments from major blockchain industry players such as Binance Labs, Tron, Gate.io, Ankr, Lingfeng Capital, and CertiK. If the project continues to progress as planned and achieves its milestones, it has the potential to become a leading metaverse project.