Earning money through playing electronic games has been a longtime dream of every gamer, however, in the traditional industry, it is an achievement only attainable by professionals. In this guide, we will delve into the details of what Axie Infinity is, its background and provide a comprehensive walkthrough on how to play the game. We cordially invite you to refer to this guide for a better understanding.
What is game axie infinity?
Axie Infinity is an NFT (Non-Fungible Tokens) game that operates on a blockchain platform. Its gameplay is similar to the famous Pokémon game, enabling anyone to earn tokens by demonstrating skill and contributing to the ecosystem
The objective of the players is to gather, nurture, and train their Axie pets for battle against each other. This endeavor is aimed towards the establishment of a kingdom for these beloved pets.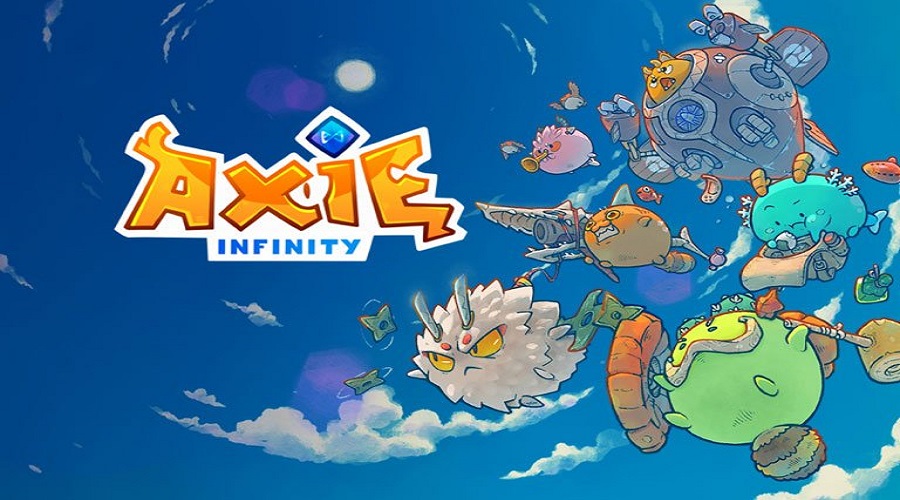 Axie Infinity possesses features of a social network and a job platform due to its strong community and opportunity to own AXS coin, a utility token of Axie Infinity, by participating in the game during its early stages.
Who developed Axie Infinity?
Axie Infinity, currently in development by Sky Mavis, a technology-focused game studio founded by CEO Nguyễn Thành Trung in early 2018, was shared by Theo in the developer's Whitepaper.
It has come to our attention that Axie Infinity currently employs approximately 40 full-time staff members and maintains its main headquarters in Ho Chi Minh City, Vietnam.
Apart from CEO Nguyen Thanh Trung, there are also Vietnamese individuals serving as CTO Viet Anh Ho, Tu Doan – Creative Director, and Game Designer of Axie Infinity. Speaking of CEO Nguyen Thanh Trung, he is the founder and former Chief Technology Officer of Lozi – a social network for sharing food places, before departing from the company in 2015.
Launch Axie Infinity's Project
Axie Infinity was launched in March 2018 and has received funding from notable investors such as Mark Cuban, Blocktower Capital, and Libertus. However, it was not until October 2020 that the AXS token gained attention in the cryptocurrency community when Binance conducted an initial exchange offering (IEO) for AXS on its Launchpad. Each winning ticket received approximately 2,000 AXS tokens at a price of $0.1 per token.
Just one year later, in October 2021, following the widespread success of the project and a significant surge in token prices, each ticket had an approximate value of $250,000, representing a remarkable increase of nearly 125,000% within a single year.
Before delving further into the game, it is essential to discuss the Ronin Network and its two associated tokens – Axie Infinity Shard (AXS) and Small Love Potion (SLP). The AXS token serves as the game's governing token, whilst SLP is necessary for breeding Axies, the creatures within the game.
What is Sidechain Ronin?
The Ví Ronin is a browser extension designed for Google Chrome and Firefox, serving as the digital wallet of Sky Mavis' Ronin sidechain. This extension has its counterpart application available for Android devices.
The Ronin system functions as an ecosystem within Axie Infinity that is connected to Ethereum along with its own separate smart contract. This provides users with the ability to transfer all game assets, including Axie creatures, land, and items on land, from the Ethereum blockchain to the Ronin blockchain.
One can install the Ronin wallet as a browser extension on Chrome or Firefox. Once installed, the wallet can be accessed on Chrome by clicking on the extension icon located on the top right corner and selecting Ronin.
Of particular note, it is recommended to enhance security by integrating Ronin with the hardware wallet Trezor.
Explanation of the SLP Token
The Small Love Potion (SLP) is a type of token awarded as a prize for winning battles in the game Axie. It can be utilized for breeding one's own Axie creatures and selling them at predetermined prices or through auctions on the Axie Infinity Marketplace. It is important to note that SLP tokens are not like AXS tokens as they do not have a restricted supply limit.
SLP has the capability of trading various token codes on Katana, a non-centralized trading platform on the Ronin network, introduced by Axie Infinity. The DEX is constructed to allow for anyone within the ecosystem to participate in the trading of in-game assets and various types of cryptocurrencies, such as wrapped Ether (wETH) and USD Coin (USDC).
Explanation of the AXS Token
AXS is an ERC-20 utility token within Axie Infinity, which is awarded to the top-performing players across all 19 seasons of the game as a reward. Due to its limited supply, many players opt to exchange their SLP for AXS. The consensus algorithm serves as proof of authority, and Sky Mavis is responsible for selecting the validators.
The owners of AXS hold the authority to administrate and exercise their voting rights, enabling them to submit governance proposals. Additionally, they possess the ability to stake their AXS tokens to earn rewards and gain access to various in-game features.
The Community Treasury is activated through AXS, which is responsible for receiving all the revenue generated by the game. Currently, there are only two sources contributing to the fund, namely 25% of the Axie Marketplace transactions and the AXS fee share from breeding. This comprehensive mechanism ensures transparent and organized revenue management for the game.
Once the network becomes sufficiently decentralized, those holding AXS tokens will ultimately manage the Treasury, allowing them to modify or implement new money-making strategies for the fund.
The distribution of AXS token codes has a limited supply that cannot exceed 270,000,000. The total supply of AXS token codes will be unlocked over 65 months. Below, we can observe the maximum AXS issuance level in the upcoming years.
Axie infinity land
Lunacia, also known as the Axie Universe, is an expansive open world that is entirely controlled by its players. It consists of numerous plots of land that have been divided into unique non-fungible tokens (NFTs) which can be purchased, leased, and developed by gamers.
Lunacia is a grid network measuring 301 × 301, where each square in the grid represents an encoded piece of land. Presently, the land game is under development, with players and investors able to upload and purchase genesis land plots. According to a report by CryptoPotato, one such plot of land sold for a record-breaking price of 2.3 million dollars in ETH, making it the highest amount ever paid for an initial real estate parcel in a marketplace.
Instructions on how to play Axie Infinity
Setting up MetaMask
One can gain access to Axie Infinity by setting up their MetaMask wallet and connecting it to Ronin. As explained by Vietnix earlier, Ronin is an Ethereum-based sidechain that can be downloaded as a Chrome/Firefox extension.
To obtain the Metamask extension for your preferred browser, please navigate to the website metamask.io and initiate the download process. Once installed, you will observe an orange-colored fox icon located on the upper right-hand corner of your browser as a confirmation of the successful installation.
In the event that you have never utilized MetaMask or any other digital wallet before, there are several factors that you should take into consideration. It is imperative that you exercise caution with possible fraudulent schemes and always ensure that you have thoroughly verified the URL of the correct website.
Upon registering with MetaMask on the platform and connecting one's MetaMask wallet, the initial step is to access the Axie Marketplace and select the Login button located at the top right corner.
You will be redirected to a login page where you will have the option to register with either MetaMask or with just your email and password. If you choose to register with MetaMask, simply click on it and a pop-up will appear. Connect your wallet and sign the request (this process is free of charge).
Once the necessary procedures have been completed, your account will be activated, however, it will require setting up by providing your email, username, password and subsequently verifying the account through a code sent to your email.
Download and set up Ronin
Your account is currently active, however, in order to play the game, it is necessary to download the iOS, Android, Mac, or Windows version.
Step 1: Go to axieinfinity.com and click on "Getting Started"
Step 2: Create your Ronin wallet and add it as a browser or mobile extension.
Step 3: Buy the first Axies and set up your team, which will be used throughout the game in Adventure and Arena modes. On the screen of the third step, you will see a link to the Axie Infinity Marketplace. Just Click on it.
Step 4: Go to "Marketplace" in the upper left.
Step 5: You will be redirected to the auction website. You can see all the Ax currently on sale here.
Step 6: Before you buy any Axies, you need to understand the basics of each pet.
To establish your own triangle of Axies, you are required to choose from nine different classes: Reptile, Plant, Dawn, Aquatic, Bird, Dusk, Beast and Bug. Each Axie has six distinct traits, and the accumulation of these traits results in a base score of four points. The maximum possible total score for any Axie that can be achieved is 165 points. The aforementioned statistics are imperative and should be taken into account when selecting your Axies.
HP (Health Points): Increases the health of your Axie.
Speed: Determines the speed of your Axie when it's time to attack and also affects the order of attacks, the fastest Axie is the first to attack in each round until it is defeated.
Skill: The more skillful your Axie, the more damage your Axie deals, it also creates an additional shield when you play cards in combos or in chains.
Morale: Increases your opponent's chance of dealing a critical hit, the damage of these critical hits, and the amount of bars in the Land Stand, a temporary lifeline extension.
Depending on the strength of your Axie's stamina, it can go into Last Stand mode with 1 to 5 red bars displayed above when it reaches 0 HP. In Last Stand, you can utilize up to 3 defensive cards against your opponent if you have 3 red bars. However, despite executing these defensive moves, your Axie will still perish.
As depicted in the image above, Axie comprises six body parts, namely, mouth, eyes, back, tail, forehead, and ears. It is noteworthy that only four of these parts, namely, mouth, forehead, back, and tail, have a bearing on the outcome of the available cards, as explained on the right side of the illustration. This information is of paramount significance for players seeking optimal strategies in the game.
To effectively counter your opponent's attack, you may utilize and prepare these cards individually or in combination.
Gameplay of Axie Infinity
On the right side of the main menu, one can find the Adventure and Arena modes, the leaderboard, combat logs, friend lists, and various settings.
Now that you have acquired a fundamental understanding regarding the nature of Axies and their composition, you are fully prepared to download the game and commence your gameplay experience. This guide will feature the utilization of the PC version, delivered by Vietnix in an informative and formal manner.
Your name is displayed at the top left, next to your daily tasks and your available energy. Energy is a crucial resource in the game, as it allows you to participate in Adventures and Arena battles. It also enables you to earn experience points and rewards. The maximum amount of energy you can have depends on the number of Axies you own. Your energy is replenished daily at midnight according to UTC time.
Below, you will find information about your Axies. Here, you can view various statistics such as level, HP, speed, skills, morale, and other relevant features of your Axies.
The overall game comprises Adventure and Arena modes. In Adventure mode, players undertake missions to battle and defeat various monsters across 36 levels called Ruins, which earns them approximately 50 SLP per day.
One way to achieve SLP is through Farming, which essentially involves receiving rewards upon completing daily tasks, such as winning 10 battles in Adventure mode and winning 5 battles in Arena mode. It is possible to earn up to 25 SLP per day by successfully achieving these objectives.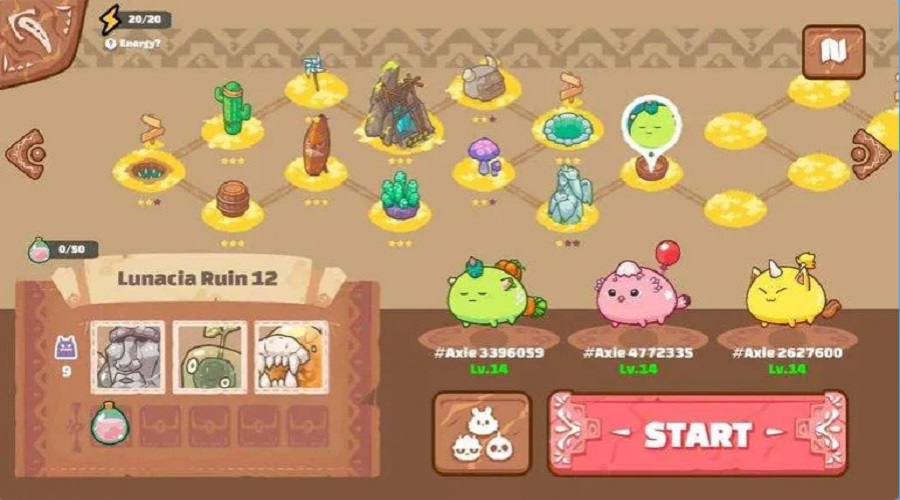 Both modes include opponents taking turns to plan and execute their attacks. Beneath you, there is a row of cards that you will use to perform a combo and strike your foe. Once you have arranged your deck of cards, click "End Turn" to launch your attack. There are a variety of strategies you can employ and various Axes to arrange within your grouping.
Upon completion of your daily tasks, it is possible to request the SLP entitlements that you have earned from completing quests within the appropriate section.
On the other hand, in the Arena mode, you are engaged in combat against other players' Axies, with each player receiving SLP based on their MMR (Matchmaking Rating).
Players with the highest MMR will receive a greater reduction of up to 21 SLP for each victory. To enter the Arena mode, please navigate to the main menu where you will be matched with an online player in order to commence the battle.
In the event of emerging victorious, one is poised to acquire between 15 to 20 accolades, while an equivalent sum of money shall be forfeited if defeated.
What is Breeding Axies and how can one monetize it?
An alternative way to earn money is through breeding Axies. Each creature has its unique characteristics to distinguish it from other species. Nevertheless, the breeding process is not without cost. Axie will charge you SLP and AXS fees, and the fees vary depending on the number of times the Axie has been bred, with a limit of seven times before it becomes unbreedable.
To determine the cost of breeding your own Axie, you may visit Axie.tech and select the quantity of breeding pairs to calculate the total expenses.
The value of Axies inevitably relies on their specific traits, such as purity, bodily components, and rarity. A number of Axies have been sold at prices ranging from thousands to tens of thousands of dollars. Notably, the highest-priced Axie sold for 300 ETH, equivalent to approximately $250,000 in October.
One can sell their Axie on the Axie Marketplace by first connecting their Ronin wallet to their account.
Conclude
The article has presented fundamental information about Axie Infinity and dispelled the truth about earning money on this platform. We hope that you found reading the articles on 247BTC informative and enjoyable. If you have any queries or concerns, please do not hesitate to leave a comment below. Thank you and may you achieve success in your future endeavors.