The Raca coin has garnered significant attention among investors, skyrocketing fivefold in November 2021. This unprecedented surge can be attributed to the Radio CACA (RACA) project, which has benefitted from the recent explosion of the NFT and metaverse trends, along with the added effect of Maye Musk. However, what exactly is RACA coin, and what does the Radio CACA project entail that has captured such immense interest? Let us delve into the intricacies of this topic in the forthcoming article
What is Radio Caca (RACA) coin?
Radio Caca coin serves as the exclusive management token for Maye Musk Mystery Box (MPB) NFT and Defi + GameFi. It is also utilized as a means of payment in The USM Metaverse, which is an advanced 3D Mapping MMO game project extensively researched by Tencent, the renowned game developer from China, over a two-year period.
USM employs a gaming style that is reminiscent of Final Fantasy XIV, a well-known RPG. On the other hand, MPB aims to compete directly with major NFT brands such as CryptoPunks, Hashmasks, and Bored Ape Yacht Club.
MPB, on the other hand, is established on the Binance Smart Chain (BSC) platform and is valued based on BNB. Furthermore, USM Metaverse is scheduled to launch a mini-game on BCS on September 3, 2021. This game operates on the Play To Earn model, and RACA coin will serve as the unit of currency, similar to AXS coin in Vietnam's AXIE Infinity game.
Things to know about Radio Caca (RACA)
The Radio Caca project is focused on the release, management, and support of various NFT services and products such as exchange platforms, games, and more. As of now, Radio Caca is the exclusive publisher and manager for Maye Musk Mystery Box (MPB) NFT, Metamoon game. And Universal Metaverse based on blockchain technology. In the future, the company plans to expand its scope and offer support and management for NFT products across multiple fields including music, art, and fashion.
Radio Caca is an official partner of Koda Inc. with the global ambassador being Maye Musk, who is the mother of billionaire Elon Musk. In addition, Radio Caca has formed partnerships with leading technology companies such as Google, Microsoft, Space X, and Tencent.
The official token of the Radio Caca project is RACA, which is developed on the BEP-20 standard of the Binance Smart Chain (BSC) network. RACA can be utilized for the trading of various NFTs such as MSP, Kiss-up Dog, Diamond Mystery Box Mix, pet animals, and other game items that are released by Radio Caca. Additionally, users can stake RACA to receive interest or NFTs in Metamon, USM, including various items or land pieces.
Highlights of Radio Caca project
I will provide a summary of projects that are part of the Radio Caca ecosystem or that are associated with it. These projects include:
The USM Metaverse
The USM Metaverse is a virtual reality universe built on the Binance Smart Chain utilizing blockchain technology. It is a 3D MMO game project that enables a vast number of players to participate simultaneously in a three-dimensional immersive role-playing space.
The virtual reality world in gaming enables players to create or participate in experiences that align with their personal preferences. USM will aggregate various types of NFTs, including those issued by Radio Caca, such as Maye Musk (MPB), and several other varieties.
The United States of Mars
The Metaverse community of USM provides individuals the freedom to explore and express themselves in an environment similar to that found on Mars. Players can expect to encounter opportunities to exercise their ability to make choices and demonstrate leadership skills.
Metamoon
GameFi is a Play-to-Earn game on BSC, classified under DeFi category, which is developed by the virtual reality project – The USM Metaverse. This game enables users to play and earn profits simultaneously, while also allowing for minting or trading of NFTs in the form of Metamoon Eggs. Within the Metamoon game, RACA Tokens play a role similar to "AXS" in the Axie Infinity game.
In essence, the RACA currency earned through battles can be utilized for leveling up, acquiring additional capabilities and strength, thereby increasing the chances of winning battles and earning more RACA. Such a play-to-earn and earn-to-play cycle is anticipated to effectively attract and retain a sizable player base, akin to the success found in Axie Infinity project.
Maye Musk Mystery Box (MPB)
MPB is a collection of enigmatic NFT boxes that belong exclusively to the "MUSK" brand, which is among the top four leading NFT brands. The number of MPB boxes available is limited to 6,000, which includes both Ethereum and BSC chains. Each MPB box has a unique number ranging from 0 to 5999, which will be used to select the lucky individual who will own the Tesla CyberTruck.
Furthermore, these boxes will be utilized to unlock parcels of land and obtain power within the virtual reality game "The United States of Mars" Metaverse – a partner of the project.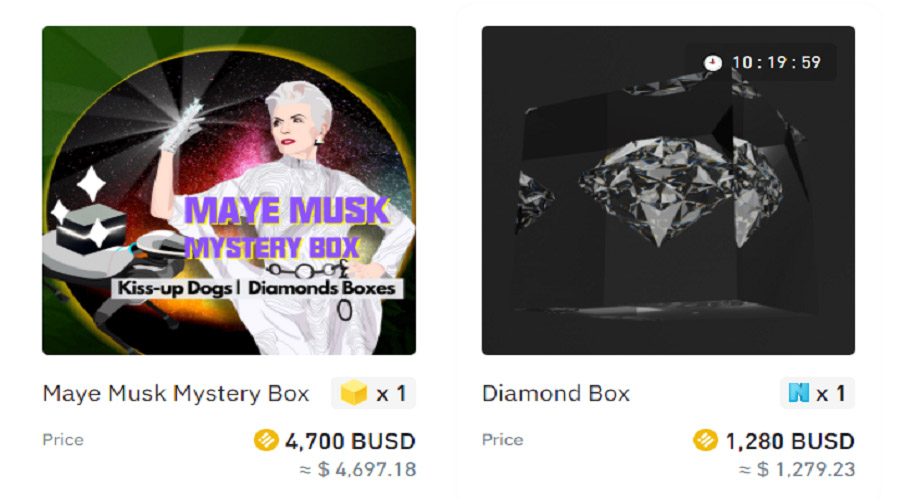 Tesla Cyber Truck Airdrop
Moreover, one cannot overlook the fact that Elon Musk collaborated with Radio Caca to conduct an airdrop campaign for RACA NFT holders who have faith in the project.
Holders of MPB NFTs will have an opportunity to receive 100 real-life CyberTruck vehicles, which will be exclusively allocated by Tesla in collaboration with Radio Caca NFT project.
It should be noted that in the year 2021, there will only be a total of five vehicles that will be distributed through an airdrop method, with one already being gifted to a lucky individual. This means that there are currently 99 units of the Tesla CyberTruck that are still scheduled to be distributed via airdrop. This marketing strategy implemented by Elon Musk is notably distinct and unique.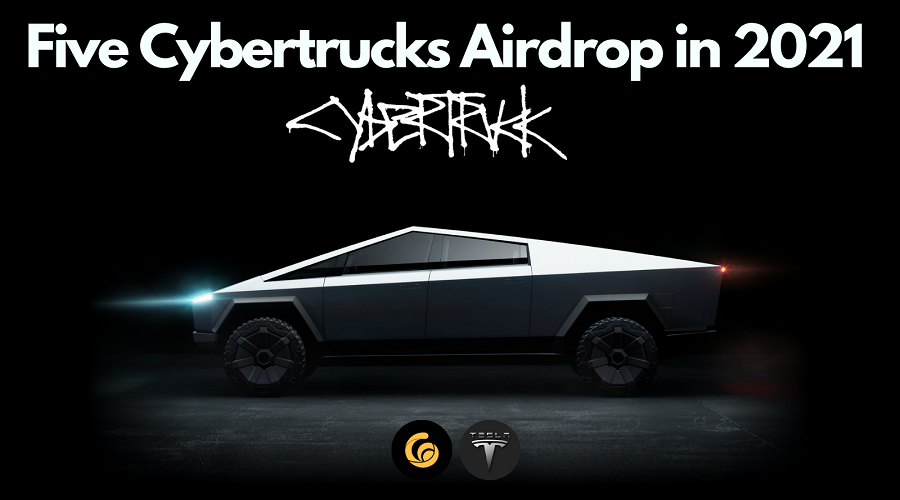 Detailed information about RACA Token
Radio Caca offers two versions of tokens – RACA V1, the initial version, and RACA V2, the current version. In the event that you have purchased RACA on BakerySwap, which is RACA V1, it is necessary to convert to RACA V2.
Key Metrics RACA
Basic information about Radio Caca:
Token Name: Radio Caca  V2.
Ticker: RACA
Blockchain: Binance Smart Chain.
Token Standard: BEP-20.
Contract: 0x12BB890508c125661E03b09EC06E404bc9289040
Token Type: Utility, Governance.
Total Supply: 500,000,000,000 RACA.
Circulating Supply: Updating…
RACA Token Allocation
A total of 500,000,000 RACA will be distributed as follows:
Initial liquidity bootstrapping (64%) + Burn (10%): 74%.
ECO partners (4%) + Future Investors (8%): 12%.
Marketing & operation: 6%.
Team & development: 6%.
Farm: 2%.
RACA Token Release Schedule
The schedule for paying RACA tokens will be as follows:
Initial Liquidity Bootstrapping: 64% – 320,000,000,000 RACA & will be announced later.
Initial Burn: 10% – 50,000,000,000 RACA & will be announced later.
ECO partners: 4% – 20,000,000,000 RACA & vesting schedule will be announced later.
Future Investors: 8% – 40.00,000,000 RACA & vesting within 3 years.
Marketing & Operation: 6% – 30,000,000,000 RACA & vesting within 3 years.
Team & Development: 6% – 30,000,000,000 RACA & vesting within 3 years.
Farm: 2% – 10,000,000,000 RACA & pay linearly within 1 year.
RACA Token Use Case
The specific utilities of RACA Tokens are as follows:
Metamoon Utility: Use RACA to power up, own, and buy in-game items.
USM Metaverse Governance & Utility: RACA will be used for governance (governance token) in USM Metaverse. In addition, staking RACA tokens to build and own more rare pieces of land and items in the virtual reality world.
Exclusive way to get MPB: RACA will be the only means to own Maye Musk Mystery Box.
The developmental trajectory of the Radio Caca project shall be presented in an informative and formal manner
2nd quarter of 2021
May 16, 2021: The RACA v1 project is launched.
May 18, 2021: The first version of the website launched.
May 20, 2021: Token is listed on MEXC Global exchange.
May 26, 2021: BakerySwap exchange listed NFT "The Dancing Koda".
June 2021: The project "Maye Musk Koda" is under the exclusive management of Radio Caca.
3rd quarter of 2021
01/07/2021: 1000 MPB NFT sold out.
07/2021: Radio Caca v2 version is released.
07/2021: Announcement of RACA token v2.
Aug 17, 2021: Metaverse discussion with CZ & Maye Musk published.
August 18, 2021: Deployment of RACA v2.
Aug 20, 2021: CoinGecko listed RACA tokens.
Aug 21, 2021: CoinMarketCap has listed RACA tokens.
With key projects, Radio Caca (RACA) also has the following specific roadmaps:
Game Metamon
October 12, 2021: Released Metamon Beta 2.0.
October 28, 2021: The Metamon 1.0 project is officially launched.
October 28, 2021: The Metamon Egg Mystery box, play to earn is released.
11/2021: Add many new features for players
NFT Secondary Market
October 2021: Radio Caca launches the NFT market official version 1.0.
11/2021: NFT batch transfer function added.
11/2021: Mystery Box NFT feature introduced.
12/2021: Introducing pricing and auctioning (RACA payments).
12/2021: The project promotes the optimization of user experience.
03/2022: NFT Market is calculated for inclusion in the Universal Metaverse world.
Universal Metaverse (USM)
12/2021: Universal Metaverse's Binance Smart Chain Beta version is launched.
The developer continues to introduce monthly updates to Metaverse with more tools.
Late 2022: There are plans to introduce the planet Metaverse 3D-VR, fully built on USM Chain.
USM Chain Roadmap
December 2021: Released Lightpaper "USMchain".
December 2021: USMchain development begins.
03/2022: Beta version of USMchain is intended to be released.
06/2022: The project plans to launch USMChain Main directly.
The team of developers and project partners
Development team
Currently, the development team of Radio Caca project remains a mystery with no further details disclosed. Nevertheless, they are actively engaged in social media platforms and providing comprehensive update on the project. It is certain that Mrs. Mayer Musk, the mother of billionaire Elon Musk, is the primary media supporter for the project.
Partner of the Radio Caca project
The project has been quite successful in building its network of partners, having reputable names such as:
Metaverse: Stanford AI – trung tâm trí tuệ nhân đạo của đại học Stanford và Google AI – đơn vị trí tuệ nhân tạo của Google.
NFT: The world's top founders from Binance NFT.
Social Media: Cooperating with many famous KOLs, the most influential names accompanying Radio CaCa's project such as Maye Musk (Mother of billionaire Elon Musk), CZ (Founder of Binance).
Summary
Radio Caca serves as the exclusive manager of MPB and USM Metaverse. Investing in any project involves risks, thus in-depth research and careful consideration are crucial before making investment decisions. This article provides fundamental information about the Radio Caca project and its token, RACA, to help readers make informed investment decisions. Wishing you success in your investment endeavors.