Binance has recently announced its 30th project on Binance Launchpad, which is named Space ID (ID). This project has certain unique aspects that make it worth exploring. We invite you to join us at 247BTC as we delve into this project and uncover its potential benefits and offerings through a thorough, informative analysis.
What is SPACE ID Token?
The SPACE ID project is currently developing a network of multi-platform name services with a Web3 identity protocol and a stationary identification platform. This initiative aims to facilitate the exploration, registration, transactions, and management of various Web3 domains. The project also introduces a Chain Name Service as a part of its Web3 identity protocol to provide a reliable platform for managing decentralized systems.
In addition, it encompasses the Web3 Name SDK & API for developers across blockchains and provides cross-chain naming services, facilitating easier construction and establishment of Web3 identities. SPACE ID is among the largest providers of Web3 domain name services, offering comprehensive solutions to its clients. This is also the primary service provider responsible for managing and registering the top level domains.
The Space ID service supports domain registration within the BNB Chain ecosystem. Typically, BNB Chain wallet addresses consist of a long string of alphanumeric characters, which makes it difficult for users to accurately remember their wallet addresses. Thus, Space ID simplifies these complex addresses into more easily recallable addresses, thereby facilitating greater ease of use for users.
The Space ID system is designed to provide users with a unique identity across all chains. Through Space ID, users can link their usernames to their identities on various blockchains. Additionally, Space ID allows users to connect their identities from Web2, such as Twitter, email addresses, and Github accounts, to Web3. This integration has significant implications for users looking to establish a robust and trustworthy online presence within the decentralized Web3 ecosystem.
Some highlights of Space ID
Space ID is a domain name that allows users to register and utilize their unique domain name without dependency on any specific blockchain technology. This domain name serves as a universal identifier for all chains, providing users with a convenient and flexible option for managing their online presence. Not only a domain for users, but Space ID is also an exclusive database for locating resources on any chain.
The Space ID platform, provided by Lucas, is a specialized blockchain solution that connects and securely stores user data on various chains, with a focus on maintaining both security and availability. The SPACE ID architecture includes two additional components, Jedi and Yoda, which are specifically designed to further enhance security and availability.
Jedi is an intelligent contract operating on multiple chains to register and resolve domain names. It exclusively recognizes domain names that have been authorized by Yoda and deemed valid.
Yoda acts as an Oracle ensuring the uniqueness of domain names registered across multiple blockchains. Yoda collects registration events from various blockchains, consolidates the information, and provides authentic signature to users seeking to register or connect a domain name on any Jedi.
Space ID (SID) is more than just a domain name
The Space ID (SID) encompasses more than just a typical domain name; it serves as a multi-chain identity for users in the metaverse. With this one ID, users can seamlessly engage in cryptocurrency transactions, token lending, NFT minting, ticket purchases, or even real estate acquisition in the decentralized world of the future. Furthermore, all privacy rights associated with the ID remain solely with the owner of the ID.
The objective of Space ID is to establish itself as a gateway between decentralized identities and the physical/digital world, while also providing solutions to the various challenges that existing domain name services are currently facing. SID has been developed around a set of features that serve this purpose.
Feature 1: Generic Domain Name
The focus of Space ID's vision is on building your brand for a future that features multiple chains. In the current blockchain landscape, users are seeking to secure their identity across various blockchains, and once a name has been used, they risk losing their personal brand. With SID, users will have the ability to possess a unique identity across all chains, providing them with a solid brand foundation. This feature benefits the users seeking to cement their name in the blockchain ecosystem, enhancing their brand reputation and value.
Simplifying interactions is made possible with the integration of a unique feature called Space ID. Through Space ID, one's domain name can be linked to their identity across multiple blockchains without the need for verification of addresses. For instance, if an individual has registered the username "satoshi," it can be utilized as "satoshi" on BNB, Ethereum, and "shatosi" on Cosmos.
Space ID enables the linking of domain names with user identities on various social media platforms, such as Twitter usernames, email addresses, and Github accounts.
Feature 2: Customizable Top Level Domains (premium domains)
Having a unique username for a community is essential. Even if you have a common ID, it does not mean that you do not require different identities for various communities. Therefore, SPACE ID supports a customized Top Level Domain in the form of BAYC or ETH, which will be equivalent to the domain .eth in the future.
Seamless integration of NFTs: Suppose that BAYC wishes to airdrop a large number of APE tokens to the holders, then these individuals will need to send money to all BAYC subdomains: XX. You need not know their various aliases or even their common names, as it will be automatically sent to the address of the BAYC owner: XX.
Incorporating Top Level Domain and multiple chains presents numerous advantages. By establishing a domain name such as "satoshi," users may also set their identity accordingly. This integration offers enhanced flexibility and customization options, facilitating a more streamlined user experience.
Trên BAYC: 001
Trên ETH: satoshi (satoshi.eth)
Trên BNB: satoshi (satoshi.bnb)
If your username is @satoshi on Twitter, you have the option of incorporating it as one of your domains for interacting with others on the platform.
Feature 3: One SDK for all
The domain name service synthesis platform offers an efficient solution with the utilization of the software development kit (SDK). Implementation of the Space ID SDK into the system can be completed within approximately 30 minutes. Additionally, Space ID presents a Top Level Domain that enables the resolution of various domains and domain name services.
This signifies that developers need only integrate the Space ID SDK to seamlessly integrate with all other existing primary domain services, without having to integrate more than one domain service while keeping track of new domain services to remain compatible.
ID Tokenomics
Key Metrics
Token Name: 

Space ID

Ticker: ID
Blockchain: BNB Chain
Contract: Updating…
Token Type: Quản trị, tiện ích
Total Supply: 2.000.000.000 ID
Circulating Supply:Updating…
ID Token Allocation
Binance Launchpad: 5.00%
Advisors: 7.00%
Strategic Sale: 8.00%
Seed Sale: 20.00%
Core Team: 15.00%
Ecosystem: 10.00%
Marketting: 13.00%
Foundation: 12.00%
Community Airdrop: 10.00%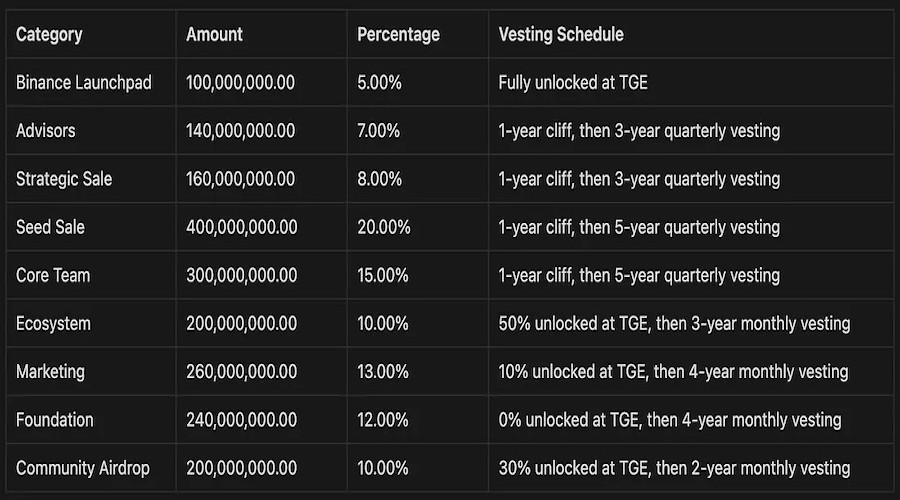 ID Token Use Case
Staking: By staking a token ID, individuals can obtain discounts on trading fees related to SPACE ID's NFT market and on registration fees for Web3 domain names on SPACE ID.
Pay: The Token ID will serve as the method of payment within the SPACE ID ecosystem and will also be utilized for the integration of Web3 Name SDK.
Administration: Individuals who possess token ID are eligible to participate and cast their votes for proposals presented by SPACE ID DAO.
Space ID's revenue
The Space ID project is designed to create and manage domain names on the blockchain, with the majority of its revenue stemming from domain transactions on their platform. Currently, the value of a blockchain domain name can be quite high, allowing Space ID to earn significant registration and management fees from its users.
Additionally, Space ID offers community-based programs that may require registration fees or usage charges, which can generate revenue. As blockchain and Web3 continue to develop and become more widely adopted in the future, Space ID is expected to have a greater potential for revenue from domain-name transactions on their platform.
Investors & Partners
The project is currently being invested in by prominent partners who hold considerable influence within the industry, including Binance Labs, Polychain Capital, Bullet Labs, DAO5, and more.
In December 2022, Space ID successfully raised money in a seed round led by Binance Labs.
In February 2023, Space ID continued to complete a strategic funding round of $ 10 million led by Polychain Capital and dao5.
On which exchange is ID token traded?
Upon the conclusion of the Binance Launchpad, Space ID (ID) will be listed on Binance. Additionally, it is possible to acquire ID from alternative exchanges as depicted in the image below.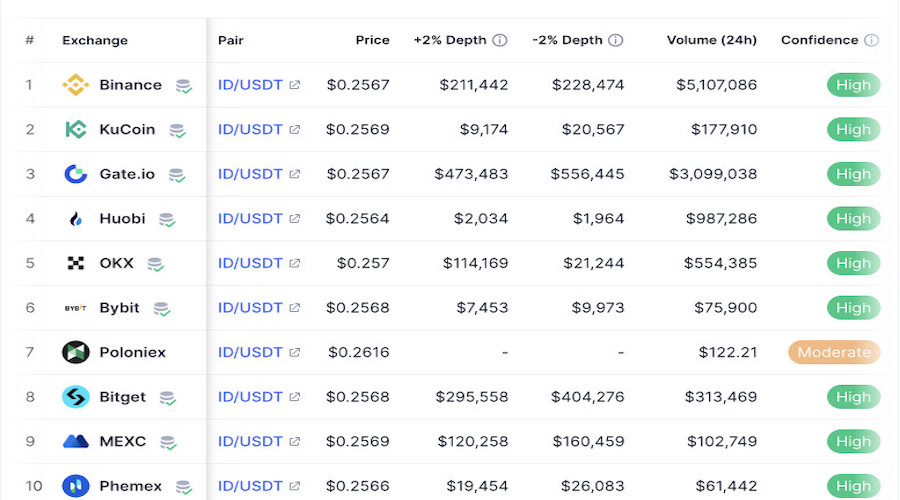 Conclude
Upon conducting research on the Space ID project, it has become apparent that this venture possesses immense potential in the Web3 domain. With the overarching goal of establishing a multi-chain domain name registration network and a diverse identification platform, Space ID is poised to offer users a simplified, user-friendly, and secure domain management solution.
With features such as domain registration on blockchain platforms, domain transaction and management, as well as community programs, Space ID has the potential to attract numerous users and generate revenue for the project. Additionally, collaboration with reputable investors and partners can further strengthen Space ID's market positioning.
Moreover, the notable features of the project such as its significance in the Web3 domain, the multi-chain domain name registration network, and the multi-service identity platform are all contributing to the recognition of Space ID as a noteworthy project in the foreseeable future.
In summary, Space ID has the potential for investment and has established reputable partners and investors, along with notable features and importance in the project. Consequently, the project is highly prospective and warrants close observation in the future.