This article endeavors to provide a comprehensive overview of the investment portfolio of Andreessen Horowitz's (a16z), a well-known investment fund in the crypto market. This endeavor involves furnishing in-depth information and analysis concerning the investment philosophy and strategy of a16z, along with an exploration of its investment portfolio and style. In doing so, this article aims to shed light on essential aspects of a16z and offer a complete understanding of this esteemed investment fund.
What is Andreessen Horowitz's (a16z)?
Established in 2009 by Marc Andreessen and Ben Horowitz, Andreessen Horowitz (also known as a16z) is a venture capital firm operating in Silicon Valley, California. The firm specializes in investing in technology startups.
Throughout its 13 years of operation, Andreessen Horowitz has invested significant amounts of money into various projects and funds at all stages, from seed round to Series A, B, C, and beyond. This demonstrates the breadth and depth of the firm's investment strategy, which spans a wide range of businesses and industries.
The guiding principle of Andreessen Horowitz's operations is to comprehensively comprehend the issues facing startups – namely understanding the challenges inherent in operating a startup as a founder. The General Partners – or the fund operators of a16z – have all previously served as CEOs or CTOs of well-known technology startups, thus demonstrating this investment fund's deep understanding of the issues facing the startups they invest in, enabling them to provide timely support.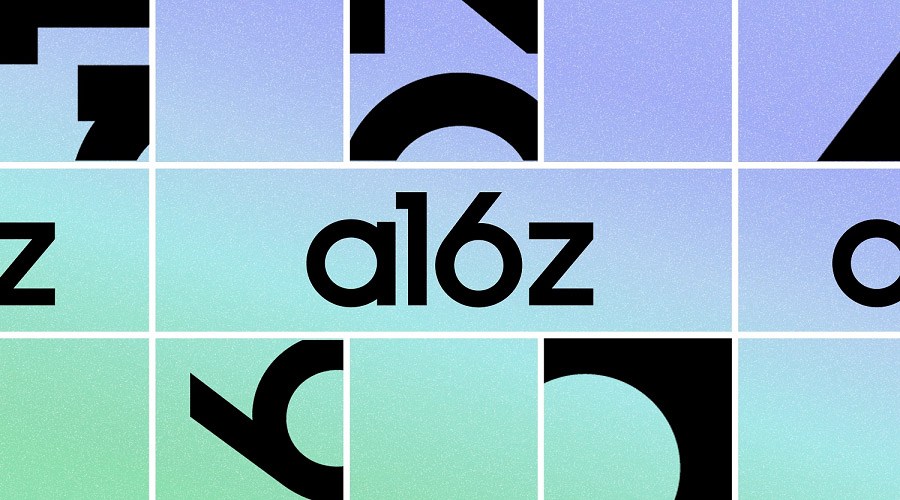 A16z invests in many fields not only crypto, but also health, biology, consumption…
With the aforementioned operating principle, the investment vision of the project is extremely long-term. Andreessen Horowitz commenced investing in crypto in 2013, and as a venture capital fund rather than a speculative one, their focus is on investments with a holding period exceeding 10 years.
They invest in crypto projects regardless of market conditions, because they believe that in the long run, the market will still develop. They provide support for startups in various aspects including recruitment, operations and technology, legal issues, communication and marketing, and general management.
In the realm of cryptocurrency, individuals are not solely fixated on a particular industry but are actively engaged in various sectors such as Layer 1, Decentralized Finance (DeFi), Non-Fungible Tokens (NFTs), gaming, Decentralized Autonomous Organizations (DAOs), social tokens, decentralized social networks, Web3, and even nascent niches that are as yet unidentified.
The prominent members of a16z fund
Marc Andreessen
Marc Lowell Andreessen, who was born on July 9, 1971 in Cedar Falls, United States and raised in New Lisbon, grew up in a family where both parents were employed in enterprise development incubators.
About Marc's career:
Having graduated in Computer Science from the University of Illinois Urbana-Champaign, the individual proceeded to acquire practical experience through an internship with IBM in the state of Texas.
As the founder of Netscape and Loudcloud, both companies were successively acquired at a value of 4.3 billion and 1.6 billion USD, respectively.
Marc Andreessen and Ben Horowitz have established themselves as super angel investors, investing over $80 million in numerous startups, including Twitter and Qik.
On July 6th, 2009, Andreessen and Horowitz founded the investment fund, a16z, with an initial capital of 300 million USD. This amount increased ninefold over the next three years, reaching 2.7 billion USD, due to additional investments into the fund. The portfolio of a16z includes several renowned companies such as Facebook, Foursquare, GitHub, Pinterest, Twitter, and others.
Marc Andreessen's exceptional success in investment since the early 2000s has established his sterling reputation in the field. Such acclaim has enabled him to steer a16z with great adroitness into the burgeoning world of cryptocurrencies, positioning it as the largest venture capital fund and a pioneering force in this rapidly expanding market.
Ben Horowitz
Benjamin Abraham Horowitz, born on June 13th, 1966 in London, England, was raised in Berkeley, California.
About Ben Horowitz's career:
In 1988, the individual successfully completed their degree in Computer Science from Columbia University and went on to earn a Master of Science in Computer Science from the University of California, Los Angeles.
In the year 1990, he commenced his career as a computer engineer at a company involved in the production of hardware and software for computing machines situated in Silicon Valley. Following which, he joined Netscape along with Marc Andreessen in the capacity of a Product Manager, subsequently co-founding LoudCloud, before establishing the investment firm a16z, with an initial fund size of 300 million USD.
Ali Yahya
Ali Yahya previously held the position of software development engineer at numerous prominent technology companies, including Google X and Google Brain, where he collaborated on algorithm development for robot interactions and developed an open-source AI library, TensorFlow, for Google.
In the year 2010, during his research stint at the Stanford Computer Security Laboratory, he first became acquainted with official reports on Bitcoin, subsequently tracking its developments ever since. Currently serving at a16z, he works closely with the portfolio's Layer 1 projects such as Dapper Labs and Flow, Compound, Avalanche, Near, Rally, and Dfinity.
Ali Yahya possesses substantial expertise in the domains of cryptocurrency investment, technical software development, and market participation, having gained extensive experience during his extensive tenure in prominent technology firms like Google and his current role in a16z, where he initiated his cryptocurrency investment activities from November 2017. Notably, his involvement in the market dates back to 2010.
Arianna Simpson
Arianna Simpson is currently serving as the General Partner at Andreessen Horowitz, where she oversees the company's investments in the field of cryptocurrency. Prior to her joining Andreessen Horowitz, Arianna founded Autonomous Partners, a investment fund focused on cryptocurrencies and digital assets.
Arianna has previously worked in sales and product management roles at Facebook and BitGo, a company that provides security solutions for businesses dealing with BTC and other digital currencies. She holds dual degrees in International Politics and Spanish from the Schreyer Honors College at Penn State University. Arianna grew up in Milan, Italy.
Chris Dixon
Chris Dixon has been a General Partner at Andreessen Horowitz for the past six years, investing in companies from seed stage to later rounds. Prior to this, Chris was a co-founder of two startups, SiteCity and Hunch – both of which were acquired by McAfee and eBay. Before joining Andreessen Horowitz, Chris was also a co-founder of Founder Collective, a venture capital firm that made investments in various technology companies.
During his early years, Chris commenced his programming journey and became a proficient programmer subsequent to completing his undergraduate studies at the option-trading firm Arbitrade. He also holds a Bachelor's and Master's degree in Philosophy from Columbia and a Master's in Business Administration from Harvard. Furthermore, he has authored several informative Medium posts and podcasts.
Kathryn Haun
Kathryn Haun currently holds the position of General Partner at Andreessen Horowitz. Prior to this role, she served as a federal prosecutor concentrating on cyber-enabled financial crimes and corporate fraud for nearly a decade, collaborating with esteemed agencies like the SEC, FBI, among others.
The first government-backed specialized investigation team for cryptocurrency complaints was established by her, and she spearheaded multiple high-profile market investigations. Katie served on the board of Coinbase and HackerOne, and she also provided investment and advisory services for technology startups. Additionally, she delivered a management course at Stanford University and taught cybercrime at the Stanford Law School.
An overview of the investment portfolio held by the a16z fund
As the investment portfolio contains multiple projects, only a selection of standout investments made by a16z during the investment process are listed below. Subsequently, we will highlight prominent projects within each sector. All of the mentioned projects have corresponding articles with information available on 247btc.net. To learn more about a particular project of interest, the name of the project can be used to conduct a search for further information.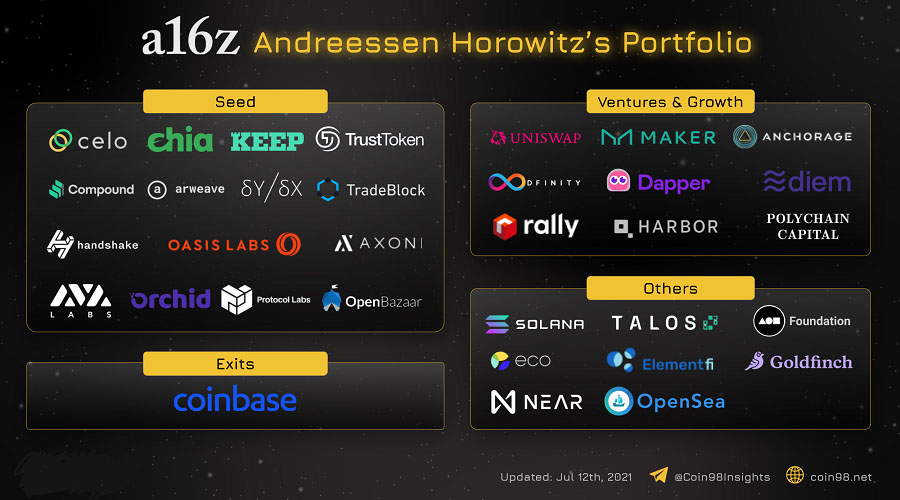 Layer 1 project
Excluding Bitcoin and Ethereum, the Layer 1 projects in which a16z has invested comprise Avalanche, Celo, Chia, Difinity, Filecoin, Near, Oasis Network, Keep Network, Handshake, and Helium.
Near Protocol: In May 2020, a16z led a funding round of $21.6 million in Near Protocol, with an undisclosed valuation. Prior to this investment, Near Protocol had previously raised capital in funding rounds during 2018 and 2019, with participation from Multicoin Capital and several other funds.
Avalanche: Avalanche was invested by a16z in Series A funding round with a total funding amount of USD 6 million in 2019. This funding round saw the participation of major investment funds such as Initialized Capital, Polychain Capital, and Naval Ravikant. The valuation of Avalanche in this funding round remains unknown to date.
Solana: a16z and Polychain invested in Solana for 314 million USD, announced in June 2021.

Dfinity: A16z was an early investor in Dfinity, participating in the first funding rounds. They, along with Polychain, invested twice in this project at valuations of $1.3 billion (information being verified) and $9.5 billion respectively in February 2018 and late August 2018. A16z and Polychain led the first two investment rounds worth $61 million and $102 million. Although these were not Dfinity's earliest rounds of funding (earlier rounds had raised ICOs with valuations below $1 billion in 2017), a16z demonstrated their trust as investors and strong investment in Dfinity by investing twice at increasing valuations.

Celo: In February 2021, a16z led a funding round of $20 million for Celo, preceded by several fundraising rounds involving Polychain Capital, Reid Hoffman, Jack Dorsey, and Coinbase Ventures, totaling approximately $45 million in investment.
Oasis Network: In July 2018, Oasis Labs received a 45 million USD investment in its first funding round led by a16z. The aforementioned round also included the participation of multiple funds such as Accel, Binance, Pantera, Polychain, Metastable, Foundation Capital, Electric Capital, DCVC, and Coinbase. The valuation of the project during that time remains undisclosed.
Comment: In layer 1 deals, a16z typically does not participate from overly early funding rounds and instead usually joins in from the second or third funding rounds. Nevertheless, whenever they do participate, they consistently lead the investment round, which usually entails a significant amount of capital and demonstrates the fund's responsibility and commitment to the project (more than one investment round participation).
The time frame for participation in these rounds of capital raising by a16z was between 2017 and 2020, and in the year 2021 they seem to have no investment deals in Layer 1. This indicates that a16z made early bets on the development of Layer 1 substitutes for Ethereum and have been quite successful in doing so, as Layer 1 has developed rapidly and strongly from early 2021 until now.
Furthermore, a notable characteristic is the apparent close relationship between a16z and Polychain, as evidenced by their joint participation in various layer 1 deals such as Dfinity (2 rounds), Oasis Network, Avalanche, Solana, Celo, among others. More information may be sought to gain deeper insights into the nature of this VC partnership.
Exchange project
The projects pertaining to exchange platforms in which a16z invested comprise various categories such as DEX, CEX, and derivatives.
Uniswap: Andreessen Horowitz, USV, Paradigm, Parafi Capital invest in Uniswap Series A of 11 million USD, announced in July 2020.
dYdX: The largest decentralized derivatives exchange today, completed the Series C investment round in June 2021 with a capital call of 65 million USD, led by Paradigm.
Yellow Card: Andreessen Horowitz, Polychain invests 1.5 million USD in this exchange to attack the crypto market in Africa.
CoinSwitch Kuber: October 2021, a16z and Coinbase Ventures completed an investment round of 260 million USD at a valuation of nearly 2 billion USD in CoinSwitch Kuber – a CEX exchange focusing on the Indian market.
Observation: The investment portfolio of a16z exhibits limited exposure to AMM DEX, CEX, or Derivatives domains, with investments primarily directed towards select market leaders such as Uniswap and dYdX.
Stablecoin project
The stablecoin projects invested in by a16z comprise the following entities:
MakerDAO: In September of 2018, a16z made an investment of $15 million to acquire 6% of the total supply of MAKER tokens – the governance token of MakerDAO project – at a project valuation of $240 million. As of now, this investment has yielded a 1,200% ROI over a period of 3 years, and this solution represents the most popular decentralized stablecoin on the market at present.
Trust Token: As the issuer of the stablecoin TUSD, Trust Token boasts a centralized stablecoin market capitalization of 1.2 billion USD. The project has successfully conducted multiple rounds of funding, with participation from a16z in two of the investment rounds.

In June of 2018, a16z took the lead in a strategic investment round for a project valued at $20 million, with participating funds including BlockTower, Founders Fund, Jump Trading Capital, Foundation Capital, Danhua Venture Capital (DHVC), and Distributed Global. The exact valuation of the project remains unknown.
On August 5, 2021, a16z and multiple funds such as BlockTower and Alameda participated in a $12.5 million investment with an undisclosed valuation. However, it should be noted that this investment is not solely intended for the development of stablecoin, but also includes the advancement of the project's lending protocol. This information was relayed in a formal and informative manner.

Basis: In April 2018, a first-of-its-kind algorithmic stablecoin project received a total investment of $133 million from various investors, including a16z, Lightspeed, Foundation Capital, Sky9, and Digital Currency Group. However, after operating for 8 months, the project ceased activities and returned the remaining investment to its investors. Notably, a16z, who typically leads investment rounds, participated in this project without fulfilling the lead investor role. This is a rare occurrence for the reputable firm.

Reflexer: In February of 2021, Reflexer Labs announced the successful completion of a $4 million funding round aimed at developing a collateralized stablecoin based on ETH, called RAI. The investment round was led by Pantera and Lemniscap, with the participation of a16z. Presently, the project has 52,641 ETH locked within the protocol.
Fei Protocol: In March 2021, Fei Labs announced that they had successfully raised a total of 19 million USD from various funds, including a16z, Framework Ventures, Coinbase Ventures, and Naval Ravikant. Although the project's valuation at the time of investment remains unspecified, it is noteworthy that Fei Labs' innovative protocol for algorithmic stablecoin creation coupled with collateralization is a promising endeavor. Furthermore, it should be emphasized that this was not the first round of fundraising for the protocol.
Angle Protocol: In September 2021, Angle Labs successfully raised a capital of USD 5 million from multiple funds, including a16z and various other investment funds, with the primary objective of developing a stablecoin solution backed by derivatives.
The aforementioned comprises six stablecoin projects invested in by a16z, wherein only one venture was successful, one project failed and refunded investors. Notably, investment activities were primarily observed in the year 2021, except for the initial investment made in Trust Token in 2018 and the acquisition of MAKER tokens from MakerDAO.
It appears that investing in stablecoin solutions is not a strong suit for a16z, given that the majority of protocols they invest in are experiencing poor market share growth, as well as a low circulation of stablecoins in the market and a limited number of users (excluding the recent launch of Angle Protocol, which is too new to assess, and the success of MakerDAO's DAI stablecoin).
Lending/Yield project
The a16z-funded lending and yield farming endeavors comprise the following projects:
TrustToken: As mentioned previously, the project encompasses not just a centralized stablecoin endeavor for TUSD but also the development of a lending protocol dubbed TrueFi – a solution that permits lending without requiring collateral. At present, there is $1 billion worth of assets locked within the protocol, with $520 million currently borrowed by users.
MakerDAO: MakerDAO is essentially a lending debt protocol, and I will not repeat it because I have already analyzed this project above.
Compound: Compound Finance has two funding rounds with the participation of a16z.

The initial stage encompassed the Seed Round funding of 8.2 million USD in May 2018, that incorporated the participation of renowned investors, such as Bain Capital Ventures, Andreessen Horowitz, Polychain, and Coinbase.
The second milestone pertains to the announcement of a Series A funding round of USD 25 million in November 2019. The said round involved the participation of Polychain Capital, Paradigm Capital, and Bain Capital Ventures. The project's valuation for these funding rounds remains undisclosed at present.

Goldfinch: The capital raising round of 11 million USD was announced in June of 2021, led by a16z and with participation from Divergence Ventures, Defi Alliance, Jason Choi of Spartan, among others.
The analysis reveals that while there are not many investment deals undertaken by a16z in lending protocols, the quality of said investments is relatively high, as evidenced by MakerDAO and Compound, two protocols which rank amongst the top lending protocols in the market.
The primary investment on these transactions was during the relatively slow market period in 2018-2019 (Compound and MakerDAO), and a16z's decreased investment in lending in 2020-2021 indicates their vision on DeFi's lending industry.
Project on Layer 2 Ethereum solution
Projects invested in by a16z in the infrastructure segment include:
Optimism: In February 2021, a16z led the Series A investment round valued at USD 25 million in the Ethereum expansion solution operating via the Optimistic Rollup mechanism.
Matter Labs: The Ethereum expansion solution, functioning through the application of the zero-knowledge proofs mechanism, was spearheaded by a16z as the lead investor in the Series B funding round worth $50 million in November 2021.
It is worth noting that a16z's investment ventures, which were all announced in 2021, were focused on Series A and B rounds, coinciding with the point where the projects have already begun functioning and bolstering their infrastructure. It is noteworthy that a16z is not an early investor in these projects, but rather has placed significant investments in the later rounds of these Layer 2 solutions.
Project about NFT/Metaverse/Gaming
There are numerous NFT/metaverse/gamefi projects backed by a16z, encompassing a diverse range of large and small-scale endeavors. In the following analysis, I will present all the collected projects, while focusing on a select few exemplary ventures.
A16z's portfolio of NFT/Metaverse/Gaming projects encompasses the following initiatives:
Crypto Kitties: In March 2018, the NFT collectibles project featuring cats by Dapper Labs successfully raised a capital of 12 million USD in Series A, through the funding support of notable investors, including Andreessen Horowitz, Union Square Ventures, Naval Ravikant (AngelList's CEO and founder), Mark Pincus (Zynga's founder), and Fred Ehrsam (Coinbase's founder).
Dapper Labs: In March 2021, Dapper Labs, the developer behind Crypto Kitties, NBA Top Shots and Flow Blockchain, successfully raised $305 million in funding. The funding round was led by Coatue and included the participation of a16z, USV, and several other funds. Dapper Labs' valuation in this funding round was $2.6 billion. Subsequently, in September 2021, Dapper Labs completed another funding round worth $250 million, also led by Coatue but without the participation of a16z, increasing the project's valuation to $7.6 billion.

OpenSea: In March and July of 2021, a16z participated in both the Series A and Series B funding rounds of OpenSea. a16z led the Series A investment which successfully raised $23 million, with the participation of numerous funds and major figures such as Mark Cuban and Naval Ravikant. Furthermore, a16z also led the Series B round and raised $100 million for the project at a valuation of $1.5 billion.

Sky Marvis: In October 2021, Sky Mavis Series B successfully raised a total of 152 million USD in funding, with a valuation of nearly 3 billion USD. This funding round was led by a16z, and saw participation from prominent investors such as Paradigm, Accel, FTX, and several others.
Royal: In November 2021, the NFT Music platform named Royal successfully concluded a funding round of 55 million USD from investors such as a16z, Coinbase Ventures, and Paradigm.
Forte: In May 2021, Forte successfully raised $185 million in funding at a valuation of $1 billion. The project's valuation in this round of funding remains uncertain, and a16z was among the investors in the project rather than leading the funding round. In November 2021, a16z once again participated in another funding round for Forte, with a Series B funding value of $725 million.
Many other projects are also invested in by a16z including: Foundation (NFT Marketplace); Virtually Human Studio (ZED RUN, tháng 7/2021); Fingerprints (9/2021); Manifold (10/2021); OnChain Studios (10/2021); Bitski (5/2021); Cryptoys (seed round, 7.5 triệu USD, 10/2021); RTFKT (seed round, 8 triệu USD, 5/2021).
Many game projects that a16z has recently invested in include: Mythical Games (Series C, 150 triệu USD, 11/2021); Faraway (Series A, 21 triệu USD, 11/2021); Core Loop (12 triệu USD, 11/2021).
Observation: The vast majority of a16z's investment deals in NFT, Metaverse, and Gaming projects are valued at a rather high level, as can be seen with OpenSea's two Series A and B rounds, and Dapper Lab's round with a valuation of 2 billion USD.
Apart from Crypto Kitties, the projects in which they invest are all at the round from Series A onwards (when the project has taken shape, achieved operational stability and revenue, and invest to expand the project and build customer base) and are invested in the year 2021. They continue to invest in new NFT/Gaming/Metaverse projects from 2021 to the present. This further reinforces the long-term investment thesis of a16z, as they truly believe in the potential of the project and the mass adoption of this segment, as if they only invest in short-term investments, continuing to invest strongly when the "crypto circle" is gradually ending it will be meaningless in terms of profit.
Infrastructure and data projects
The infrastructure and data domains are at the forefront of a16z's projects, which include:
Arweave: Arweave secured an investment of USD 8 million from various funds including a16z, USV, and Coinbase Ventures, with the investment announced in March 2020.
Deso Labs: In September 2021, Deso publicly announced a funding round of $200 million from various investment funds, including Andreessen Horowitz, Coinbase Ventures, Winklevoss Capital, Pantera Capital, and Sequoia. Deso Labs is a renowned innovator that has successfully developed various products, such as the cryptocurrency platform BitClout, in the past.
Nym Technologies: The privacy project has recently completed its next round of funding led by a16z at a valuation of 270 million USD, successfully raising 13 million USD in November 2021.

WorldCoin: The personal identity project utilizing iris scanning raised successful private round funding at a valuation of USD 1 billion, attracting investments of USD 25 million from renowned stakeholders such as a16z, Coinbase, Coinfund, Digital Currency Group, Hashed, Multicoin, Sam Bankman-Fried, Three Arrows, Variant Fund, and 1Confirmation.

Nansen: Nansen was invested 12 million USD by a16z and many other funds in July 2021.
Kosen Labs: This Labs has just received a 5 million USD seed round investment in November 2021 from a16z and Framework Capital, to bring AI to web3 in the future.
Aleo: In April 2021, a16z announced that they led a 28 million USD investment round into Aleo, which is a privacy-centric data project utilizing zero-knowledge proofs technology. Other investors also included Placeholder VC, Galaxy Digital, Variant Fund, and Coinbase Ventures.
Forta: In September 2021, a16z announced that it led a $23 million investment round in Forta – an enterprise-level security platform.
Protocol Labs: It is currently unclear as to the exact timeframe and monetary value of a16z's investment in Protocol Labs, which boasts numerous infrastructure projects including IPFS and Filecoin.
Alchemy: In mid-November 2021, a fundamental infrastructure puzzle supporting Dapp developers completed its Series C funding round, raising $250 million at a valuation of $3.5 million, led by a16z with participation from Lightspeed and Redpoint.
Commentary: Throughout their investment journey, a16z has consistently and significantly invested in infrastructure and data projects, with a growing number of larger deals, exemplified by the recent Alchemy investment. Given the continuous need for improvement in this vast area, they have smartly maintained a balanced approach and invested in infrastructure over time.
Andreessen Horowitz Reviews
Upon examining a16z's portfolio, it is possible to discern the following characteristics from a16z's investment portfolio:
Their investment strategy primarily revolves around investing in projects at Series A, B, C or beyond, with little to no inclination towards early-stage seed or angel investments. This indicates that a16z's investment preferences embody a relatively safe and long-term outlook, as investing at later stages implies investing in operational projects with already established business models, rather than simply speculative ideas. Consequently, while short-term profitability may not be as high, it is comparatively more secure.
It can be observed that a majority of a16z's transactions exhibit relatively large deal sizes and they often serve as the lead investor in these deals. This may be attributed to their substantial financial resources, which necessitate investment in projects with significant capital requirements, and as such, are suitable for investing in later rounds. Leading subsequent rounds signifies a greater commitment and increased responsibility in guiding the project.
a16z's investment strategy involves a broad-based approach across various market sectors, including nascent segments. This framework is elucidated in their "investing thesis" and is evident from a perusal of the fund's portfolio.
During the past two quarters, a16z has notably increased its investment activities by announcing multiple transactions with significant contribution of capital allocated towards project participation, which will be further elaborated in the upcoming section discussing the investment trends for a16z this year.
Summary
As a substantial and well-established fund, a16z operates on a cautious investment approach. In addition to identifying promising endeavours that offer favourable potential returns on investment, a16z also participates in funding rounds for established companies with large market capitalisations such as Sky Mavis, Lido, and Uniswap. Although these projects may yield smaller profits, a16z's considerable market presence and sizable management funds make them a secure investment choice.
The above information was researched by the team at 247btc.net. We hope that this information will be helpful to our readers. However, please note that this is not investment advice, but rather an informational channel. Therefore, investment decisions should be carefully considered.