Nowadays, Play to Earn blockchain models are increasingly developing and gaining widespread acceptance. A prominent example of this is a project involving a virtual cat breeding game with attractive and user-friendly interfaces that can generate income, namely the CryptoKitties game project. Let us explore what the CryptoKitties project entails and how to earn additional income and interest from it via 247btc.net.
What is Crypto Kitties ?
In December 2017, Axiom Zen, a Canadian startup company, launched the CryptoKitties project. Prior to this, the company had engaged in various activities in different fields, such as software development and virtual reality. It can be stated, however, that the Crypto Kitties project has been one of the most successful projects for Axiom Zen up until the present time.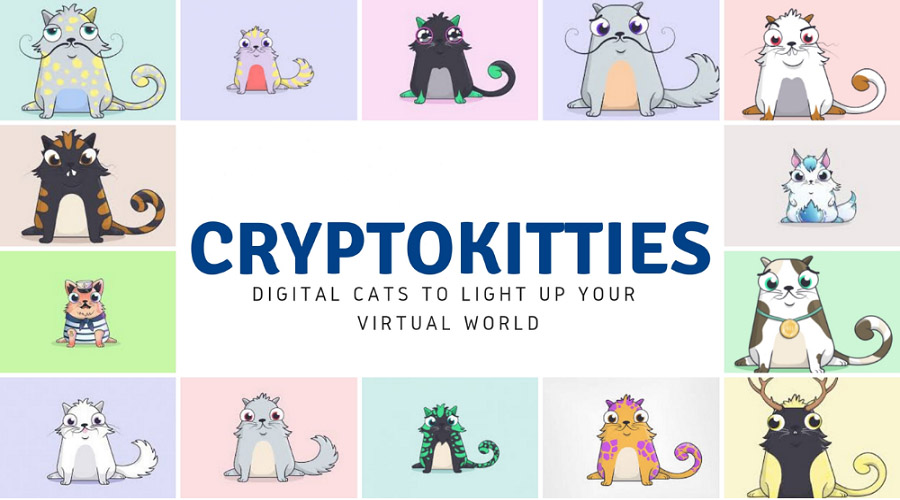 The team at CryptoKitties aspires to establish an Ethereum-based game where users can proudly own virtual cats generated through smart contracts. Each cat will possess distinct traits and be a limited edition. Additionally, users can select the gender of their cats. Male CryptoKitties are called Sires while females are named Dames.
The CryptoKitties are created similarly to human DNA, with each one possessing unique traits that sets them apart from one another. This game operates by purchasing, breeding, and selling these digital felines, and certain rare breeds can fetch incredibly high prices with some reaching up to $100,000. This game bears resemblance to the popular card game, "Pokemon," from the past.
Where do CryptoKitties come from?
CryptoKitties was established in 2017, and every 15 minutes, new CryptoKitties are created by the Ethereum blockchain until November 2018. These particular CryptoKitties are identified as Generation-0 kitties, and there will be a total of 50,000 of them.
Furthermore, the CryptoKitties are breedable with each other to produce new CryptoKitties. If an individual is in possession of both a Sire and a Dame, then they can be used for breeding purposes. However, if an individual only has either a male or female CryptoKitty, they can seek assistance from another party to aid in their breeding efforts.
Suppose that you intend to undertake the process of breeding and crossbreeding CryptoKitties, but you only possess a CryptoKitty Sire (male). To commence the breeding process, you will need to locate CryptoKitty Dames (female) owned by other users.
After a successful breeding process, the owners of Dame cats are required to raise the newly born CryptoKitty offspring. If you own a CryptoKitty Sire, you can still earn cryptocurrency by charging a Siring fee for the owners of Dames. During this period, CryptoKitties are not limited and can continuously mate.
Similar to the real world, newly born CryptoKitties inherit certain traits from their parents, which developers refer to as "Cattributes". These attributes resemble those of newborn babies.
However, it is important to note that offspring do not always inherit 100% of their parents' traits. Rather, they may possess unique characteristics distinct from their parents, such as larger feet or longer arms. It should be remembered that the rarer these unique traits are in Crypto Kitties, the greater their value will be.
How does the Crypto Kitties market operate?
CryptoKitties is a blockchain asset that can be traded and transacted on this ecosystem platform basically in the same manner as other blockchains.
It is important to note that the F0 generation of CryptoKitties are considered the most valuable due to their limited supply of only 50,000 at the time of release. These cats are largely held by platform developers, who retain all profits made from their sale. Additionally, developers can earn an additional 3.75% profit on transactions involving F0 CryptoKitties on the market.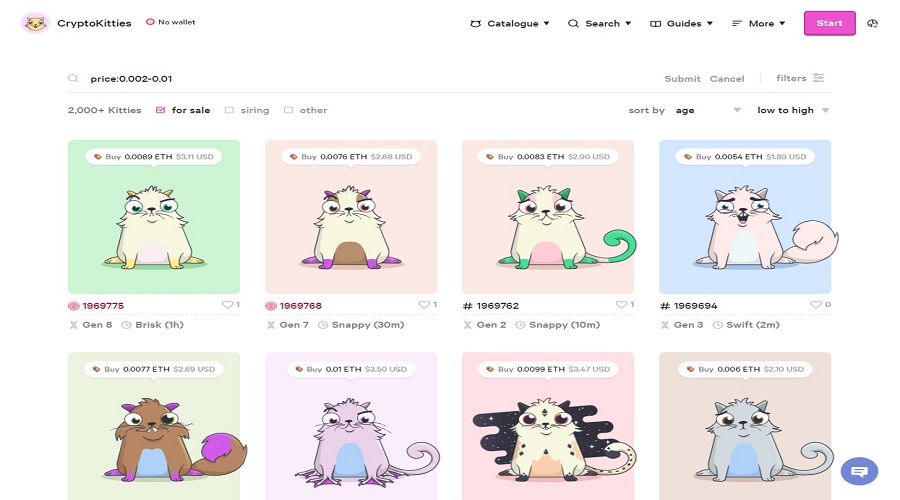 The CryptoKitty market shares similarities with eBay in that it provides a list of available CryptoKitties for purchase with the accepted currency being Ethereum (ETH). The value of each CryptoKitty varies based on its rarity and uniqueness.
Once you have completed the purchasing transaction for CryptoKitties, the corresponding tokens will be sent to your ERC271 wallet. It is worth noting that these transactions are quite simple and user-friendly, as even those who are new to the world of CryptoKitties can carry them out in a matter of minutes. If you wish to sell your CryptoKitties, you will determine the price for them, and prospective buyers will review and then proceed with the purchasing transaction, with the corresponding ETH tokens being directly transferred to your wallet.
In addition, CryptoKitty also offers a filtering mechanism that allows users to search for suitable CryptoKitties that meet their needs. Despite its recent advent in 2017, CryptoKitty has made a significant impact and achieved success in the Crypto market. It has garnered more than 60,000 registered users, with a total revenue of over 5 million US dollars. Within just one week, the number of users had surged to 150,000, with CryptoKitties worth over 15 million US dollars being sold.
How to make money from CryptoKitties game
Entering into this blockchain and earning money from CryptoKitties is not difficult. However, in order to maximize profit potential, one must possess a comprehensive understanding of the following information:
Buy some Ethereum coins
As previously mentioned, in order to purchase CryptoKitties, Ethereum (ETH Coin) must be used for the transaction. Consequently, ownership of Ethereum is a requirement. A prompt and simple option for obtaining Ethereum is by utilizing Coinbase. Alternatively, debit/credit cards or personal bank accounts may also be utilized as a payment method for these transactions.
Once you have obtained ETH coins, the next step is to create a virtual wallet that is compatible with the CryptoKitties blockchain platform. This wallet will enable you to purchase, breed, and engage in various activities on the platform. Additionally, MetaMask can be installed as a Google utility to simplify usage. Finally, to facilitate transaction processes, it is possible to transfer your ETH coins into the wallet.
Create a CryptoKitties account
Subsequently, it is imperative to establish a personal CryptoKitties account to facilitate participation in the ecosystem and execute trading transactions. Below are the step-by-step guidelines for creating a blockchain-based CryptoKitty account
Step 1: Visit the CryptoKitties website and select Start at the main interface of the website.
Step 2: You need to enter your email address correctly and enter your own nickname in the window that appears, then click the Save account info button to save the information.
Step 3: You need to carefully read the terms and conditions of the CryptoKitty system before clicking Agree.
Step 4: Then, you just need to log in at Sign in in the MetaMask dialog box to experience the platform and features of CryptoKitty.
How to buy CryptoKitties?
To become a user of the platform, all you need to do next is purchase CryptoKitties. Currently, there are approximately 140,000 CryptoKitties available within the ecosystem for you to select and purchase.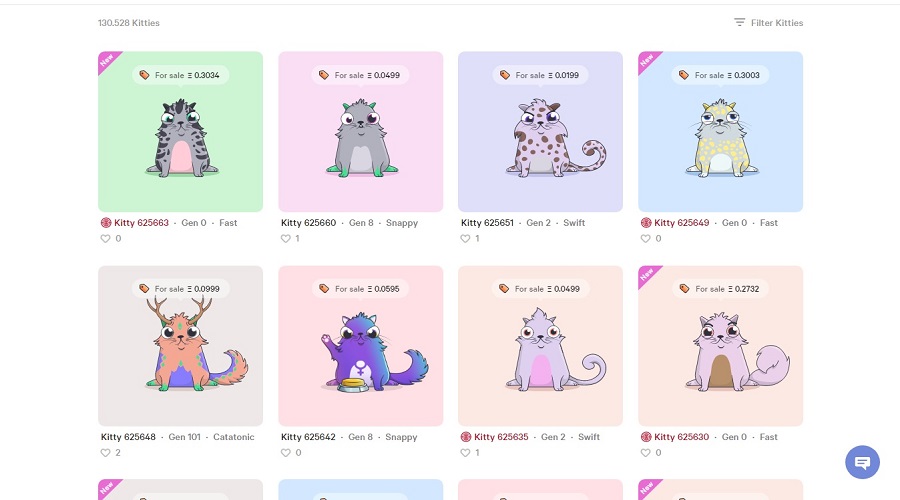 How to breed CryptoKitties
It is important to remember that only CryptoKitties Dames have the ability to breed and hold the offspring of a CryptoKitty. Consequently, if you are in possession of Sires, there will be no benefits. However, it is worth noting that if your CryptoKitties are rare Sires, you still have the option of holding them, but will be charged a Siring fee for the service.
It is imperative to bear in mind that the value of CryptoKitties decreases as their generation number increases. For instance, if you breed a Gen 0 cat with another Gen 0 cat, the result will be a Gen 1 cat. On the other hand, breeding a Gen 0 CryptoKitty with a Gen 4 CryptoKitty will yield a Gen 5 offspring.
How to choose Crypto Kitties?
Initially, the ecosystem produced only about 100 virtual cats; however, a new CryptoKitty gen 0 is generated every 15 minutes. Currently, the value of each gen 0 cat is at 7.7 ETH. Just like in the real world, each CryptoKitty has unique traits, which one must consider before making a purchase according to their needs. Additionally, these virtual cats also have varying recovery values after giving birth, characterized by their cooldown speeds.
The value referred to in this context ranges from "fast" to "catatonic". In the CryptoKitty game, this index holds considerable significance as it determines the amount of time required for a CryptoKitty to breed again after a successful breeding. Players generally prefer CryptoKitties with faster cooldown times, although these values decrease with each breeding cycle. For novice players, the recommended course of action is to acquire CryptoKitties belonging to generation 8 through 15 as their prices are relatively affordable. However, it's important to consider the worth of the cooldown value when making this decision.
Conclude
The Play to Earn method of earning money has gained popularity as a financial investment, with numerous projects being introduced. It is advisable to conduct thorough research before investing. Despite its simplicity, CryptoKitty has delivered rather high profits to investors. Hopefully, this article by 247btc.net provides a comprehensive overview of what Crypto Kitties is, and allows for well-informed decisions to be made as to whether to invest in this project. For those who are beginning to invest in finance, Crypto Kitties may be a good choice to become familiar with blockchain and financial markets. Further information on other Play to Earn projects can be found on the website, 247btc.net.