The ongoing explosive growth of Metaverse is anticipated to continue through the end of 2021, and it is predicted to be the trend of 2022. Despite the existence of numerous initiatives in this field, the number of projects effectively combining Metaverse with AR and VR remains relatively low. Highstreet aims to establish a Metaverse that allows users to genuinely own tangible products from real brands. Highstreet has captured the attention of many large investors, and it is also the 28th project on Binance Launchpool. Thus, what is Highstreet, and does it exhibit genuine potential? We invite you to explore these queries in-depth via our article on 247btc.net.
What is Highstreet?
Highstreet is a blockchain technology-based platform that encompasses gaming, NFTs marketplace, and Metaverse development. The concept of Highstreet is inspired by the idea of Shopify, which allows individuals to create their own storefronts and sell their products, but on a MMORPG game – a massively multiplayer online role-playing game where multiple individuals can interact with each other in a virtual world.
As a result, Tris Wu, the founder of the Highstreet project, has developed an upgraded version of this game genre using blockchain technology, which enables users to play together in a virtual world. The main differentiation is that all the virtual items sold in this game are from real-world brands. Additionally, players can fully immerse themselves in the virtual world by utilizing Virtual Reality (VR) technology to enhance the gaming experience.
One salient aspect of Highstreet
Highstreet is a blockchain game that provides players with diverse options and conveniences when playing across multiple platforms including PC, web, mobile, and even virtual reality devices.
The activities taking place within Highstreet
When engaging with the Highstreet game, the player possesses the capability to:
The transaction of non-fungible tokens (NFTs) featuring products by real-world brands is possible within the game. For instance, players may traverse the metropolis adorned with Balenciaga apparel and footwear.
Buy real estate and rent it to others to do business.
Acquiring ownership of an island and exercising the privilege to vote on desirable amenities to be provided on said island.
Through the utilization of virtual reality technology, indulge in the immersive experience of exploring imaginative realms crafted by one's own mind whilst engaging in gaming activities.
The completion of progressively challenging tasks is essential to demonstrate one's competencies, strengths, determination and profitability in gaming pursuits.

The most crucial aspect pertains to the immersive gaming experience facilitated by virtual reality (VR) technology, which imparts a heightened sense of realism to the gaming experience.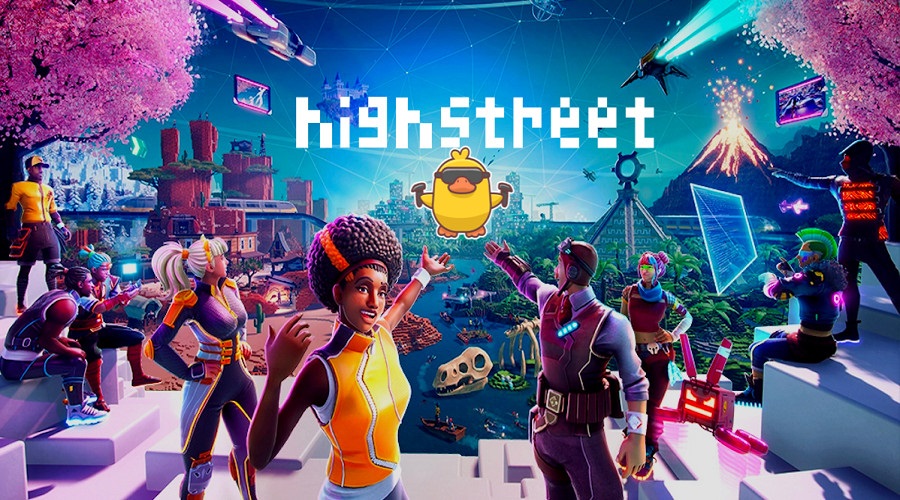 Additionally, Highstreet serves as a marketplace facilitating the buying and selling of limited edition NFTs from external brands, resembling an online bazaar for NFT enthusiasts.
For brands, they can release NFTs to sell to their preferred user demographics. Highstreet's provided products will include detailed features such as:
NFT Hybrid products
Through Highstreet, users will be able to purchase NFTs and these assets will be created and presented in two versions: physical and virtual reality from the very brands they hold in high regard. Additionally, it is even possible to purchase limited edition clothing items in the physical world via Highstreet.
The measure of immediate liquidity
Typically, as in other NFT marketplaces such as Opensea, when purchasing or selling an NFT, there is a high likelihood that you may encounter a low liquidity asset (i.e. difficult to resell).
Caution must be exercised in engaging with the NFT market, as the hype surrounding NFTs may lead to oversaturation and a glut of ownership, resulting in a dearth of potential buyers when attempting to liquidate investments, thus leading to possible financial losses.
Fortunately, Highstreet has successfully addressed this issue with their innovative solution, known as "Street Smart Bonding Curves," which enables users to purchase and sell products (in token format) at prices closely aligned with their actual values (Highstreet utilizes a self-adjusting pricing mechanism based on supply and demand), while also maintaining high liquidity (i.e., there are always buyers and sellers available).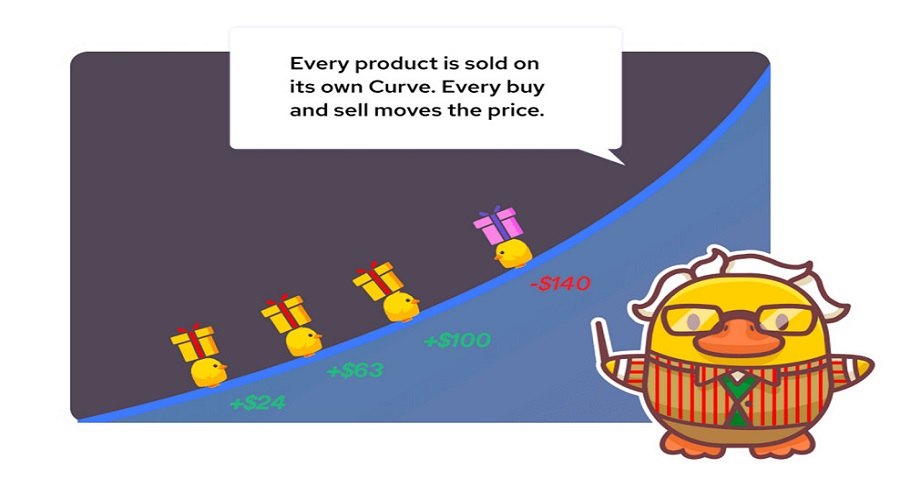 Genuineness
The authenticity of the product is guaranteed as it is directly associated with preferred brands and real-life creators. Hence, concerns related to non-genuine, counterfeit, or lack of information regarding the product are no longer a worry for investors.
Highstreet Token information
The Highstreet platform will feature two primary tokens, namely the HIGH token and the STREET token (Street Creds). Additionally, the total supply of HIGH token will remain fixed, while the STREET token will be subject to adjustments based on the participation rate of users and any consequent occurrences throughout the game-playing process.
Key Metrics HIGH Token
The HIGH Tokens have been successfully deployed on two distinct blockchains, namely Ethereum and BSC, utilizing diverse contracts.
Token Name: Highstreet.
Ticker: HIGH.
Blockchain: Ethereum, Binance Smart Chain.
Token Standard: ERC-20, BEP-20.
Contract:

ETH: 0x71Ab77b7dbB4fa7e017BC15090b2163221420282.
BSC: 0x5f4bde007dc06b867f86ebfe4802e34a1ffeed63.

Token Type: Governance, Utility.
Total Supply:

100,000,000 HIGH on Ethereum.
2,014,744 HIGH trên Binance Smart Chain.

Circulating Supply: Updating…
Key Metrics STREET Token
Token Name: STREET token (Street Creds).
Ticker: STREET.
Blockchain: Updating…
Token Standard: Updating…
Contract: Updating…
Token Type: Utility.
Total Supply: + ∞ STREET (The inflation rate will increase as the number of players increases).
Circulating Supply: Updating…
HIGH Token Allocation
A total of 100 million HIGH Tokens will be allocated in the following manner:
Treasury and Community/Marketing: 57.5%.
Investors: 30%.
Team: 10%.
Public Sale: 1,5%.
Equity/Airdrop: 1%.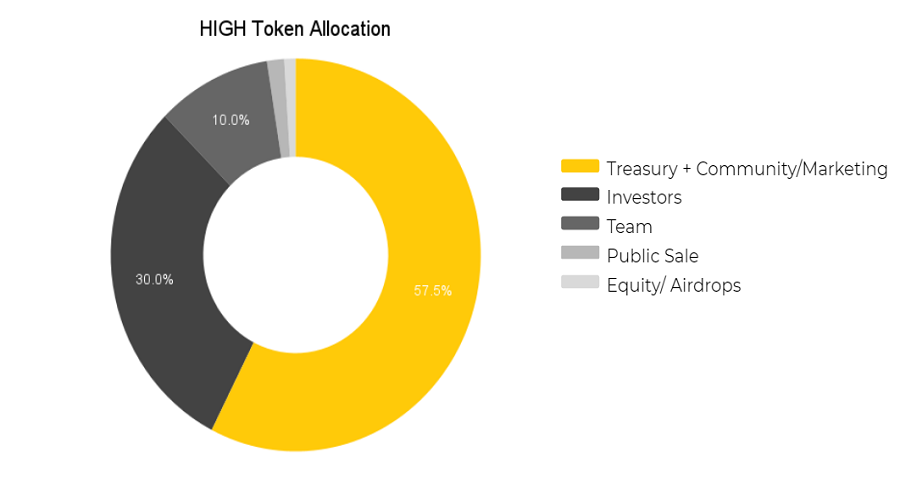 HIGH Token Sale
HIGH tokens will be launched for IDO sale on Polkastarter, detailed information is as follows:
IDO opening date: October 7, 2021.
Ticker: $HIGH.
Opening price per token: $1.
Total value of $HIGH raise: $500,000.
Maximum allocation per person: $400.
Whitelist participation period: September 24 – October 2, 2021.
Furthermore, Highstreet can also be procured through Impossible Finance. Members of IDIA cohort are advised to lock in their IDs between September 27th to October 13th to receive their Allocation. The purchased quantity of HIGH tokens will be split equally, with 50% being remitted at 11 PM on October 14th and the remaining 50% scheduled for disbursement at 11 PM on January 14th, 2022 (VN time). This information is being relayed with a professional and technical demeanor.
HIGH Token Release Schedule
Highstreet has not yet announced the token release schedule for both HIGH and STREET tokens.
HIGH Token Use Case
The HIGH token will exhibit the following applications:
Administration: Those who hold HIGH tokens, meaning they are residents of the island, will be granted the privilege to participate in voting for desired facilities, services, and utilities on their respective islands.
Payment means: The HIGH tokens will be deemed as a means of payment for accessing services such as purchasing limited edition items on the NFT marketplace of Highstreet, and acquiring land on the Highstreet gaming world, thereby conferring ownership of the respective plot of land, and mandating Highstreet inhabitants to settle taxes in the form of HIGH tokens to the owner.
Staking: Users who stake a large amount on the liquidity pool of the project will be entitled to receive commission fees from transactions or stake to obtain the privilege of selling items within the game world.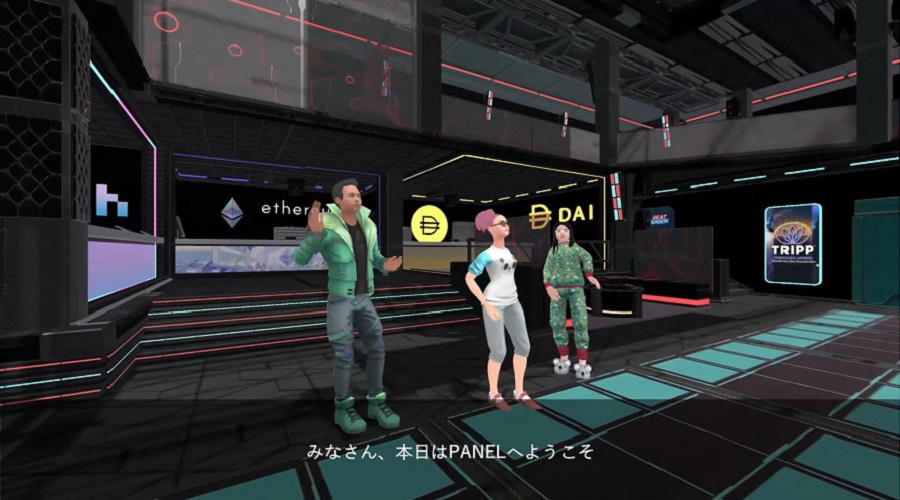 Individuals who are in possession of STREET token (Street Creds) will be entitled to the following use cases of the token:
Facilitate Commerce: Once our team gains access to the Solera continent, the primary currency for transactions with the NPC Fomo Duck and the various represented brands will be Street Creds. These credits will also facilitate peer-to-peer dealings amongst players.
In-game Entertainment: Street Creds will be able to be used to bet on what the next song will be in Highstreet clubs or bet in the Casino.
Achieve and attain ownership of HIGH, STREET Token
To own HIGH tokens, you can:
Swap between HIGH and STREET credits.
Buy HIGH tokens directly from Coin98 Exchange (choose Uniswap with ETH contracts, choose PancakeSwap with BSC contracts of HIGH Tokens).
In order to acquire STREET tokens, individuals have the option to earn Street Creds by successfully completing various tasks such as defeating monsters or fulfilling daily missions within the game. For new players who have accomplished basic missions, they will receive a sufficient amount of Street Creds to enter the Solera continent.
Roadmap & Updates
The current project has not yet disclosed specific roadmaps for the processes involved, due to the complex and relatively new nature of Metaverse in both traditional and blockchain markets. As a result, estimating a proper timeline for planning purposes presents a significant challenge.
Updates – updates about the project
Q3/2021: 
Highstreet has successfully raised a fund of five million dollars from various sources during the recent fundraising event of the project.
Owners of Fomo Ducks serve as evidence of Highstreet project's early-stage support. Therefore, the project intends to reward these Fomo Ducks with exclusive in-game abilities to show appreciation for these early users. The project offers a wide range of options to obtain these ducks, including DeFi, dance parties, and DAOs, for an exciting journey ahead.
During the journey towards establishing a successful Metaverse world, Highstreet will enable adventurous individuals who have already incubated their eggs (ducklings) to deposit them into the project's moon vaults. Subsequently, it will create opportunities for early users to hunt for rare and valuable items.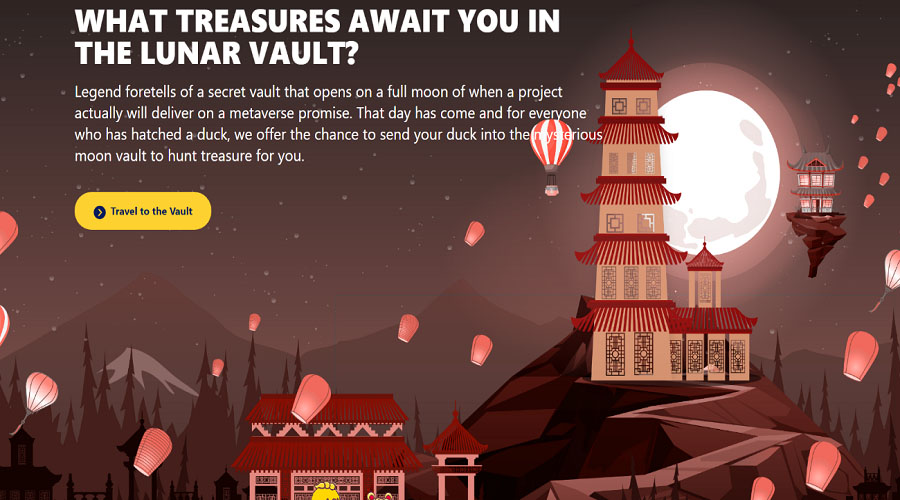 Q1 2022
Highstreet NFT Drop with Jonathan Koon
Highstreet Initial Home Offering (IHO)
Highstreet World Open Public Alpha
Q2 2022
Highstreet Initial user testing of mobile companion app
Integrate content-first partnerships
Project team, investors & partners
Project team
The project team collaborated together for a period of six years at LumiereVR – a vision technology VR company that has helped real estate businesses transform low-valued properties into an engaging mixed reality experience. The team earned the title of "studio arm" at the Sundance Festival – a film festival specializing in art and technology, and the project's co-founder also produced an Emmy award-winning play – a prestigious accolade in the arts.
From these two factors, from a personal perspective, this is a very cohesive group that has gone through many projects and has experience working together in the field of augmented reality technology, building excellent visual support for gaming and NFTs utilizing the augmented reality technology of the project.
Travis Wu – Founder Highstreet
Investors
Highstreet has received investment from various parties including Genesis Block Ventures, NEO Global Capital, Houbi Ventures, among others.
Additionally, on October 13th, 2021, Highstreet formally announced two distinguished investments into the Strategic round from Binance Labs and Animoca Brand.
Partner
Information about Highstreet's partners has not yet been officially announced.
Conclude
The gaming platform Highstreet employs the Play-to-Earn mechanism alongside Virtual Reality technology, creating an immersive virtual world for players. Currently, the game is in its developmental phase, and hence, players can partake in the Metaverse world's experience through the Alpha version to make informed investment decisions. 247btc.net has thoroughly researched and presented all the essential information regarding the Highstreet project for informational purposes only and not as investment advice. We hope that this article provides you with the necessary data and aids you in forming your personal opinion about the project.