Elon Musk is known as one of the wealthiest billionaires in the world, having achieved great success with companies such as Tesla, SpaceX, and PayPal. Furthermore, he is widely recognized as a significant figure in the crypto market, thanks to his impactful tweets in his capacity as the owner of Twitter. To gain a better understanding of Elon Musk, we invite you to read the article below in collaboration with 247btc.net.
Who is Elon Musk?
Elon Musk, born on June 28, 1971, is a South African-Canadian dual citizen known for his expertise as an engineer, inventor, entrepreneur, businessman, and philanthropist. He possesses a net worth of $249.4 billion USD (as of July 4, 2023).
Elon Musk was born and raised in Pretoria, South Africa. He briefly attended the University of Pretoria before relocating to Canada. At the age of 17, he enrolled at Queen's University but later transferred to the University of Pennsylvania where he earned Bachelor's degrees in both Economics from the Wharton School and in Physics from the College of Arts and Sciences. In 1995, he moved to California to pursue a PhD in Applied Physics and Materials Science at Stanford University, but he ultimately decided to drop out and pursue a career in entrepreneurship.
Presently, according to Forbes as of 04/07/2023, Elon Musk holds the top position as the world's wealthiest billionaire, owing to the tremendous success of his companies such as Tesla, SpaceX, and Paypal. Furthermore, Elon Musk is renowned for his significant influence on the crypto market through his impactful Twitter posts, as he is the owner of Twitter, which carries a weighty authority.
The salient points of Elon Musk's career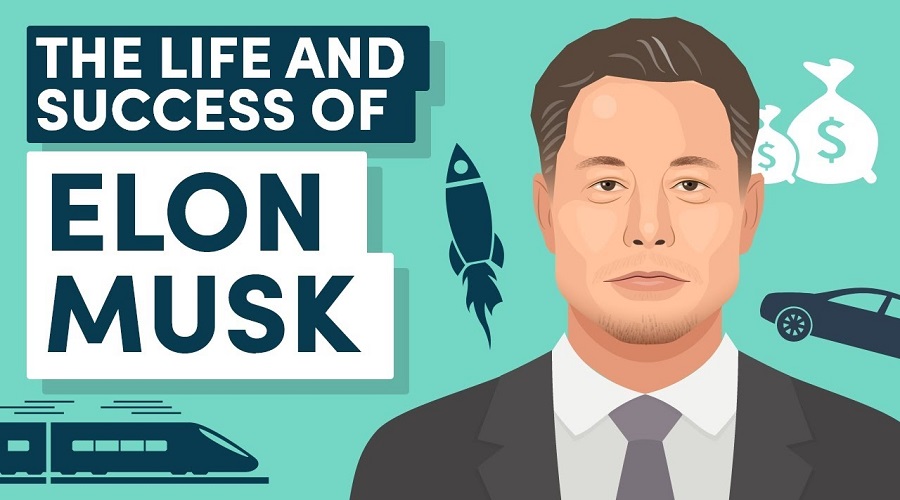 1995:
In collaboration with his brother, Kimbal Musk, Elon Musk established Zip2, a website that specialized in providing maps and business directories for online newspapers. In 1999, Compaq purchased Zip2 for a staggering $340 million, which was the highest amount paid for acquiring an internet company at the time.
1999:
Elon Musk established X.com, an online financial services company, with an investment of 10 million USD. In order to accelerate the pace of online payment transactions via email, Elon Musk decided to merge X.com with its rival company, Confinity, and rebranded it as PayPal. In 2002, eBay acquired PayPal for a price of 1.5 billion USD.
2002:
Elon Musk founded his third company named Space Exploration Technologies (SpaceX) and currently serves as its CEO and Chief Technical Officer. SpaceX specializes in developing and manufacturing space launch vehicles including the Falcon rockets and multipurpose spacecraft called Dragon. Additionally, SpaceX has been contracted by NASA to transport cargo to the International Space Station.
2004:
Elon Musk spearheaded the Series A funding round for Tesla by investing $6.36 million of his personal funds and assuming the position of Chairman of the company. In October 2008, Musk was appointed as CEO of Tesla and played an active role in directing the design of electric vehicle models as well as the strategic direction of the company.
2006:
Elon Musk has invested in SolarCity, one of the world's largest companies in the production of solar panels for homes which was established by Musk's cousins, Lyndon and Peter Rive, in 2006. Currently, Elon Musk serves as the chairman and the largest shareholder of SolarCity.
2015:
Elon Musk is a co-founder of OpenAI, a non-profit artificial intelligence (AI) research company. However, he stepped down from the company's board of directors in 2018.
2016:
Elon Musk co-founded Neuralink, a technology company aimed at integrating the human brain with artificial intelligence (AI) for neurotechnological advancement.
2017:
Elon Musk established Boring, a company that specializes in constructing high-capacity underground tunnels for specialized vehicles capable of achieving speeds of up to 240 km/h.
2022:
Elon Musk has officially acquired Twitter, one of the world's largest social media platforms, for a sum of 44 billion US dollars.
The notable achievements of Elon Musk
Notable achievements attributed to Elon Musk encompass:
2007: R&D magazine honored him as "Innovator" of the year.
2007: The periodical Inc Magazine has recognized Elon Musk as the "Entrepreneur of the Year."
2010: The Kitty Hawk fund bestows upon Elon Musk the title of "Living Aviation Legend."
2010: Elon Musk was acclaimed by Time magazine as one of the top 100 most influential persons in the world.
2011: Elon Musk has been honored with the "Heinlein Prize for Advancement in Commercial Space Activities."
2012: Elon Musk has been bestowed with the gold medal by the Royal Aeronautical Society of Great Britain.
2016: Elon Musk has been ranked 21st in the world for power by Forbes.
2017: Elon Musk has been recognized as one of the "75 most influential people of the 21st century," as selected by Esquire magazine.
2021: Elon Musk was bestowed with the title of "Person of the Year" by Time magazine, as an accolade.
The impact of Elon Musk on the cryptocurrency market through his series of tweets
The tweets referring to Dogecoin made by Elon Musk
In March of 2020, Elon Musk expressed public support for Dogecoin through a tweeted image featuring the Doge meme with its 3rd birthday celebration. Notably, he also replied to his own tweet, proclaiming Dogecoin to be the best cryptocurrency available. This endorsement by Musk led to an impressive 121% surge in the value of Dogecoin within a mere 24 hours.
In December 2020, Elon Musk once again publicly endorsed Dogecoin by tweeting "One word: Doge". This resulted in an increase of more than 18% in the value of Dogecoin within 24 hours.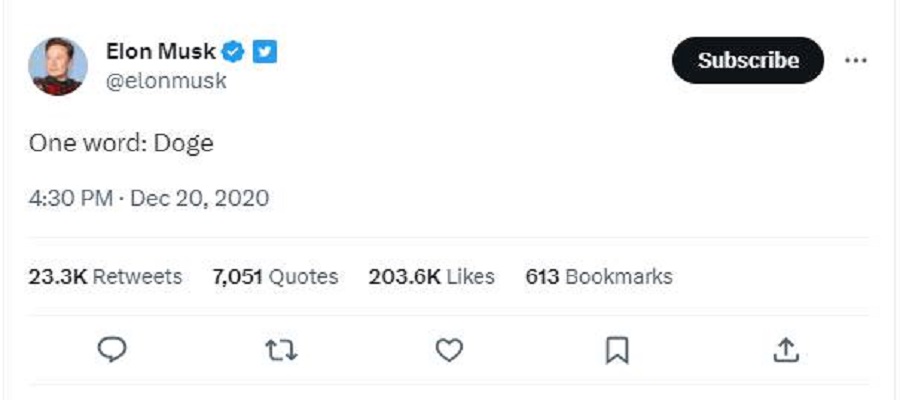 In February 2021, Elon Musk posted a tweet stating that he would offer support to large Dogecoin holders in selling their significant DOGE holdings, with the purpose of reducing the uneven distribution of coins within the community.
Moreover, a Twitter account commented that if "whales" (large investors) do not sell their holdings of DOGE and continue to hold on to them, Dogecoin may lose the affection of Elon Musk. The CEO of Tesla responded with a simple agreement, stating "Yup". This caused a decrease of 9.8% in the price of Dogecoin within a 24-hour period.
However, in the month of February 2021, Elon Musk tweeted a picture of a dog planting a flag with the DOGE symbol on the moon, and as a result, the price of DOGE increased by over 19% within a 24-hour period.
On February 4th, 2021, Elon Musk posted a tweet stating, "Dogecoin is the people's crypto." This has been interpreted as a shilling move for Dogecoin, coming from the CEO of Tesla, as there was a nearly 10% increase in the price of Dogecoin within an hour and over a 50% increase within 24 hours.
On April 28, 2021, Elon Musk self-proclaimed himself as the "dogefather" in a single tweet, while also confirming his upcoming appearance as a host on "Saturday Night Live". Subsequently, this announcement led to an immediate surge in the value of Dogecoin by 18.6% within a 24-hour period. However, Musk's appearance on the show on May 8, 2021, caused the value of Dogecoin to decrease by more than 21% in the same 24-hour timeframe.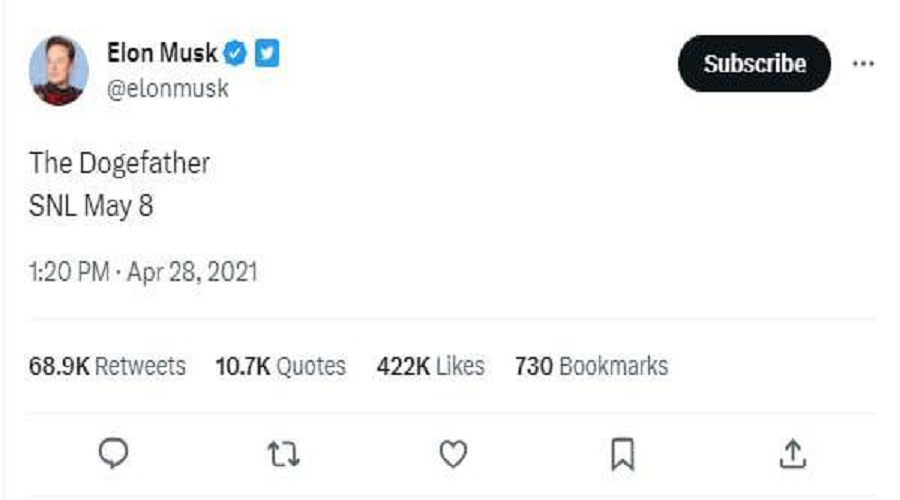 In August 2021, American billionaire Mark Cuban stated in an interview with CNBC that Dogecoin is the best cryptocurrency for use as a medium of exchange. Following this statement, Elon Musk commented in a tweet, quoting Cuban's statement and adding, "I've been saying this for a while." As a result, there was a sharp increase in the price of Dogecoin by 20% within 24 hours.
On December 14th, 2021, Elon Musk tweeted an announcement informing that Tesla will be conducting experiments to accept Dogecoin as a means of payment for the company's products. As a result, the value of Dogecoin surged by more than 21% in just 24 hours.
Elon Musk tweeted in January 2022 that he would eat a "Happy Meal" – one of the prominent items on McDonald's menu – if the fast-food brand accepted payment in Dogecoin. This announcement was followed by a 9% increase in the price of Dogecoin within 24 hours.
On May 27th, 2022, Elon Musk posted a tweet stating that Tesla products can now be purchased using DOGE, and SpaceX products will also follow suit. This announcement was followed by a 4.7% increase in the value of Dogecoin within the next 24 hours.
On the date of June 19th, 2022, Elon Musk published a tweet stating his intention to persist with providing backing for Dogecoin. Following this statement, the price of Dogecoin has escalated by 14.3% within a 24-hour interval.
On November 1st, 2022, Elon Musk shared a tweet that featured a picture of a dog wearing a Twitter shirt next to a pumpkin with the social media platform's logo. This tweet served as confirmation that Musk is now the owner of Twitter. As a result, the value of Dogecoin increased by nearly 30% and reached a new high of 0.158 USD since April 26th, 2022.
However, on November 1, 2022, approximately 169 fraudulent projects were initiated that capitalized on Elon Musk's image to deceive investors. Majority of these schemes were developed on Ethereum and BNB Chain, two blockchains notorious at the time for harboring numerous rug pull scams.
On February 15th, 2023, Elon Musk published a tweet containing a snapshot of a canine and the accompanying text, "The new CEO of Twitter is excellent." Furthermore, within a 24-hour interval, the price of Dogecoin appreciated by 6.79%.
Elon Musk's tweets referencing Bitcoin and other cryptocurrencies are under scrutiny
On December 20th, 2020, Elon Musk posted a tweet stating "Bitcoin is my safe word" and "Bitcoin is almost like fiat money". However, these statements did not have any significant impact on the BTC price at that time.
On 20th February 2021, Elon Musk commented on a tweet by prominent gold advocate Peter Schiff, stating that "Bitcoin and Ethereum prices are now too high," in response to Peter's assertion that gold is superior to both Bitcoin and fiat currency. Subsequently, the prices of Bitcoin and Ethereum experienced sharp declines of 15.3% and 19.3% respectively.
In March 2021, Elon Musk announced on Twitter that Tesla could now be purchased with Bitcoin. Following his tweets, the price of Bitcoin saw an increase of approximately 5%. Musk also clarified that payments made in Bitcoin for Tesla will be held as BTC and not converted into legal tender currency.
On May 13, 2021, Elon Musk issued a tweet announcing Tesla's decision to cease accepting Bitcoin as payment for its products. Subsequently, Bitcoin's value plummeted from $54,819 to $45,700, representing its lowest level since March 1, 2021.
On the 14th of June 2021, Elon Musk announced via Twitter that Tesla would begin accepting Bitcoin once it receives confirmation of "positive future trends in energy usage by mining." This tweet resulted in a 3.83% increase in the price of Bitcoin within a 24-hour period.
On March 14th, 2022, Elon Musk released a tweet announcing that he continues to hold investments in Bitcoin, Ethereum, and Dogecoin amidst the rising inflation in the United States. As a result of this tweet, Bitcoin saw a 4.73% increase, Ethereum saw a 2.93% increase, and Dogecoin saw a 2.24% increase in value within a 24-hour period.
Elon Musk's tweets mentioning NFTs
In 2021, amidst the rise of NFTs, tech entrepreneur Elon Musk has also jumped on the bandwagon by announcing his intention to sell an NFT with a music theme. Specifically, the NFT will feature a video of a song that showcases imagery of diamond hands beneath the moon, as well as the most popular Shiba Inu dogs on social media at that time.
However, upon the listing of the NFT on the Valuables platform and an immediate bidding of 275,000 USD, Elon Musk declared that he no longer intended to sell.
On May 10, 2023, Elon Musk published a tweet concerning a person named Milady Maker, which read "I love you", resulting in a twofold increase in the floor price of this NFT collection from 3.8 to 7.3 ETH.
The professional relationships between Elon Musk and other affluent individuals
Changpeng Zhao (CZ)
The relationship between Elon Musk and Binance CEO Changpeng Zhao (CZ) appears to have become strained, as CZ has recently unfollowed Musk on Twitter. The reason behind Binance founder's decision to unfollow Elon Musk remains unclear, given that both individuals hold significant influence and are likely to draw attention to such actions.
It has been speculated by a Twitter account that CZ unfollowed Elon Musk due to Twitter's recent collaboration with eToro instead of Binance. As per the account, eToro allows its platform users to keep track of asset prices such as stocks and cryptocurrencies along with linking investment options through eToro.
Although it is uncertain whether Elon Musk was the decision-maker in the collaboration, his intention to step down from his CEO position and move towards managing the software/server department has been observed as of December 2022.
Mark Zuckerberg
Recently, after the news circulated regarding Instagram's new version having a layout and features similar to Twitter, a billionaire in the aviation industry responded to Mark Zuckerberg with a somewhat confrontational message. Specifically, Elon Musk posted a message on his Twitter page as a challenge to Meta's CEO: "I am ready for a cage fight if he is."
Mark promptly responded without any hesitation, requesting "Send me the address." Encountering Elon Musk's swift response posted on his personal page "Vegas Octagon," it was revealed that this venue located in Las Vegas is commonly utilized for hosting mixed martial arts competitions.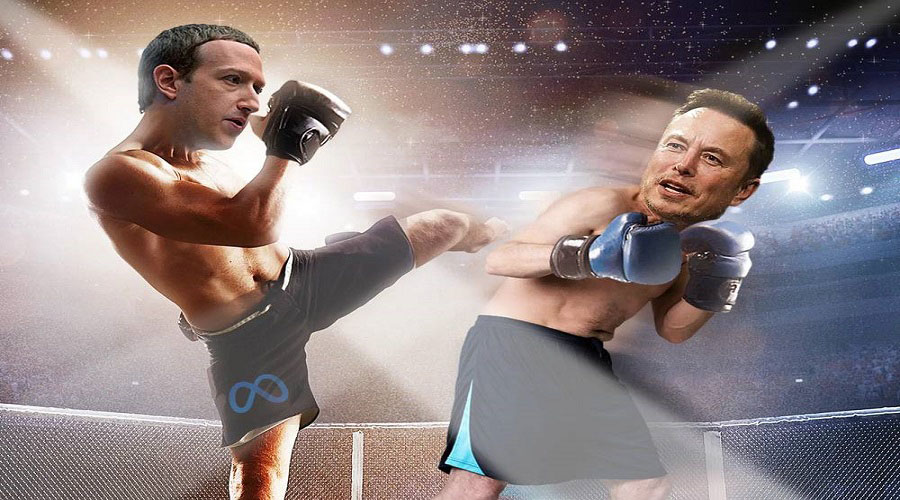 Furthermore, Meta recently launched Threads, which is a social networking platform that operates similarly to Twitter, on July 5th. It has been reported that Elon Musk plans to file a lawsuit against Meta on the grounds of systematic, intentional, and unlawful misappropriation of Twitter's trade secrets and other intellectual assets.
As per reports, a lawyer representing Twitter has sent a letter of accusation to Meta CEO Mark Zuckerberg, alleging that the company has stolen trade secrets by hiring former Twitter employees. In response to the accusation, Elon Musk posted a tweet hinting at the matter, stating that while competition is healthy, deceitful practices are not acceptable.
Ever since Elon Musk's acquisition of Twitter, the social media platform has faced stiff competition from Mastodon, Bluesky, and most recently, Threads. Meta CEO Mark Zuckerberg announced that Threads had garnered 30 million sign-ups on its first day of launch. Recently, Threads has become the top-rated free app on the iOS App Store. However, a Twitter account named "trust me bro" left an interesting comment on one of Elon Musk's tweets, stating, "If you can't beat them, copy them," which received agreement from many users due to such unhealthy competition from Meta.
Summary
Elon Musk is widely recognized as one of the wealthiest individuals in the world, having achieved notable success with companies such as Tesla, SpaceX, and PayPal. Additionally, he has had a significant impact on the crypto market through his tweets promoting Dogecoin, a popular memecoin. Despite his achievements, Mr. Musk has encountered challenges in his interactions with other billionaires such as Binance CEO CZ and direct competition with Meta Mark Zuckerberg, the owner of Facebook.
This article aims to provide useful information about Elon Musk and his influence on the cryptocurrency market. We hope that through reading this article, readers will have gained some understanding of the subject matter. The team at 247btc.net wishes our readers success and prosperity in taking advantage of the potential benefits of this market.