Undoubtedly, those who have ever participated in the cryptocurrency market, regardless of whether they are novices or experienced traders, must have heard of or have an account on Binance exchange, which has been established as the world's leading trading platform within just 7 months of its inception. In this article, 247btc.net will delve into the man who has built the Binance empire and propelled the exchange to its current dominant position.
Who is Changpeng Zhao CZ Binance?
Changpeng Zhao, also known as CZ, is a prominent figure in the cryptocurrency industry, hailing from Canada with roots in China. He is widely regarded as one of the most influential individuals in the digital currency market. CZ is credited with introducing Binance Coin (BNB) to the public and contributing to its large market capitalization. Additionally, he has developed an entire ecosystem related to Binance.
Formerly a member of Blockchain.info and CTO of OKCoin, he currently serves as the CEO and founder of Binance, the world's largest cryptocurrency exchange platform as of present.
The biographical and life details pertaining to Changpeng Zhao
Changpeng Zhao had to leave his hometown when he was young
Upon hearing the name Changpeng Zhao, it is widely recognized as a name of Chinese origin. Interestingly, CZ was born in the province of Jiangsu, China in 1977. He grew up in an intellectual family with a mother who was a teacher and a father who was a professor.
Towards the end of the 1980s, CZ Binance's family had to flee their homeland due to being labeled as intellectual class associates of capitalists. However, this event could be considered as one of the significant turning points in CZ Binance's life. His parents chose Vancouver, Canada as their new home, which provided him with advanced education and opportunities for personal growth.
Changpeng Zhao, while in Canada, had to balance his academic pursuits with part-time work to provide support for his family. During this period, it is known that he worked at a McDonald's restaurant and a gas station during the night shift. After completing his high school program, Changpeng Zhao relocated to Montréal where he pursued a degree in computer science at McGill University.
Upon graduating from university, Changpeng Zhao relocated to Tokyo where he worked for a company dedicated to developing software for the Tokyo Stock Exchange. In 2001, he moved to New York and began working for Bloomberg, assuming responsibility for the development of software systems for futures trading.
In the year 2005, Changpeng Zhao resigned from his position at Bloomberg and relocated to Shanghai to embark on a new enterprise named Fusion Systems. This project involved the development of advanced tools geared towards facilitating high-frequency trading for brokers.
Changpeng Zhao first heard about Bitcoin
In the year 2013, Changpeng Zhao was introduced to Bitcoin by a friend while playing poker. Since then, he immediately developed an interest in Bitcoin and spent a significant amount of his time studying this currency. In December 2013, Zhao decided to leave Fusion Systems after 8 years of dedication to join the field of cryptocurrency in London. This move gave him the opportunity to interact with the famous cryptocurrency investor Roger Ver, who introduced him to Blockchain.info. During this period, Zhao sold his house in Shanghai to invest in Bitcoin.
Subsequently, in 2014, the individual departed from Blockchain.info and assumed the position of Chief Technology Officer (CTO) at OKCoin, the largest Bitcoin exchange in China at that time. However, after a year, the individual also departed from this exchange due to the leadership's refusal to consider their business expansion ideas. The aforementioned events signify the individual's career history in the cryptocurrency industry.
The birth of Binance
2017
In 2017, the majority of cryptocurrency exchanges were challenging to use due to slow processing speeds, a lack of customer support services, and an increasing number of investors entering the crypto market, attracted by the rising value of Bitcoin. Addressing these issues, CZ created a new exchange platform called Binance that offers a user-friendly interface, low transaction fees, multi-platform support, and a distinct customer-centric focus.
In July 2017, during the time when initial coin offerings (ICO) were gaining significant attention in the market, Changpeng Zhao successfully launched the Binance ICO and raised a total amount of 15 million US dollars by selling approximately 200 million Binance Coins (BNB).
From 2018 until the present moment
Drawing upon their valuable experience gained over many years in business, technology, and blockchain industries, Binance has successfully become the largest cryptocurrency trading platform in the world within a mere six months. After multiple office relocations, Binance has officially established its headquarters in Malta as of March 26, 2018. The company has since expanded and established offices in nearly every country across the globe.
As of the end of 2021, Binance has listed over 350 different cryptocurrencies with almost 1,500 corresponding trading pairs, boasting a global user base of over 28.6 million and a total trading volume of up to 7.7 trillion US dollars. Its estimated revenue for the year 2021 is 20 billion US dollars, which is quadruple that of the previous year. In addition to usual exchange functionalities, Binance has also developed various new features such as Binance Earn, Binance Pay, Binance P2P, Launchpad, BNB Chain, and Binance NFT with the aim of attracting more users and expanding its ecosystem.
Changpeng Zhao possesses a colossal amount of assets
As of January 2022, according to the Bloomberg Billionaires Index, CZ has a net worth of $96 billion, making him the wealthiest individual in China and the eleventh richest person globally. It should be noted that this figure may be even higher if one were to take into account the amount of cryptocurrency CZ currently holds, including Bitcoin and Binance Coin (BNB).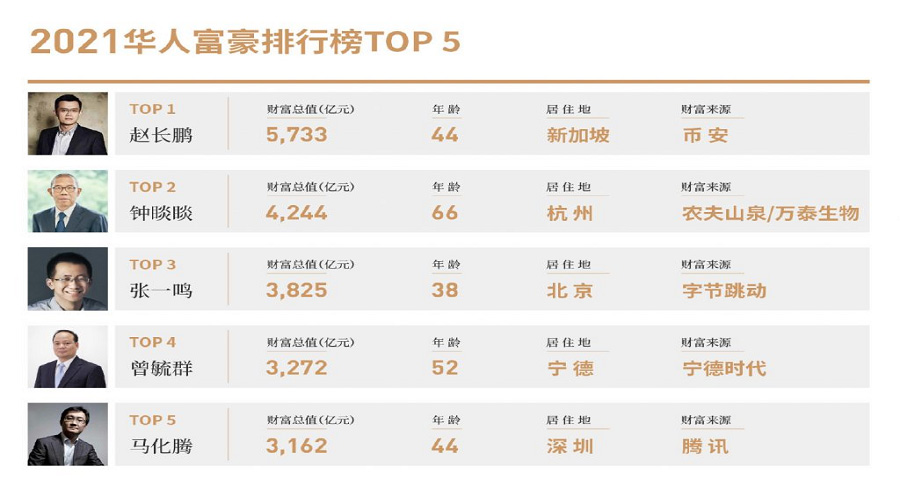 Subsequently, after several days have elapsed, CZ expressed his point of view on this subject matter via his Twitter account.
"Do not worry about rankings; instead, focus on how many people you can help," advised the speaker. He also added that instead of ranking wealth, there should be a ranking system to honor philanthropists
The CEO of Binance has previously communicated his intention to donate a significant portion of his assets, up to 99%, to charitable causes in alignment with other philanthropic efforts by entrepreneurs and founders.
The commendable utterances of Changpeng Zhao
Changpeng Zhao not only has a successful entrepreneurial track record, but he also serves as a motivating influence to multiple generations of investors through his powerful and meaningful quotes.
"If you work hard enough, you won't hear any noise at all."
"Don't play a game where they can change the rules when you're about to win. Just leave quietly and let them play with themselves."
"Don't try to accumulate wealth with unlimited supplies. It's a game you'll never win. Only the publisher is the winner."
"If the market fails to weed out the weak, it will not have a solid foundation for further growth."
"Don't let short-term emotions affect your life. Look at the long-term technology trends, crypto will be everywhere."
"Don't buy a coin because someone (especially famous people) said something. Only buy coins you like after learning about it yourself."
"If you don't know why you're buying a coin, you can't afford to hold it."
"Whether the market is bullish or bearish, stay calm and maintain your position. Manage your risk or lose the next month's rent."
Summary
It is hoped that this article will provide you with additional information on the life and journey towards crypto of the CEO of Binance – Changpeng Zhao. Alongside familiar heavyweights in the cryptocurrency industry such as Elon Musk, Sam Bankman-Fried, and Michael Saylor, CZ cannot be overlooked. He has played a significant role in propelling the continuous development of the blockchain and attracting new investors to the market through the Binance exchange and the BNB Chain platform. CZ is a visionary who maintains an optimistic outlook on the future of the cryptocurrency market and inspires his community through his words and valuable investment lessons.
The above information was researched by the team at 247btc.net. We hope that this information will be helpful to our readers. However, please note that this is not investment advice, but rather an informational channel. Therefore, investment decisions should be carefully considered.