Hayden Adams is the founder of Uniswap, a decentralized exchange (DEX) for Ethereum tokens. Let's take a closer look at this article for better understanding.
Who is Hayden Adams?
Hayden Adams, an American software engineer and entrepreneur, established Uniswap, a decentralized exchange (DEX) for Ethereum tokens. Adams, who was born in 1994 and raised in St. Louis, Missouri, pursued computer science as his major at the University of Wisconsin–Madison. Subsequent to earning his degree, he functioned as a software engineer for Siemens.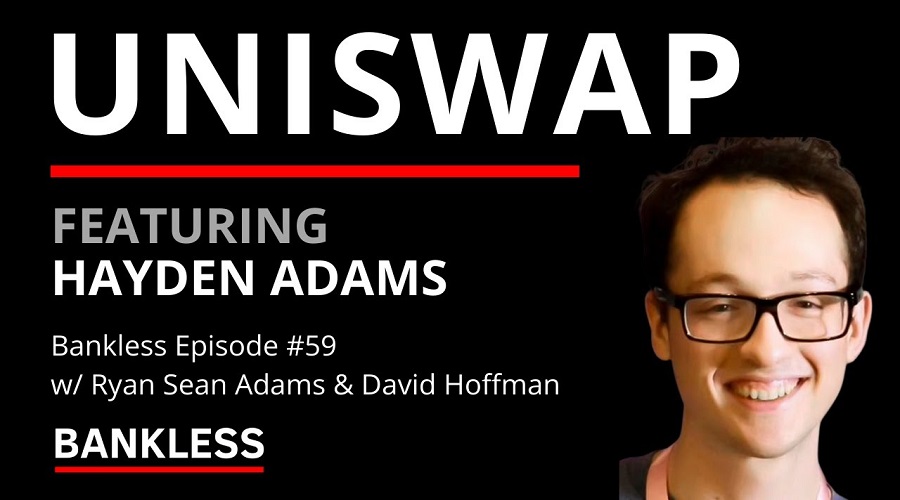 Adams evinced a keen interest in cryptocurrency and decentralized finance in 2017, recognizing the prospect of DeFi to transform the financial system, following which he embarked on the development of Uniswap.
Uniswap
In 2017, Adams originated the concept of UniSwap and envisioned it as a cryptocurrency exchange platform that could provide superior user-friendliness compared to its counterparts. Despite encountering financial hurdles during its conception, the project gained momentum after Adams met with Vitalik Buterin. As a result of this meeting, Ethereum committed a $65,000 grant to the project, which propelled it closer to fruition.
UniSwap was able to engineer its source code, with the support from the funds provided. Subsequently, in November 2018, Adams launched Uniswap as a decentralized finance protocol on Ethereum, equipped with user-friendly functionalities such as ERC-20 pairs, price oracles, and flash swaps. To the surprise of many, the project quickly emerged as a leading force within a year, facilitating transactions worth more than $1.8 billion.
Following this, the decentralized exchange was financially supported by business angel Ric Burton, along with notable venture capital firms such as Andreessen Horowitz, Paradigm Venture Capital, Union Square Ventures LLC, and ParaFi. In September 2020, Uniswap introduced its governance token, UNI, which not only provides the project with a revenue stream, but also offers potential for profitability. Additionally, UNI enables its holders to participate in decision-making processes concerning the development of the project.
Uniswap has been successful in attracting numerous users who have lost confidence in centralized exchanges, owing to its decentralized nature. Notably, the exchange achieved a significant milestone in 2021, wherein its average daily trading volume spiked to $220 million. To meet the demands of its growing user base, the Uniswap team launched an upgraded version of the network, Uniswap V3, which provides greater capital efficiency for liquidity providers, better execution for traders, and enhanced infrastructure. On the day before the official launch of Uniswap V3, the price of the UNI token reached an all-time high, hitting $44.9.
Uniswap introduced trading capabilities for non-fungible tokens (NFTs) on November 30, 2022. This new functionality permits users to trade virtual collectibles on prominent marketplaces such as OpenSea, X2Y2, LooksRare, Sudoswap, Larva Labs, Foundation, and the NFT20 marketplace through Uniswap's aggregator tool.
In the same vein, Uniswap commenced 2023 on a positive note by augmenting its services to distinguished networks such as Polkadot, Polygon zkEVM, and BNB Chain. This strategic move aims to expand accessibility to its offerings and boost the liquidity and expansion of its network.
Moreover, a mobile wallet was introduced with an integrated decentralized exchange support and is presently accessible for iOS devices in specified regions.
In July 2023, Adams introduced UniswapX, a publicly available protocol designed to combine liquidity across decentralized exchange pools. This protocol was developed to benefit users in identifying optimal prices for their trades through a range of liquidity sources. As per Adams, UniswapX operates as an open network, involving third-party entities referred to as fillers.
Controversy
In approximately 2022, Uniswap faced severe backlash due to its inability to prevent the rampant fraudulent activities and consequent loss of users' investments on the platform. Subsequently, a group of users instituted legal proceedings against the decentralized exchange, citing the listing of malicious projects that resulted in the depletion of their assets.
In the same year, Uniswap encountered a separate issue when one of its liquidity providers suffered an $8 million loss due to a phishing scam on the network. As per sources, the individual was tricked by a harmful airdrop initiative. Subsequently, the perpetrators exploited the vulnerability and siphoned off $8 million worth of digital assets from the liquidity provider's wallet. Following the widespread news of the attack in the cryptocurrency industry, Adams promptly communicated on his X page, reassuring users about the platform's security. Despite Adams' clarifications that Uniswap remained unaffected, the occurrence raised concerns regarding the decentralized exchange's safeguarding measures.
On April 3, 2023, the apprehensions expressed by Uniswap users regarding the safety of the platform were ultimately justified as a sandwich attack led to the disappearance of $25.2 million from eight distinct pools. The perpetrators capitalized on a loophole in the decentralized exchange's pricing mechanism, enabling the purchase of tokens from Uniswap at a reduced rate. Furthermore, they successfully transferred their bounty to multiple wallets.
Adams himself fell victim to hacking when his X handle was compromised, and subsequently, the perpetrators conducted a malicious airdrop campaign using his handle. It took roughly five hours for Adams to regain control of his account. He promptly advised users to disregard any overtures made by these bad actors and cautioned them against clicking on dubious links forwarded by the hackers. Meanwhile, Uniswap, in its official statement, clarified that the hack on Adams' account did not impact its operations in any way.
Subsequently, in a distinct declaration, Adams voiced his dismay regarding the attempted falsification of an Uniswap website by hackers. Being one of the leading contenders in the emerging DeFi realm, Uniswap has inevitably attracted cyber assailants. Adams was taken aback by the hackers' capability to devise a deceitful page to dupe unsuspecting users. Moreover, he disclosed that the concocted webpage bore Chinese language materials and internet hyperlinks that mimicked the official Uniswap platform.
Notwithstanding, the originator has demonstrated unwavering diligence in combatting the wrongdoers that are causing issues in the DeFi sector. In the beginning of August, he terminated an unscrupulous employee of UniSwap, who was suspected to be one of the guilty parties. As per Adams, the worker, known as AzFlin, carried out a Ponzi scheme and made away with approximately 14 ETH, equivalent to $25,800.
On August 2, 2023, Uniswap made the decision to remove HEX from its platform amidst regulatory scrutiny from the United States Securities and Exchange Commission. This was due to reports of a lawsuit filed against Richard Schueler, the project's founder, as part of the SEC's crackdown on the cryptocurrency industry.
Is Hayden Adams Pro Crypto?
Hayden Adams has been making significant contributions to the cryptocurrency industry since 2018. Despite initially resisting the idea, he embraced the industry after losing his job at Siemens, when his perception of crypto underwent a complete shift. His newfound interest was sparked by a message from Karl Floersch, who shared an article by Vitalik Buterin, the well-known founder of Ethereum, with him around 2017.
While Floersch was engaged in Ethereum-related work, Adams came across an article by Buterin titled "Let's run on-chain decentralized exchanges the way we run prediction markets". This reading material proved to be a revelation for Adams, providing him with a glimpse into the broad range of prospects and opportunities inherent in a fully decentralized finance ecosystem.
Floersch, the current Chief Technology Officer (CTO) of Optimism, informed Adams about the inadequate availability of smart contract developers for Ethereum, which piqued his interest. Subsequently, Adams resolved to acquire proficiency in JavaScript and Solidity by learning how to code with the Solidity language that powers the Ethereum ecosystem. In retrospect, Adams proclaimed, "It was a peculiar time. I was deeply involved in Ethereum, and from that perspective, it was a truly beneficial experience. The termination of my employment undoubtedly proved to be my most advantageous turning point."
Adams gained inspiration for developing Uniswap from Buterin's article, which highlighted Ethereum's potential while highlighting the inefficiencies of existing decentralized exchanges that relied on order books. Fueled by this realization, Adams resolved to create a distinctive decentralized exchange that would replace order books with Automated Market Makers (AMM).
Adams endeavors to deliver a genuinely decentralized platform through Uniswap, which furnishes more user-friendly services in contrast to existing ones in the market. The cooperative association he shares with Floersch enabled him to successfully acquire a grant worth $65,000 for the project. The Ethereum Foundation, a non-profit institution dedicated to promoting the growth of Ethereum and other novel technologies, granted the funding.
Uniswap, with the aid of Adam's expertise, has established itself as a significant influence within the DeFi realm in under a year of its launch. Notably, it has grown to become Ethereum's foremost decentralized exchange and has gained widespread adoption within the crypto community.
The exceptional performance of Uniswap has positioned Adams as a formidable figure within the industry, thereby placing him at the forefront of attention amongst his more than two hundred and fifty thousand Twitter followers. A large proportion of his posts pertain to promoting the adoption and awareness of cryptocurrencies. Adams' prevailing viewpoint is that the failure to comprehend the merits of crypto is a result of a gross lack of knowledge.
In recent years, the Uniswap founder has participated in numerous interviews and conferences, espousing his belief in the revolutionary potential of crypto, blockchain, and Web3, which he views as transformative technologies capable of increasing access, transparency, equity, and decentralization within the Internet and financial systems. As an ardent advocate for crypto and Web3, he has engaged in productive dialogues with esteemed figures such as the commissioner of the Commodity Futures Trading Commission, through which he sought to highlight the potential advantages and challenges associated with DeFi and Web3 in an effort to broaden awareness among policymakers.
Adams has successfully maintained his admirable reputation, particularly among the cryptocurrency community on Twitter. This is largely due to his sharing of invaluable insights into the realities of the industry. Recently, he provided advice to investors, cautioning them to approach dealings with crypto wallets or unfamiliar projects from an adversarial perspective. Additionally, he issued a warning advising against interacting with unknown or random projects, as well as legitimate and prominent decentralized applications, from their cold wallets.
During the beginning of 2023, the founder of Uniswap disseminated official directives from the federal sector, which recommended discrimination by banks against cryptocurrency customers. In the meantime, his personal accounts held with financial institutions JPMorgan and Chase were unexpectedly terminated. The apparent discrimination experienced by Adams from the banking industry serves as justification for advocating the widespread adoption of cryptocurrency.
Notwithstanding the extensive examination that ensued within the industry subsequent to the downfall of FTX, Adams impelled investors to persist in their pursuits. Although he acknowledged the presence of numerous malefactors within the cryptocurrency realm, he underscored the prevalence of comparable predicaments in other domains. It should be noted that he had already authored an article concerning the crisis towards the close of the year 2022. His resolute faith in the resilience of cryptocurrency to recuperate from the economic recession endures unshakable.
Like many other industry leaders, Adams has expressed criticism of the regulatory atmosphere in the United States. During a recent interview, he asserted that the strict approach taken by the Biden administration towards cryptocurrency could potentially discourage innovation within the country.
In my view, this industry and its technology are firmly established. Other countries, such as the UK and France in Europe, have already begun to actively embrace DeFi and devise regulations for it. From my observation, they are taking a thoughtful approach. However, the U.S. appears to be trailing behind in this area.
During his appearance on the Unchained podcast, the founder expressed strong criticism towards the U.S. government's lack of prudence and efficacy in handling the regulation of cryptocurrency. He disclosed that his company is contemplating the possibility of establishing offices in foreign jurisdictions due to the escalating regulatory predicament.
Adams' Net Worth
Hayden Adams is widely regarded as one of the most influential figures in the DeFi sector, owing to a number of factors including his achievement of building Uniswap, his championing of technological advancements, and his visionary leadership that has helped to shape the future of DeFi. Additionally, Adams has established himself as a role model for other entrepreneurs in the cryptocurrency industry, having achieved notable success in building a thriving company in the nascent and rapidly-evolving crypto space. In light of his considerable accomplishments, it is worth noting that Adams' net worth is estimated to be approximately $1 billion, making him one of the wealthiest individuals in the cryptocurrency community and the richest person within the DeFi landscape.
Conclusion
Hayden Adams, a brilliant software engineer and entrepreneur, has been making significant contributions to the growth and development of the DeFi space. Through his innovative ideas and leadership, he has undoubtedly become one of the most influential figures in the industry. It is apparent that his positive impact will continue to shape the future of DeFi for years to come. This article aims to inform readers about the accomplishments of Hayden Adams and provides insight into his total net worth.
The above information was researched by the team at 247btc.net. We hope that this information will be helpful to our readers. However, please note that this is not investment advice, but rather an informational channel. Therefore, investment decisions should be carefully considered.