According to a report from Wu Blockchain, Worldcoin – the crypto project of Open AI CEO Sam Altman, is launching its token WLD on July 24th. Reliable sources have revealed that OKX exchange has introduced deposit support for this token, along with compatibility with the ERC20 protocol and the Optimism network.
World Coins has recently raised a total of 115 million USD amidst a challenging market situation. What distinguishes this project from others? Let us explore its unique features in detail in the forthcoming article.
What is World Coins?
Worldcoin is a new global currency that is collectively owned and will be distributed fairly to as many people as possible on a global scale. The business model revolves around the concept of free electronic payment for exchange of customer observation, making it an interesting proposition.
The internet has gained considerable strength due to the advent of vast networks such as email, social media, and online marketplaces. The participation of a significant number of users has contributed to their growing power. For the first time, digital currencies have made it possible to distribute ownership and control of these networks to their users, instead of a single entity.
In the event that a specific type of cryptocurrency is widely adopted on a large scale. Its potential to enhance access to the internet economy and bring unimaginable applications to reality would significantly increase.
The salient feature of the project in question is notable
The application of the Proof-of-Personhood technology enables the initiation of user onboarding procedures
In order to distribute the new currency quickly and to as many people as possible, Worldcoin intends to allow individuals to request a free portion of it. This will, however, require the solution of a significant challenge: ensuring that individuals across the globe can prove their humanity (versus being a bot) and that they have not yet received their free portion of Worldcoin. This challenge is rooted in the long-standing issue of identity verification: how can one prove their identity without revealing any personal information to the project?
The issue at hand is being addressed by Worldcoin through the implementation of the Proof-of-Personhood technology, whereby each user will be verified and assigned a digital identity within the Worldcoin network. This mechanism ensures the authenticity of activity on the network and promotes accountability among users.
As a means of incentivizing new users to join its network, Worldcoin intends to distribute tokens as a reward for their participation. This approach is also geared towards attracting more individuals to participate in the network and increase its user base
In order to address this issue, World coins developed a new device called the Orb, which utilizes biometrics to solve the problem. The Orb captures an individual's eye image and converts it into a short code, allowing for verification of registration. If not registered, they will receive their Worldcoin portion for free. The original image does not need to be stored or uploaded, and unlike many centralized services used today. No other personal information is required. Through modern encryption, this code is also not linked to the user's wallet or transactions, continuing to safeguard their privacy rights.
High compatibility and extensibility
The scalability of World coins is facilitated by the implementation of Optimistic Rollup solution on the Ethereum network. This "layer 2" expansion solution ensures that transactions remain affordable, speedy, and trustworthy as the Worldcoin network grows. What's crucial is that this solution maintains Ethereum's open and permissionless nature, allowing anyone to create an account, send transactions, and participate in verification.
The goal of Worldcoin is to have broad compatibility. Its underlying token is based on the widely-used ERC-20 standard of Ethereum. Enabling compatibility with many existing tools and services. Moreover, open-source SDKs will facilitate developer interaction with the currency unit and Layer 2 with great ease.
Users have the flexibility to withdraw their funds either to the Ethereum main network or transition to any Layer 2 solution on Ethereum (such as Optimism, Arbitrum, and other ecosystems) and even to alternative, ambitious ecosystems, such as Solana or Polkadot.
Security capabilities
Worldcoin incorporates the security model of Ethereum wherein the accounts are pseudonymous and the transactions are public. It is essential to note that Worldcoin accounts are never associated with any biometric data from Orb. Zero-knowledge proof (ZKP) is the underlying technology that supports this privacy protection biometric methodology. Semaphore's open-source zero-knowledge proof system is employed to convert the uniqueness of IrisHashing into the uniqueness of the user's account without linking them.
Stage 1: Register and check for uniqueness
A pair of Semaphore keys were created by the user on her mobile phone.
The user presented a public key that had been hashed using a QR code to Orb.
The Orb scans the user's eyeball and computes the local IrisHash of the user.
The Orb entity transmitted a digitally signed message containing a hashed public key and IrisHash to the registration sequencing node.
After verifying the signature sequence of Orb, the system will proceed to check whether IrisHash matches any of the existing nodes in the database. If the uniqueness test is passed, IrisHash and public key will be stored for future reference. This process guarantees the authenticity and security of the data.
Stage 2: Claim the reward
The application enables users to generate a local wallet address.
The application employs Semaphore to demonstrate its possession of a unique partnership with a public key that was registered during Phase 1. As an evidence without knowledge, it does not disclose any of the public keys.
Once the evidence is resubmitted to the sorting system, it will be verified and the process of sending a notification code to the provided wallet address will commence.
A nullifier is sent alongside the presented evidence to ensure that the user cannot request the reward more than once.
An individual can take those steps – separated by zero-knowledge proof – based on biometric authentication without the need to associate their user account with biometric data.
Wallet & SDK for Usability and Compatibility
The aim of Worldcoin is to become the first widely accepted digital currency. In order to achieve this goal, the development team must not only launch the currency comprehensively. But also ensure that it is user-friendly for those who have no prior experience with digital money. To build trust with users, privacy and security concerns must be addressed. To this end, the team is currently working on a mobile wallet application called World App.
The Ví allows users to learn about Worldcoin and other cryptocurrencies, finder Orb miners, make their own requests for sharing, view their account balances, make global peer-to-peer payments, and use their Worldcoin within the entire Ethereum ecosystem. No central authority serves as an intermediary for transactions; users always retain full control and ownership of their Worldcoin (such as with an "unmanaged" wallet), which they may backup as desired.
Basic information about the WLD token
Currently, detailed information about the token WLD of the project has not been disclosed. However, according to the official website of Worldcoin, individuals may earn WLD for free by verifying their identity through Orb. Additionally, WLD holders will have the opportunity to use the token for voting, payment, and trading purposes in future transactions.
Once additional information becomes available regarding the WLD token, I will provide an update to everyone in a timely manner.
Token data
Token Name: Worldcoin
Ticker: WLD
Blockchain: Ethereum, Optimism
Token Standard: Updating…
Contract: 0x163f8c2467924be0ae7b5347228cabf260318753
Token type: Utility, Governance.
Total Supply: 10,000,000,000
Circulating Supply: 143,000,000
WLD Token Allocation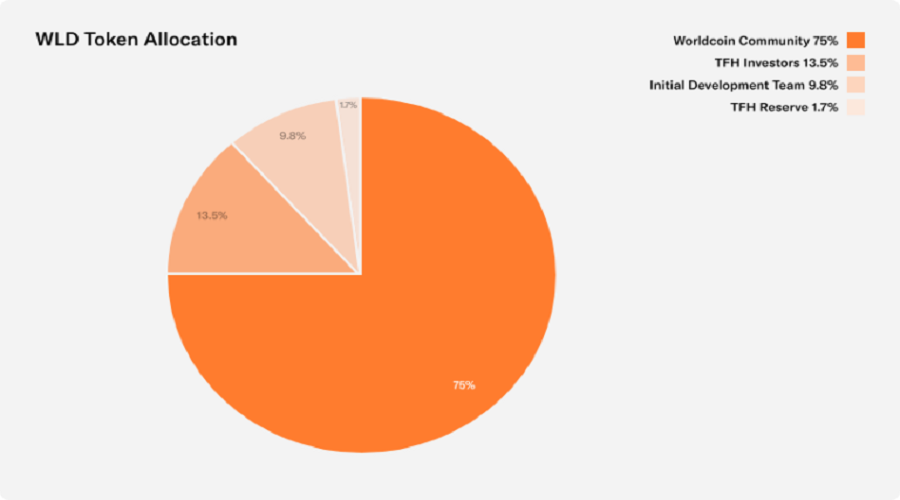 Community: 75% of total supply
TFH Investors: 13.5% of total supply
Initial Development Team: 9.8% of total supply
TFH Reserve: 1.7% of total supply
Token Release Schedule
WLD token utility
WLD Holder can vote to decide the future of the project
The WLD currency can be utilized as a means of payment for various applications within the Worldcoin ecosystem.
In the future, WLD may serve as a means of payment.
How to earn WLD tokens
Users who verify their accounts through Orb will receive free WLD.
When inviting others to verify their identity on the platform, the user will also receive WLD tokens as a reward.
Participating in assisting the project.
I purchased WLD from the exchange platform upon the successful launch of Worldcoin's Mainnet.
Roadmaps
The project has not yet disclosed a specific roadmap; nevertheless, the current status of Worldcoin is in the Beta testing phase, and it is anticipated to launch its mainnet in the first half of 2023.
Project team, investors & partners World Coins
Project team
The establishment of Worldcoin was carried out by Sam Altman, CEO of OpenAI and Alex Blania.
Sam Altman: OpenAI CEO and former president of Y Combinator
Alex Blania: CEO and Co-Founder of Worldcoin
Investors & Partners
On October 21, 2021, Worldcoin announced that they had successfully raised $25 million from investors, including Andreessen Horowitz (a16z), Coinbase Ventures, Digital Currency Group (the parent company of CoinDesk). And angel investors such as crypto billionaire Sam Bankman-Fried and Reid Hoffman, co-founder of LinkedIn. The company is presently valued at $1 billion.
On March 23, 2022, Worldcoin initiated a funding round worth 100 million USD, valued at 3 billion USD, which was led by a16z.
On the date of May 25th, 2023, additional funding of 115 million USD is being solicited by the project from Blockchain Capital and a16z.
The potential of the Worldcoin project
As of now, Worldcoin has successfully raised a total of 240 million USD from several major investment funds such as a16z, DCG, Multicoin, Coinbase, Blockchain Capital, among others. This is a considerable sum when compared to other projects. Additionally, during a recent fundraising round, Worldcoin was able to secure a significant amount of capital despite the challenging market conditions. This indicates a certain level of potential for the project.
However, the project also has some drawbacks, such as the overly ambitious and somewhat confusing visual technology of Worldcoin. In addition, the project has been controversial with its Orb product, which verifies users through eye scanners. Consequently, many people are concerned that Worldcoin may become just another version of ICP.