In recent times, Combo Network has garnered significant attention as a Web3 project. By introducing a development fund worth $80 million, the project has been able to attract the interest of both investors and the community. The objective of Combo Network is to create an advanced Web3 gaming environment that effectively and securely connects developers to the ecosystem. In essence, what exactly is the Combo Network? Discover more about this project in-depth with 247btc in this article.
What is Combo Network?
Combo Network serves as an expansive Layer 2 solution for Web3 games, operating as a decentralized and open-source platform that aims to maximize the potential of Web3 games by offering a cost-efficient and secure means of connecting game developers to the entire ecosystem.
The project formerly known as COCOS-BCX has been recently renamed as Combo Network. The new name signifies a robust collaboration among partners in the Web3 platform system, geared towards greater progress and mutual benefit among all groups involved in the project.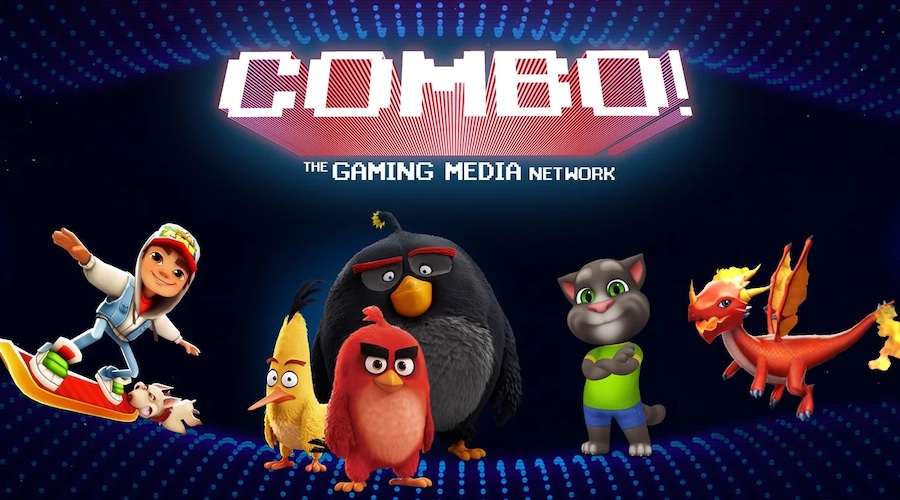 Combo Network utilizes a sidechain-based approach to expand its scale. Sidechains are independent blockchains connected to the main chain (in this case, Ethereum) through a bridge, allowing for faster and cheaper transactions, which are critical for gaming applications.
The Combo Network is designed with a gaming focus, incorporating specific features intended to satisfy the requirements of game developers. For instance, it boasts of low latency, high throughput, and predictable gas costs.
In general, Combo Network is a promising new technology with the potential to revolutionize the gaming industry. By offering a fast, cost-effective, and secure way to scale up game development, Combo Network can make Web3 gaming more accessible to a wider range of audiences.
Benefits of Combo Network
Here are some benefits of using Combo Network:
Faster and cheaper transactions: Combo Network utilizes sidechains to alleviate the computational and data load from the main chain, which facilitates faster and more cost-effective transactions. This feature is crucial for gaming applications, where speed and affordability are paramount.
Open source and decentralized: The Combo Network is an open-source and decentralized codebase, meaning that it is not subjected to any form of control by any entity. This characteristic has heightened its safety and reliability and averted the risk of system-wide failure resulting from a single point of error.
Game Orientation: The Combo network is specifically designed to cater to the needs of game developers, with a focus on gaming. This is made possible by incorporating features that ensure low latency, high throughput, and predictable gas costs.
Effective, affordable and safe: The effectiveness, affordability, and safety of Combo Network makes it a cost-effective and reliable solution for game developers who seek to expand the scale of their gaming ventures, thus rendering it an optimal choice.
If you are a game developer seeking to expand the scale of your game, Combo Network is an excellent choice. It offers a quick, cost-effective, and secure method for expanding your game, specifically designed to meet the needs of game developers.
Products of COMBO
COMBO provides products for two main audiences: game developers, users.
For game developers:
The COMBO program provides support to developers in constructing Game products that are time-efficient through the utilization of the OP Stack technology toolkit, consisting of API and SDK.
Providing services to enable developers for easy development of user features, such as Account Abstraction and Wallet-as-a-Service (WaaS).
Providing an end-to-end service package can significantly improve development efficiency for game developers.
This feature enables users to gain access to all nodes present in various chains, thereby improving the effectiveness of their operations.
Developers are supported through the provision of advice from top experts in the Web3 Game sector.
For users
The COMBO system offers three primary functionalities, namely Explorer, Bridge, and Swap, which are explicitly as follows:
COMBO Network scan: Explorer
The Explorer interface allows users to easily track the status of their transactions on COMBO. The interface displays comprehensive transaction information, including contract details and transaction values.
In other words, Explorer operates as an information gateway, providing transparent and trustworthy content to assist users in constantly updating their transactions on COMBO.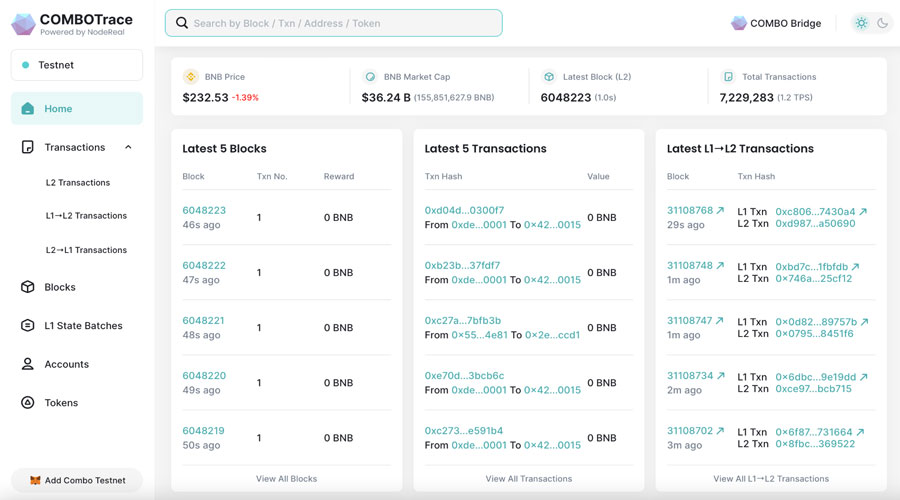 With Explorer, users can use features such as:
Search bar: The search bar facilitates users to search transactions based on wallet addresses, contracts, and blocks, enabling them to efficiently locate relevant data. The language used is formal in nature and aims to provide informative content.
Transactions:This platform offers user support for updating and searching detailed information about completed transactions. Users can enjoy quicker searches through the transaction classification features, including L2, L1-L2, and L2-L1.
Blocks: Stay up to date with all the latest detailed information on the blocks contained in COMBO, including block header, transaction timestamps, and gas fees.
Combo network Bridge
The project offers the Bridge feature enabling users to transfer assets such as BTC, ETH, etc. from BNB Testnet to COMBO Testnet or vice versa.
Combo network Swap
The Swap feature was developed to enable users to exchange their COCOS Tokens, which are the Utility Tokens of COCOS, for COMBO Tokens, which are the Utility Tokens of COMBO, on a 1:1 ratio. This feature was introduced because COMBO is a project built upon COCOS.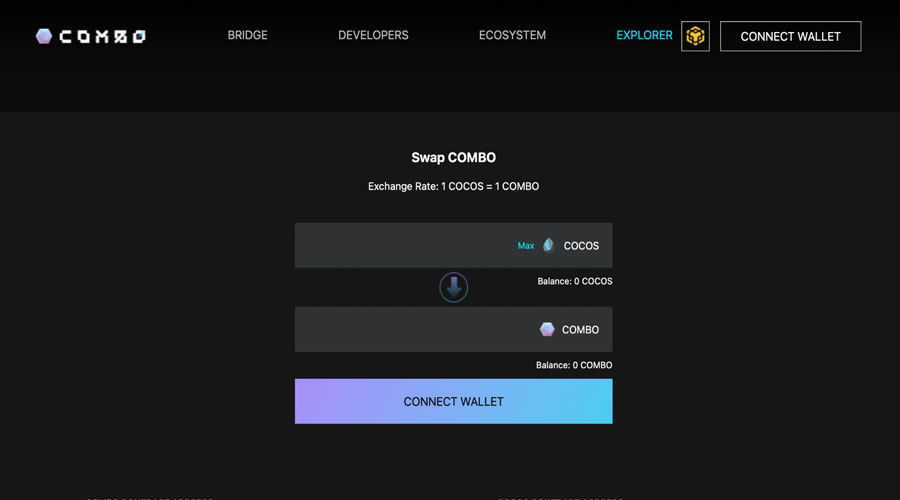 What is COMBO coin?
COMBO is the native token of COMBO Network. Current use cases for COMBO include:
Gas Fee: The payment of transaction fees on Combo Network's online platform is to be processed.
Administration: Individuals who possess COMBO can participate in managing COMBO Network.
Staking: Users have the ability to earn rewards by staking COMBO tokens.
Liquidity Mining: Users have the option to provide liquidity to the COMBO pool in order to gain rewards.
The total supply of COMBO tokens amounts to 100 million, following which the current circulating supply of these tokens as on the 13th of June, 2023 is 71 million. COMBO tokens can be traded on several cryptocurrency exchanges, including Binance, Huobi Global, and Gate.io.
Information about COMBO Token
COMBO Token Key Metric
Blockchain: BNB Chain, Ethereum
Ethereum: 0xc03fbf20a586fa89c2a5f6f941458e1fbc40c661
BEP-20: 0xc03fbf20a586fa89c2a5f6f941458e1fbc40c661.
Token Type: Utility và Governance
Token Supply: 100,000,000 COMBO
Circulating Supply: 71,051,748 COMBO
COMBO Token Allocation
COMBO Token được phân bổ như sau:
Ecosystem Fund: 35%
Developer Incentives: 35%
Airdrop: 17%
Other activities: 13%
Roadmap
Second quarter of 2023
COMBO Rebranding
COMBO Optimistic Rollup TestNet Launch
Testnet Growth Incentive Program
COMBO Rollup Hackthon
Web Game Infrastructure Development
3rd quarter of 2023
COMBO Optimistic Rollup Mainnet Beta Launch
COMBO Optimistic Rollup Mainnet Launch
COMBO Global Ecosystem Alliance Fund Program
Quarter 4 of 2023
COMBO Optimistic Rollup Incentive Program
COMBO Optimistic Rollup Ecosystem Building
Web3 Game Projects Incubator Program
Project team
The COMBO project team comprises a group of leading experts and developers in the blockchain and gaming industry. Below are some key members of the COMBO project team.
James Yang: Mr. Yang is the CEO and founder of the COMBO project, with extensive experience in game development and blockchain technology.
Richard Yang:With a wealth of knowledge on blockchain technology and game development platforms, Richard Yang holds the position of Chief Technology Officer (CTO) at COMBO.
Haozhi Chen: Mr. Chen holds the position of Director of Public Relations at COMBO, assuming the responsibility of managing relationships with the project's community and partners. His role primarily involves overseeing the coordination and communication efforts between the project's stakeholders and ensuring that all interactions are carried out effectively and efficiently.
Yujing Wu: Yujing Wu has assumed the position of Head of Analysis and Research at COMBO, with a primary focus on researching and analyzing the blockchain technology and gaming market.
Furthermore, the COMBO team comprises various experts and developers from different fields, such as user interface design, technical development, business strategy, and technical support.
Project partner
COMBO's project partners are combo network funding as follows: