In 2017, CryptoKitties, an NFT game on the Ethereum platform, experienced explosive growth that resulted in a sharp increase in transactions and fees, leading to network congestion. Dapper Labs, the development team behind CryptoKitties, recognized the issues plaguing Ethereum and made the decision to create a new blockchain specifically for NFTs to address these challenges. This new blockchain, known as FLOW Crypto, is currently ranked among the top 50 cryptocurrencies by market capitalization, following a downtrend in 2022. So, what sets FLOW apart? Join 247BTC in exploring the unique features of this emerging blockchain.
What is Flow Crypto?
Flow is a smart contract platform that has been developed through a new architecture allowing for the quick, affordable, and developer-friendly processing of transactions. It has been built by the Dapper Labs team, who are renowned for developing CryptoKitties – a game that involves virtual pet breeding on the blockchain.
From the very beginning, Flow has been specifically targeting the areas of Dapps Games (decentralized games), collectibles, and interactive applications associated with them. This focused approach reflects Flow's dedication to providing innovative solutions in these areas.
The salient feature of Flow
The main highlight of Flow is Flow's multi-tier architecture:
In most Blockchains, Nodes in the Validation process typically store all relevant information (including account balances and Smart Contract Code) and execute all transactions on the chain. This can be likened to a factory worker who builds an entire car from scratch.
However, with Flow, the aforementioned tasks are partitioned into four distinct roles
Collection: Collection buttons increase efficiency.
Consensus: Consensus nodes ensure decentralization.
Execution: Execution nodes enable speed and scale.
Verification: Verification buttons ensure correctness.
In there:
The optimal enhancement of security and permission allocation is achieved through the collective involvement of consensus and verification, enabling even individuals utilizing ordinary hardware and internet connections at home to have a high level of participation.
The tasks that have been thoroughly verified are executed jointly by Collection and Execution, ultimately resulting in reduced vulnerability to attacks. However, performing these functions requires the utilization of dedicated hardware in a professionally managed data center.
In this manner, validator nodes continue to participate in the verification of all transactions, albeit in only one phase of the verification process.
As a result, the specialization of these Nodes can significantly enhance the effectiveness of transaction authentication. This feature enables Flow to process transactions much faster and at a lower cost.
Additionally, the Flow ecosystem is currently regarded as a fertile ground for NFT projects, boasting significant potential for development. Those interested may explore various projects and investment opportunities within the Flow ecosystem by reading the article below.
Detailed information about FLOW coin
Key Metrics FLOW
Token Name: Flow.
Ticker: FLOW.
Blockchain: Flow.
Token Standard: Updating…
Contract: Updating…
Token Type: Utility, Governance.
Total Supply: 1,368,390,492 FLOW.
Circulating Supply: 68,150,078 FLOW.
FLOW Token Allocation
Ecosystem Reserve: 29%
Dapper Labs: 20%
Pre-Launch Backers: 20%
Team: 18%
Future Sales: 13%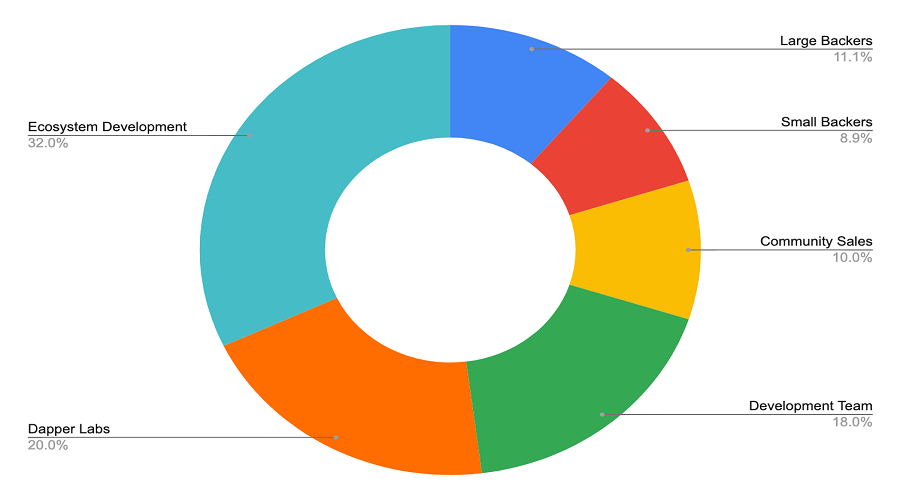 FLOW Token Sale
The company FLOW has announced that it will conduct two rounds of sales on the Coinlist platform, namely the Community Distribution Sale and Dutch Auction.
Community Distribution Sale:
Taking place from September 22 to October 2.
Selling price is $0.1/FLOW.
Each person can only buy up to $1,000 (equivalent to 10,000 FLOW).
The total maximum supply for the Community Distribution Sale is 10%.
Dutch Auction:
Taking place from September 23 to October 6.
Bid price starts at $1 and then lowers to $0.1 (reverse auction)
There is no limit to the maximum number of Tokens that people can buy.
The total supply for Dutch Auction is 2 – 6%.
FLOW Token Release Schedule
The FLOW coin unlocking schedule will be as follows:
Ecosystem Reserve: The Ecosystem Reserve is intended for use as a means of sponsorship, rewards, and the like. Currently, it is scheduled to be locked for a period of 12 months or utilized as collateral and is not set to be circulated.
Dapper Labs: Pay monthly for 5 years.
Pre-Launch Backers: Lock for one year and pay monthly for 12 months thereafter.
Team: Lock for one year, pay monthly for 3 years after that.
Future Sales:

Community Distribution Sale: Lock for one year and pay monthly for 12 months thereafter.
Dutch Auction:Lock for 1 year and pay off in 1 installment.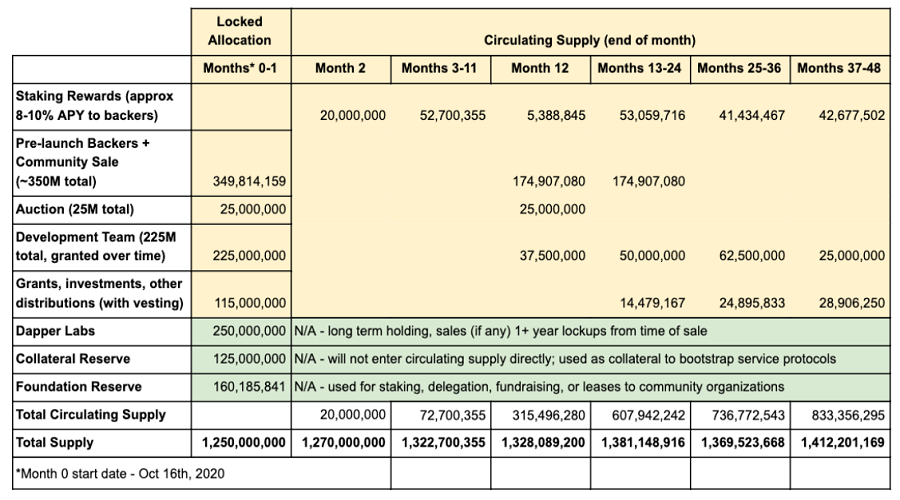 FLOW Token Use Case
The FLOW coin is the native token within the Flow ecosystem, serving various purposes such as:
Staking: Lock FLOW to participate in validating transactions on Flow Blockchain and receive a reward of FLOW Coin.
Governance: FLOW Holders can participate in Flow's ecosystem governance through FLOW Coin.
Transaction Fee: FLOW coin is used as transaction fee on Flow Blockchain (like ETH as transaction fee on Ethereum).
Currency: Used as currency in Flow's ecosystem.
Roadmap & Updates
On September 15th, Flow held a hackathon called The Flow FLIP Fest with the aim of discovering innovative ideas. The event will commence on September 15th and the outcome will be announced on November 15th.
Project team, investors & partners
Project team
All members of the Core Team have previous experience working on related gaming projects such as CryptoKitties, Dapper Wallet, and NBA TopShot.
Investors
Flow has garnered considerable attention from impressive backers, including Coinbase Ventures, a16zcrypto, Andreessen Horowitz, and Samsung Next.
Partner