Injective was initially introduced in October 2020 as a cross-chain protocol. Since June 2021, the project has evolved into a blockchain ecosystem with notable VC partners such as Binance, Pantera, and Hashed. To gain a better understanding of Injective and its exceptional traits, it's worth exploring the project within the Cosmos ecosystem.
What is Injective Protocol (INJ)?
Injective Protocol is a permissionless, decentralized DeFi platform that facilitates cross-chain derivatives trading. This platform supports a range of derivatives, including CFDs and perpetual swaps. Leveraging its tech stack, the protocol accelerates trade execution and settlement on layer-2 while preserving full decentralization. Being wholly decentralized, Injective enables anyone to both create and trade derivatives markets.
The platform utilizes both the Ethereum and Cosmo ecosystems through peg zones to establish a swift cross-chain trading infrastructure without involving gas fees. This undertaking aims to construct a trustless network that can undergo independent verification from any source.
The project incorporates distinctive attributes to attain the designated objective:
Decentralized layer-2 derivatives platform: Enable users to engage in derivatives trading at the speed of layer-2 decentralization without incurring any gas fees.
Market Creation: Injective offers the aptitude to participate in any derivative market exclusively through a price feed, representing a groundbreaking opportunity for traders to venture into new arenas.
Support Cross-Chain and Yield Generation: Injective has the capability to support an array of trading and yield generating tasks across layer-1 blockchain networks. This wide range of activities can be facilitated through the platform's advanced technology and infrastructure.
Complete Governance System: The Decentralized Autonomous Organization (DAO) structure is the governing mechanism of the Injective network, where the decentralized community vote on new listings and network updates.
The products and revenue generated by Injective
Products of Injective
The Injective Hub serves as a platform and gateway through which users can interact with the Injective ecosystem, additionally functioning as an aggregator of Injective products and features.
Wallet
Bridge
Staking
Governance
Burn Auction
Insurance Funds
Ninja Pass
Furthermore, Injective provides support for developers in constructing decentralized exchange platforms (including orderbook, spot/futures features). Some technical components of Injective include chain nodes, bridge smart contracts, API nodes, dApps, and tools.
Wallet
The feature known as "Injective Wallet" permits users to link their non-custodial wallets (such as Coin98 Super App, Metamask, etc.) in order to create an Injective wallet address on the platform. This Injective wallet address can then be utilized by users to store or keep track of their assets. There are two options for creating an Injective wallet.
Use EVM wallet to link and create Injective wallet.
Using a pure wallet for the Cosmos system like Kelpr still has the same passphrase as usual.
Note:
The injective protocol provides support for tracking and storing various assets, including the native token INJ, assets bridged from Ethereum, Moonbeam, and other IBC-supported chains.
When creating a non-custodial wallet address, a unique Injective wallet address will also be generated without a passphrase for recovery purposes. If you wish to use a previous Injective wallet address, you will need to connect it to the wallet that was previously linked.
As of the 18th of April in the year 2023, the number of holders on the Injective platform increased to 13,166 individuals, among whom include:
601 people own wallets over 1,000 USD
127 people own wallets over 10,000 USD
39 people own wallets over 100,000 USD
Between January 2021 and April 2023, the total number of wallet addresses has significantly increased and surpassed the threshold of 45,000, as reported by Dune Analytics. Additionally, the INJ token has been traded the most on three decentralized exchanges, namely Uniswap, SushiSwap, and 1inch. Further information can be obtained on various statistical data such as transaction numbers, users per week/month, and INJ transaction volume.
Bridge
The Injective Bridge is a tool designed to enable users to swap assets between INJ and other currencies. This bridge operates by transferring assets across multiple chains to Wormhole and subsequently redeeming them on Injective.
At present, the Injective Bridge facilitates support for numerous chains, including Ethereum, Solana, Cosmos Hub, Osmosis, Evmos, Axelar, Moonbeam, Persistence, Secret Network, Stride, Crescent, and Sommelier. It is important to bear in mind some crucial information before utilizing the Injective Bridge.
In order to perform token conversion, it is necessary for the user to possess assets within their wallet as well as the native token which is utilized for blockchain fee payments within the current chain. Once adequately prepared, the bridge can then be utilized.
Each blockchain has its own unique fee structure, with Ethereum having the highest fees. Optimizing transaction costs can be achieved by selecting a blockchain with lower fees such as Solana or Evmos.
Although the bridge feature is user-friendly, the transaction authentication process can be time-consuming, taking up to or more than 20 minutes.
Tokens after being converted can be Redeem to INJ.
Staking
The functioning of Injective Staking is based on the Proof of Stake (PoS) consensus mechanism, where users can stake their INJ tokens into the protocol for validators to verify transactions. In return, stakers receive rewards, which can be viewed on the Overview page of the Injective Hub and can be withdrawn at any time by the user.
At this juncture, stakers are authorized to select a validator to delegate their authority to. However, it is sagacious to differentiate and opt for a validator who is actively operating. A few criteria for assessing a validator are the amount of INJ staked, commission, and their voting power.
At present, the Injective platform has a total of 109 validators, of which 60 out of 109 are currently active. Moreover, the aggregate token INJ staked on the Injective network has exceeded 35 million, with the annual percentage rate (APR) at 16.29%.
Governance
Injective Governance refers to the platform's management mechanism, encompassing activities such as proposing, voting, upgrading, and any other modifications related to the Injective ecosystem.
To generate a new proposal, one must select "New Proposal" and the proposal type (e.g. text, spot market, perpetual, or instant spot market). For all proposals created, the proposer is required to deposit a minimum of 1 INJ for the activity and 500 INJ for voting.
As of April 18, 2023, the Injective ecosystem has received a total of 194 proposals, out of which 167 have been approved while 1 proposal is under voting.
Auction
The Injective Auction, which enables members of the community to use INJ to bid on transaction fees, will take place weekly. At the end of each auction session, the winning bidder will receive the full asset, and the winning bid amount (paid in INJ) will be burned to reduce inflation.
As of April 18, 2023, the 93rd bidding round is currently underway with an estimated total value of over 10.4 million USD. The highest bid thus far is 500 INJ, therefore if you wish to participate in the bidding, it is recommended that you place a bid higher than this amount (for example, 501 INJ). Please note that this bidding round requires a formal and informative style, as it deals with significant financial transactions.
Insurance Funds
Insurance Funds Injective is a financial platform dedicated to providing insurance services to derivative markets. Its users can either establish a fund or become a guarantor with a minimum requirement of 20,000 USDT to propose a new fund.
Ninja Pass
The Injective Ninja Pass serves as a gateway for users to gain early access to the latest products, events, airdrops, and exclusive gifts from the Injective ecosystem. This pass is represented by a unique code and is distributed randomly to users. If you have not yet received a pass, you may submit your email address through the Ninja Pass website to stay updated on the latest news.
In addition, each dApp within the Injective ecosystem will organize individual campaigns to distribute Ninja Passes through trading competitions, events on Twitter, etc. Interested parties may stay updated on Injective projects to seize these opportunities.
Injective's revenue
Injective's revenue will be generated from transaction fees in its Auction feature, with 60% of these fees coming from user payments. The remaining 40% will be distributed to exchanges built on the Injective platform. Specifically, the fee will be calculated using the following formula.
Fee = gas x gas price
The salient feature of Injective Protocol
Injective has successfully built a blockchain following the One-size-fits-all approach from a conventional trading platform. Its development process echoes that of other established chains such as Solana and BNB Chain.
Injective is a member of the Cosmos ecosystem. Therefore, after successful integration with IBC, the platform is capable of exchanging traffic with other blockchains within Cosmos, such as Akash, Osmosis, and more. The platform operates on a Proof of Stake mechanism, devoid of Front-run. It can also connect with Ethereum through the Peggy Bridge, which serves as a bridge for asset transfers between Ethereum and Injective Chain.
Furthermore, Injective is suitable for developers to construct decentralized applications and leverage resources on the platform, such as:
Support Injective Chain nodes, bridge smart contract, Validator permission licensing.
When building decentralized applications (dApps) and decentralized finance (DeFi) products, cross-chain liquidity is necessary. An example of this is the use of decentralized exchanges (DEX) with order books and spot/derivative trading.
Injective has implemented several incentivization mechanisms to encourage developers to create innovative dApps and products that can benefit the community. These mechanisms include insurance funds, auctions, staking, and other similar initiatives. These efforts aim to motivate the developers to contribute their skills and create value within the Injective ecosystem while providing users with a diverse range of useful products and services.
Unlimited access to multiple liquidity pools.
What is INJ Token?
INJ Token Key Metric
Token Name: Injective
Ticker: INJ
Blockchain: Ethereum, BNB Chain, Injective
Token Standard: ERC-20, BEP20
Contract:

Ethereum: 0xe28b3b32b6c345a34ff64674606124dd5aceca30
BNB Chain: 0xa2b726b1145a4773f68593cf171187d8ebe4d495

Token type: Utility, Governance
Total Supply: 100,000,000 INJ
Circulating Supply: 80,005,555 INJ
INJ Token Allocation
Ecosystem Development: 36%
Team: 20%
Private Sale: 17%
Community Growth: 10%
Binance Launchpad: 9%
Seed Sale: 6%
Advisors: 2%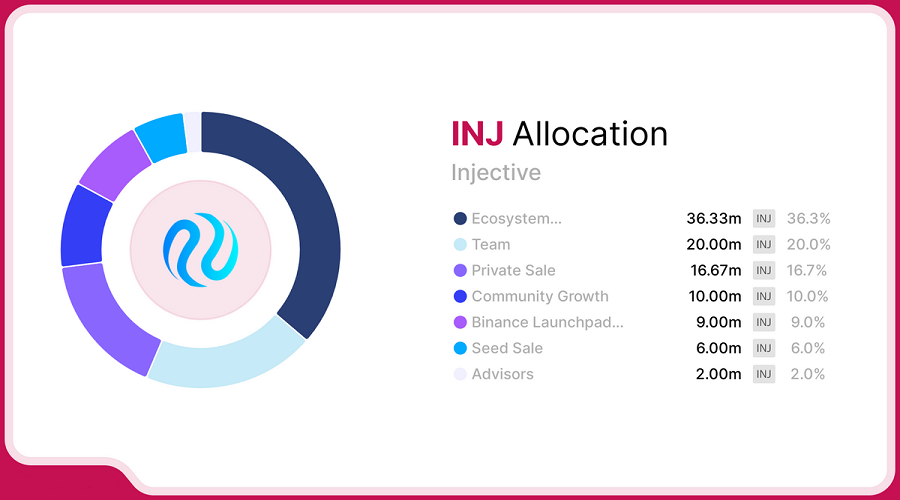 INJ Token Use Case
The INJ token, serving as both a native and governance token of the Injective platform, is utilized for various purposes, including but not limited to:
Governance: The holder of INJ tokens has the privilege to participate in the Injective governance process by proposing and voting on various aspects such as auction, modules, Cosmos SDK, and more. Each unit of INJ token provides the owner with a voting power, and the more INJ tokens one possesses, the more significant voting rights they possess.
Exchange Fee Value Accrual: After distributing a portion of rewards to the relayers, the remaining proceeds collected from transaction fees on the platform will be used for buy-back-and-burn purposes and to further accumulate value for the INJ Token.
Collateral Backing for Derivatives: The INJ token serves a dual purpose as a collateral currency and asset for the derivative markets on the Injective platform. Additionally, in some future markets, INJ may also be used for staking in insurance pools for potential earning of interest.
Exchange dApps Incentives: The individuals who develop dApps on the Injective ecosystem may receive rewards in the form of INJ tokens.
Staking Reward (Security): Encouraging participation from INJ-staking Nodes in securing the Injective Network and receiving block rewards in the form of INJ tokens is a key aspect of Injective's strategy for maintaining a robust and secure network.
Token Release Schedule
The INJ token allocation schedule will be as follows:
Binance launchpad: Unlocked, 100% release.
Private Sale: TGE 0%, lock for 6 months, pay 1/3 in April 2021, the rest is released in 1 year after that, pay 1/3 every 6 months.
Seed Sale: TGE 0%, lock for 6 months, pay 1/3 in April 2021, the rest will be released in 1 year after that, pay 1/3 every 6 months.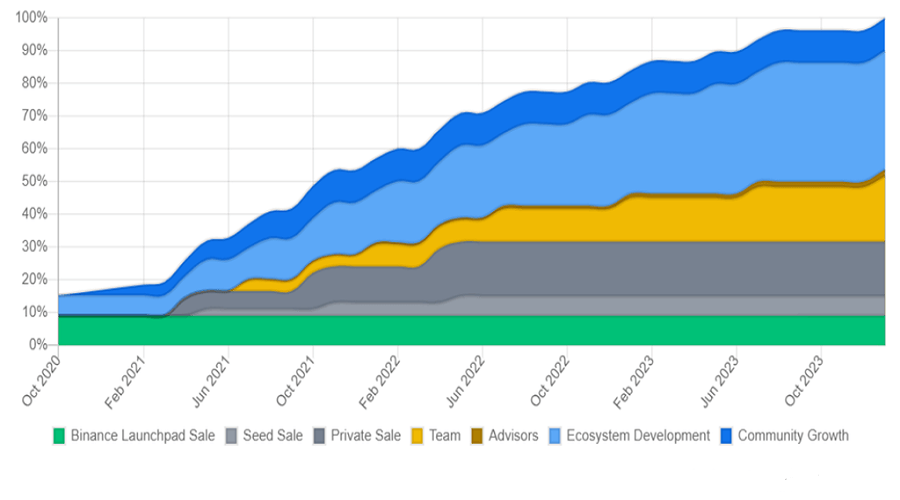 INJ Token sale
The quantity and price allocation of INJ to each investment round are meticulously outlined in the following diagram
Roadmaps & updates
The introduction of Injective took place in 2018, and the subsequent progress of the project can be succinctly encapsulated as follows:
2021: Complete phase 1, 2 and mainnet.
2022: Launching Injective Explorer V2, integrating Wormhole Bridge to convert assets between EVM and Solana into Injective.
2023

Q1/2023: Launched Injective Hub V2, Institutional Zone.
Q2/2023: Deploying Injective Exchange Module V2, upgrading Casablanca.
Q3/2023: Injective Orbital Chains.
Q4/2023: Mesh Chain network, Carcosa upgrade.
Q5/2023: Launched multi VM chain.
Project team
Injective Labs operates Injective, which includes several members who previously worked for major software companies like Amazon.
CEO & Co-Founder: Eric Chen.
CTO & Co-Founder: Albert Chon.
Core Team: Max Kupriianov, Bojan Angjelkoski, Ivan Paskov, Vighnesh Iyer…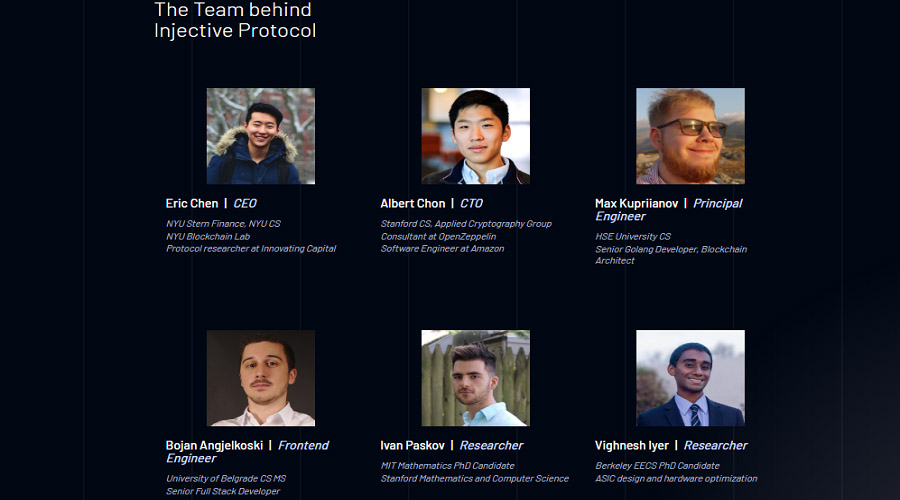 Investors & Partners
Investors and funding rounds
Injective has successfully secured a total funding of 56.7 million USD through five rounds of funding. Prominent investors in the group include the billionaire Mark Cuban, along with distinguished investment firms such as Binance Labs, Pantera Capital, BlockTower, Hashed Ventures, CMS Holdings, Jump Crypto, and QCP Capital.
On January 15, 2023, Injective introduced Venture Group, a fund for building projects on the Injective ecosystem, valued at $150 million. This venture includes the participation of prominent organizations, such as Pantera Capital, Kucoin Ventures, Jump Crypto, IDG Capital, Gate Labs, Delphi Labs, Flow Traders, and Kraken Ventures.
Partner
After announcing the development of the ecosystem fund, Injective has positively collaborated with numerous partners from diverse fields, including:
Blockchain layer 1: BNB Chain, CosmosHub, Kardian Chain, Cartesi, Burnt, Canto, Chiliz…
Wallet: Coin98 Super App, Metamask, Keplr, Ledger, Trezor…
Data: Pyth, API3, Band Protocol, Chainlink, DIA, NFTBank, UMA…
Metaverse: Axie Infinity, Bored Ape Yacht Club, GuildFi.
Validators: Chorus One, Cosmostation, DSRV, Helios Staking, Notional, AUDIT.one…