What is Kava? Learn about the prominent features of the Kava project and detailed information about the KAVA coin tokenomics right here! Kava was one of the early platforms for lending; however, it has now evolved beyond its primary lending purpose. So, what is the current version of Kava? How can you acquire and store KAVA coins? You can find detailed information on these topics in the article below.
What is Kava Crypto?
Kava is a blockchain developed within the Cosmos ecosystem, using the Cosmos SDK, similar to other blockchains like Crypto.com, Terra, and Binance Chain (not Binance Smart Chain). At first, Kava was only a lending project with a stablecoin called USDX, backed by popular crypto assets such as BTC, ATOM, XRP, and BNB.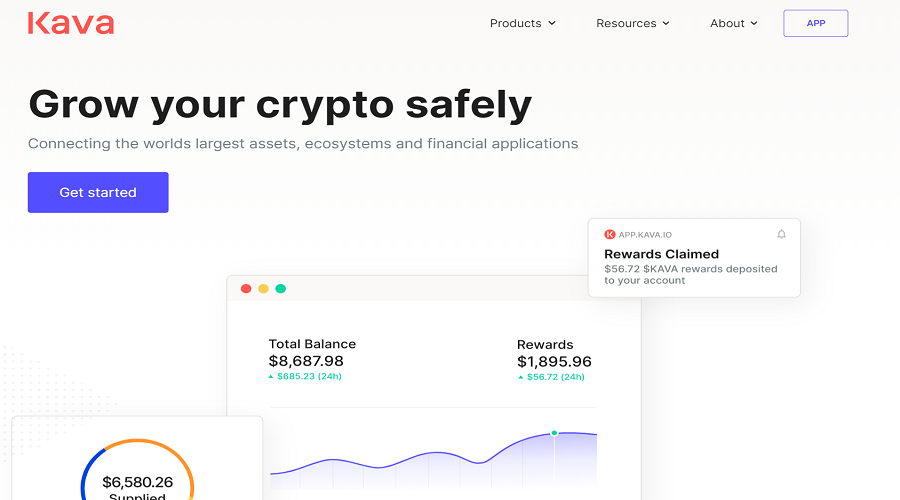 However, subsequently, Kava has expanded its ecosystem and launched Kava Lend in September 2020, followed by Kavaswap in August 2021. Gradually, Kava is perfecting its ecosystem with key components.
One prominent characteristic of Kava Crypto
Kava, as a Blockchain within Cosmos, boasts the advantage of interoperability with other blockchains via the IBC bridge. Presently, several blockchains have incorporated IBC, including Iris, Crypto.com, Akash, Persistence, and Osmosis.
In accordance with the prevailing trends in the ecosystem, Kava is gradually assembling its fundamental building blocks of DeFi, comprising of Hard Protocol, Kava Swap, and Kava Protocol itself.
On August 27th, 2021, Kava officially changed the names of its projects to provide users with clearer understanding, and the current Kava ecosystem is as follows:
Lending: Kava Mint (formerly known as Kava Protocol), Kava Lend (formerly known as Hard Protocol).
AMM: Kava Swap.
Although the protocols have undergone name changes, the token administration remains unchanged, namely:
The Kava Platform is governed by the $KAVA token.
Kava Mint is governed by the $KAVA token.
Kava Lend is governed by $HARD token.
Kava Swap is governed by the $SWP token.
The Kava Mint platform operates similarly to Maker DAO, allowing users to deposit assets and mint Stablecoin. While DAI serves as the Stablecoin for Maker DAO, Kava Protocol utilizes USDX as its Stablecoin.
When compared to Solana, Binance Smart Chain and Ethereum, Kava is still a relatively new player in the current landscape.
Kava boasts another notable feature in the form of its own Stablecoin, the USDX, similar to Terra's UST. Although still in the early stages of development, with distinct differences in the minting mechanism, if utilized efficiently, the USDX has the potential to become a key factor for Kava's growth.
A comprehensive overview on the KAVA coin
The KAVA token is the native currency of the Kava ecosystem. Presented below are a few fundamental details concerning the KAVA coin. The following information provides insight into the essential aspects of this digital asset.
Some basic information about the Kava.io Token (KAVA)
Token Kava
Token Name: Kava.
Ticker: KAVA.
Blockchain: Kava chain.
Marketcap: $540 M.
FDV: $842 M.
Rank: 140.
ATH price: $9.12 (August 30, 2021).
ATL Price: $0.28 (March 13, 2020).
Token Type: Utility, Governance.
Total Supply: 703,748,805 KAVA.
Circulating Supply: 703,748,805 KAVA.
KAVA list exchange: Binance, Huobi, Crypto.com, Gate.io,…
KAVA Token Allocation
KAVA Token Sale
KAVA Token Distribution
KAVA Token Use Case
The KAVA token is intended for utilization in the following ways:
The rewards block is allocated for Validators and Delegators.
Transaction fees are remunerated to the Validators.
The system administration involves utilizing the KAVA platform to cast votes for adjusting the collateralized debt position (CDP) ratio, collateral ratio, and transaction fees.
To stabilise the value of the USDX, KAVA's price stability mechanism has been modelled after the MakerDAO and DAI framework via currency creation.
Kava's ecosystem
Kava has collaborated with various projects within the ecosystem that originated early on in Cosmos, such as Cosmos Hub, Iris Hub, Injectives, and Frontier. This ecosystem has been thriving for some time now.
Blockchain Layer: KAVA Chain and Cosmos Ecosystem
KAVA is a cross-chain DeFi platform that offers Crypto asset support and operates within the Cosmos ecosystem alongside Terra Luna, THORChain, Binance Smart Chain, and others.
At present, the KAVA Chain has established a connection with both the Binance Chain and HecoChain platforms.
In relation to Binance Chain, it has been reported that over the course of the past year, there has been a total of more than $100 million in trading volume between the two platforms.
At present, HecoChain is offering a program on the Huobi exchange enabling users to stake WBTC and earn KAVA rewards.
In the near future, KAVA intends to establish connections with various other Chains, with a particular focus on the burgeoning Cosmos ecosystem that has gained notable momentum of late.
IBC & Oracle: KAVA's Path to Becoming a Multichain DeFi Platform
In order for KAVA to establish itself as a DeFi platform across multiple chains, it will require a technology that facilitates cross-chain connectivity, as well as an oracle that operates on multiple chains to provide multi-chain data. This is necessary to enable the operation of new cross-chain protocols.
Recently, KAVA has achieved both goals by announcing integration with IBC (Inter-Blockchain Communication), a technology developed by Cosmos that enables cross-chain interoperability, and by collaborating with ChainLink, a project that supports data delivery for over 400+ projects.
This is evidently a significant advancement for KAVA, who is progressively nearing the establishment of links with other Chains.
Protocol: The main components in the KAVA ecosystem
Currently on Kava there are 3 main protocols:
Kava Mint.
Kava Lend.
Kava Swap.
Kava Mint
The KAVA Mint, formerly known as the KAVA Protocol, represents the first and most essential product of the KAVA ecosystem. It is a DeFi Lending platform that enables users to collateralize their cryptocurrency assets and mint USDX stablecoins. Through its operations, KAVA leverages data from Chainlink. In essence, the KAVA Protocol serves as the MakerDAO of the KAVA ecosystem.
Main functions of KAVA Protocol:
Staking: One can engage in Staking of numerous assets, including KAVA and HARD, on the KAVA platform to potentially receive a high Annual Percentage Yield (APY).
Loans: The pledge of Crypto assets and the borrowing of USDX are feasible for comrades. Various benefits can be reaped by utilizing the Loans function offered by the KAVA Protocol, such as:
The current interest rate for borrowing USDX is merely 0.5%, which is significantly cheaper compared to other protocols currently available on the Ethereum platform.
The sibling duo shall continue to attain the Staking rewards on their collateralized assets.
USDX is a vital component in any ecosystem, serving as a stablecoin. Its significance warrants further discussion, which will be elaborated on in the following section using a descriptive approach.
Kava Lend
The succeeding piece on the KAVA ecosystem is attributed to Kava Lend (HARD) (previously known as Hard Protocol), a project executed by the KAVA team. HARD also represents the 7th Launchpool hosted on Binance LaunchPool.
The outstanding feature of Kava Lend is that it incorporates the use of Interledger technology, which is a solution for the Cross-chain Payment issue introduced by Ripple labs, on the Cosmos platform. This allows users to Lend & Borrow Crypto Assets not only on the Ethereum Blockchain.
If you opt for Kava Lend instead of Kava Mint, you will be able to borrow a wide range of assets such as BTC, XRP, BNB, BUSD, KAVA, and USDX, whereas Kava Mint only allows borrowing of stablecoin USDX.
In Q1/2021, Kava Lend platform unveiled its V2 version, which provides support for borrowing and lending a wider range of asset types.
Currently, the amount of assets locked on the Kava Lend platform is approximately $150 million.
Kava Swap
The Kava Swap project was launched in August 2021 as an Automated Market Maker (AMM) built on the Kava Blockchain.
In the context of a developing ecosystem, the AMM Protocol plays a crucial role as a foundation for facilitating asset transactions within said ecosystem. Within the KAVA Chain project, the exceptional APY rewards have been attracting significant inflows of capital, and as such, the integration of an AMM becomes a vital necessity for the KAVA ecosystem.
Currently Kavaswap is having $25 M and 300,000 transactions after 1 month of launch.
It is possible for you to participate in the provision of liquidity with a very high APY ranging from 100% to 200%, if you so desire.
Robo Advisors
In every ecosystem where the market has liquidity and sufficient trading tools, Assets Management Protocols will emerge. At present, there are no Protocols for management, but during the waiting period, KAVA will develop Robo Advisors, which can be considered as fund managers, automating financial strategies provided on KAVA.
KAVA intends to implement various incentive programs in order to encourage user participation in its platform.
Assets on KAVA
USDX
Currently, the primary asset within the KAVA ecosystem is minted through collateralizing various assets. In order to promote the growth of the KAVA ecosystem, a low interest rate of 0.5% per annum is offered for borrowing USDX, while KAVA also has a program that encourages the minting of USDX.
Upon examining the market capitalization chart of USDX, it is evident that following a period of consolidation from the beginning of the year until July 2021, the capitalization of USDX has been experiencing rapid growth and currently stands at $124 million.
Can stablecoin be considered as the lifeblood of each ecosystem, indicating the potential explosion on Kava?
BEP2 Token
Binance Chain, which is a part of the larger Cosmos ecosystem, can be interconnected with the BEP2 Bridge. This allows Binance Chain users to seamlessly transition into KAVA to take advantage of the impressive APY rates, currently boasting over $200 million in BEP2 assets on the KAVA platform.
ETH Bridge, BTC Bridge
Numerous Incentives can still be observed on KAVA, subsequently giving rise to demands from other ecosystems seeking to switch to KAVA.
In order to achieve its goal of becoming a "MultiChain DeFi Platform", it is crucial for KAVA to establish bridge connections with ETH and BTC, as it will allow the platform to tap into larger markets. The KAVA Protocol and Hard Protocol can support a wider range of collateral types while still providing low-interest loan services, thereby creating a competitive advantage. This strategic move will enable KAVA to expand its reach and offer more robust investment opportunities to its users.
Roadmap & Updates
According to the information provided, KAVA coin has a clearly defined development roadmap consisting of specific stages including:
In the second quarter of 2019:
Release MVP under Kava CDP system
Publicly released testnet 1.1
Launching a rewards program to incentivize users to run validator nodes
Publicly released testnet 2000
In the fourth quarter of 2019:
Publicly released testnet 3000.
Launching mainnet.
CDP Beta System Released.
Complete on-chain vesting for validators.
Huobi Pool and OKEx Pool become 1 new validator Kava.
In the first quarter of 2020:
Launching Kava CDP Testnet
Release Bug Bounty
In the second quarter of 2020:
Cross-chain assets belonging to CDP system at mainnet
Integration into the CDP testnet BTC Peg custodial system
In the third quarter of 2020:
Integrate both non-custodial and custodial BTC Peg into the CDP system mainnet
In the first quarter of 2021:
Hard Protocol V2
For enhanced services for Kava Cloud
In the second quarter of 2021:
Launching AMM
Proceed to propose Kava SAFU fund to enhance protection for users
Kava Staking Derivative Launched
In the third quarter of 2021:
The Robo Advisor app and service is released.
Launching Ethereum Bridge v1
Development team and ecosystem partners
Which team and ecosystem partners are currently associated with KAVA coin, given the available information regarding it?
The project's development team
In order to undertake a project, the development team has assembled a group of renowned figures that hold prominent positions in different departments within the industry. Among the members are individuals such as:
CEO Brian Kerr: Brian Kerr is the Chief Executive Officer of Kava and serves as an advisor for a lending-borrow project in the AVAX- Snowball ecosystem. Additionally, he provides advisory services for DMarket.io.
Co-founder Ruaridh O'Donnell: Ruaridh O'Donnell, an experienced engineer and specialist in the field of Deep Learning, also serves as a co-founder and former engineer and data analyst at Levelworks.
Co-founder Scott Stuart: Scott Stuart serves as a co-founder and the head of product department, in addition to being a former CEO of Levelworks.
Lead Marketing Stan Press: Stan Press is a former Director of Foreign Affairs at VY Esports, who serves as the Chief Executive Officer at Gaming and Digital Strategy within Magid.
Lead Engineer Kevin Davis: He is the developer of data analysis software at the USDA.
Aaron Choi, the Head of Business Development for the Asia region, brings to the table extensive experience, having previously served as the CEO of GJ Exchange and currently holding the position of Vice Chairman of the Foreign Affairs Committee at Chinapex.
Project advisor
The KAVA project boasts a team of highly skilled subject matter experts who serve as advisors for KAVA coin, including but not limited to:
Sunny Aggarwal is a scientific researcher
Rob Leshner is Founder and CEO at Compound.finance
Roderik van der Graaf is Managing Partner at Lemniscap
Terry Chen, VP of Engineering
Brian Fabian Crain is the Co-founder and CEO at Chorus One.
Jack Zampoline is Product Manager at Tendermint
Ecosystem partners
The KAVA coin project has established a number of notable partnerships, including Cosmos and Ripple, in relation to KAVA. Additionally, Kava has enlisted the aid of several other partners, of which the following are included:
Investor of Kava
In January 2019, Kava secured a substantial investment amounting to $1.2 million from a consortium of renowned companies such as Lemniscap, Xpring of Ripple, Digital Asset Capital Management, 2020 Ventures, Coil Technologies, Hard Yaka, Arrington Capital, UniValues Associates, and Robot Ventures.
In April 2020, Kava sold approximately 1 to 5% of its KAVA tokens to Framework Ventures for a total amount of $750,000. It has been confirmed that Framework Ventures advised Kava on their token inflation model and has plans to continuously provide technical support and supply to the Kava team.
Summary
I have provided you with the most recent information on Kava and Kava Coin. What are your thoughts on the future and potential of KAVA? Please share your comments below to engage in discussion with 247BTC.