Multivers X, previously known as Elrond, is a decentralized, secure, and highly scalable blockchain protocol designed to enable entirely new applications for users, businesses, and the emerging metaverse. To gain further insight into the capabilities of Multivers X Crypto, please continue reading the following article.
What is MultiversX Crypto?
Multivers X, formerly known as Elrond, is a decentralized, secure, and highly scalable blockchain protocol that has been created to enable entirely new applications for users, businesses, and the emerging metaverse. The project describes itself as a technology ecosystem for a new internet, encompassing fintech, decentralized finance, and the Internet of Things (IoT).
MultiversX's smart contract execution platform is capable of processing 15,000 transactions per second with relatively low transaction costs of only $0.001 per transaction. The EGLD token is considered the energy provider for one of the most ambitious metaverse ecosystems currently in existence. The platform secures the network through stake and allows for the ability to access and exchange assets across all applications and worlds within the metaverse.
The salient feature of the MultiversX
The MultiversX network employs sharding and PoS designs to enhance its processing capacity to approximately 15,000 transactions per second.
The methodology known as Adaptive State Sharding functions through dividing a network into segments – three execution segments that have the capacity to execute 5,400 transactions per second and a coordinating segment "Metachain". This means that nodes are separated into subsets and only process a portion of the network's transactions. Once these transactions are processed, the segments transmit them to MultiversX's central blockchain where they are finalized. To prevent any lack of transparency, one-third of the nodes authenticating transactions in each segment are exchanged to a new segment every 24 hours.
MultiversX employs the Safe Proof of Stake (SPoS), which is similar to traditional PoS, in order to secure its network, validate transactions, and distribute newly minted EGLD coins.
Developers can utilize Elrond's integrated development environment to create and execute customizable programs. Multiple programming languages, compatible with the network, are available to develop custom smart contracts and design new dApps that offer a variety of products and services.
What is Elrond Network (EGLD)?
The Elrond Network (EGLD) is a native token that operates on the Blockchain of the Elrond Network. As of the writing of this article, the Elrond Network project has not yet launched its Mainnet. In the initial phase, EGLD will function as a BEP-2 token on the Binance Chain platform. The project is expected to launch its Mainnet in Q4 of 2019.
Basic information about Elrond Token (EGLD)
Ticker: EGLD
Blockchain: Binance Chain (After the mainnet will switch to Elrond Network's Blockchain)
Token Standard: BEP-2
Token type: Utility Token
Total Supply: 20,000,000,000 EGLD
Circulating Supply: 6,065,416,547 EGLD (~30.3% of total supply)
Token Allocation (EGLD)
The total supply of Elrond Network of 23,016,298 EGLD will be distributed as follows:
Private Investors: 19%
IEO Investors: 25%
Ecosystem rewards: 7%
Marketing & Grants Pool: 8.5%
Community Fund: 2%
Advisors: 2.5%
Founders & Team: 19%
Treasury Reserve: 17%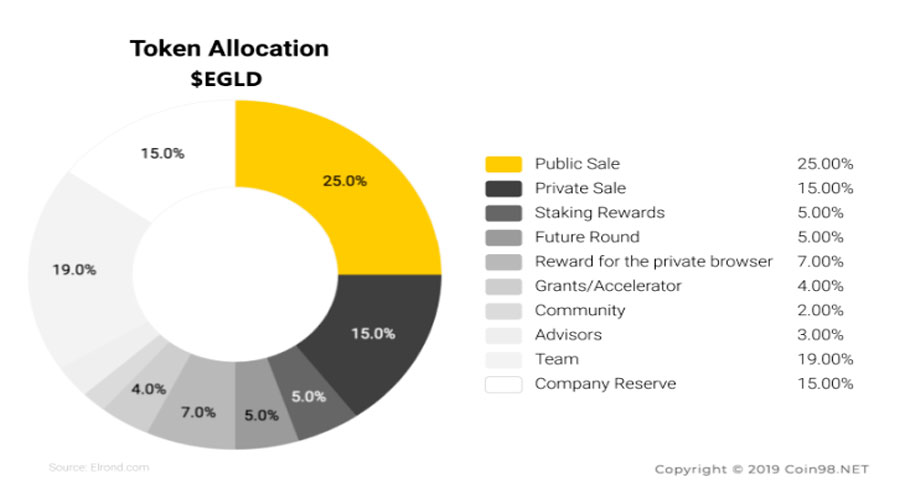 Token Use
EGLD token owners have the ability to use their tokens for transactions and to pay fees within the network. This feature allows for seamless and efficient use of the network, enabling users to engage with various services and products offered on the platform.
EGLD tokens have the potential for staking and assuming the role of validators.
The purpose of this mechanism is to reward validators for their contribution to the system, whether it be through processing transactions or actively participating in system enhancement.
This tool is utilized for casting votes on validators.
Token Release Schedule
Private Investors: 19% of these tokens will be distributed within 18 months
Public Sale: 25% of these tokens will be allocated to IEO investors and these tokens will be released on 4/07/2019
Ecosystem rewards: 7% of these tokens are used to distribute rewards in the platform and will be released in 12 months
Marketing & Grants Pool: 8.5% of these tokens will be allocated by the project within 12 months
Community Fund: This 2% will be allocated to the Community Fund and will be distributed within 12 months
Advisors: This 2.5% will be allocated to the members of the advisory board and these tokens will be locked for 1 year after the IEO
Founders & Team: 19% will be distributed to team members and will be distributed within 42 months
Treasury Reserve: 17% tokens with a vesting period of 30 months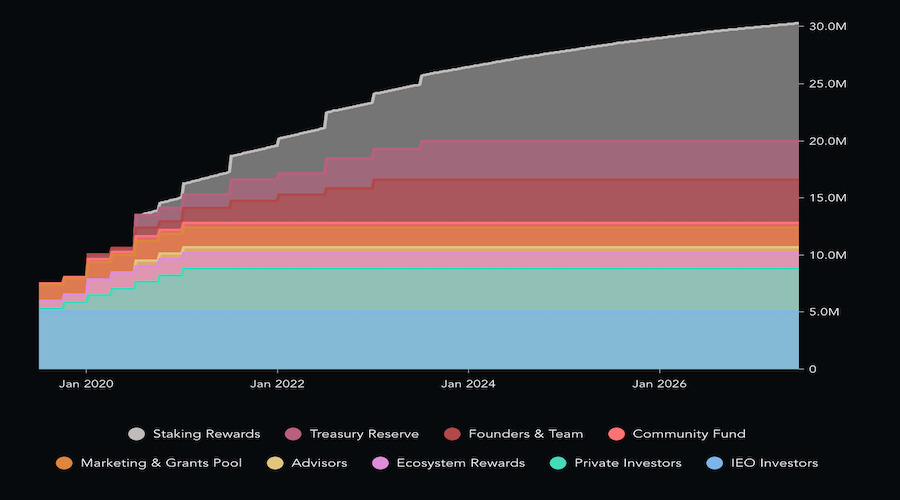 MultiversX Crypto Ecosystem
The role of EGLD is to function as fuel to power the entire ecosystem. The EGLD token is specifically designed to be used with Elrond's exclusive Maiar wallet which enables users to send transactions almost instantly over the Elrond Network. Maiar provides features such as lending, borrowing, sending, and receiving to its users.
MultiversX's ecosystem boasts numerous dapps that have been deployed on their platform, among which Maiar has been designed to serve as a decentralized alternative solution for mobile payment applications. This ingenious app offers a convenient way to create a cryptographic hash function based on the user's phone number, arguably simpler than many existing cryptocurrency wallets. With the capacity to hold EGLD and other tokenized assets, Maiar presents itself as a viable option for facilitating token transactions, betting and other suggested use cases.
Currently, there is a lack of prominent projects on the Elrond blockchain platform. The majority of the funds flowing through the network are still being generated by the use of the Maiar decentralized application.
MultiversX's Project development team
Elrond was co-founded at the end of 2017 by a team of primarily skilled engineers from top technology companies worldwide. The team comprises of experienced individuals from leading global technology companies, such as NEM Core, ICO Market Data, Metachain Capital, and Soft32.
Beniamin Mincu – Co-Founder & CEO: He is an accomplished technology engineer who has been at the forefront of the blockchain industry in Europe. In 2014, he worked at Nem Core and is also the founder and CEO of MetaChain Capital.
Lucian Todea – Co-Founder & Coo: One of his titles is a notable entrepreneur in the technology industry. In addition, he holds the positions of Founder and CEO of Soft32 as well as an angel investor for Typing DNA and Smart Bill.
Lucian Mincu – Co-Founder & CIO: Previously, he held the position of Engineer at Uhrenwerk 24, Cetto, and Liebl Systems. In addition, he is also a co-founder and Chief Technology Officer of MetaChain Capital.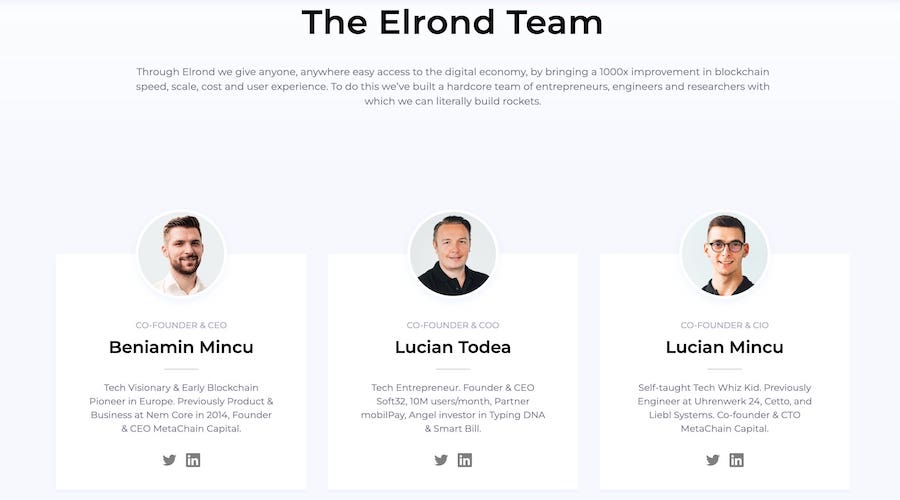 In addition, there were some other members such as Felix Crisan – Head Of Research, Radu Chis – Head of Technology, Adrian Dobrita – Head of Engineering, Iulian Pascalau – Core Developer, Sebastian Marian – Core Developer, Andrei Marinica – Senior Software Engineer,…
Summary
Currently, the competition for speed and low fees from layer 1 platforms has reached a saturation point. It has become a common goal for any new projects to pursue these objectives. The challenge for a project to sustain its existence is to establish a large community of long-term users and supporters.
Given the scarcity of the ecosystem and its predominant concentration in Maiar applications, Elrond requires a substantial period to persist in constructing and refining its infrastructure.