Polygon Crypto, previously known as MATIC Network, has set a remarkable goal to implement its Layer 2 solutions in order to meticulously address the prevailing Ethereum network issues. Through this, Polygon Crypto aims to enhance its functionalities and resolve the current Ethereum network concerns. Let's delve deeper into understanding Polygon Crypto and all its significant details, including the virtual currency MATIC, with the assistance of 247BTC.
What is Polygon Crypto?
Initially, the Matic Network project was formed to address Ethereum's congestion and high transaction fees. Currently, it is one of the largest market cap projects, with its most well-known product being the Polygon PoS – a Layer 1 blockchain with a TVL that reached 9 billion USD. In line with its development, Matic Network has rebranded to Polygon.
Polygon is a project which strives to bring about the expansion and development of infrastructure solutions. At present, Polygon has five principal products that operate across various sectors with the aim of promoting the growth of the DeFi market.
Polygon's products
Polygon PoS
Polygon PoS is a sidechain developed on the Ethereum Virtual Machine (EVM) server, similar to BNB Chain, Fantom, and Avalanche C-Chain. It is notably the first such product and also holds the largest scale relative to its peers.
During the period between April and May 2021, Polygon PoS experienced significant growth with the introduction of several inaugural projects such as Quickswap, QiDAO, Dfyn Network, and Dinoswap. However, due to the lack of a clear strategy initially, cash flow swiftly exited the ecosystem when opportunities to generate revenue faded, resulting in a decline of the Total Value Locked (TVL) from 9 billion USD in May 2021 to just 1 billion USD.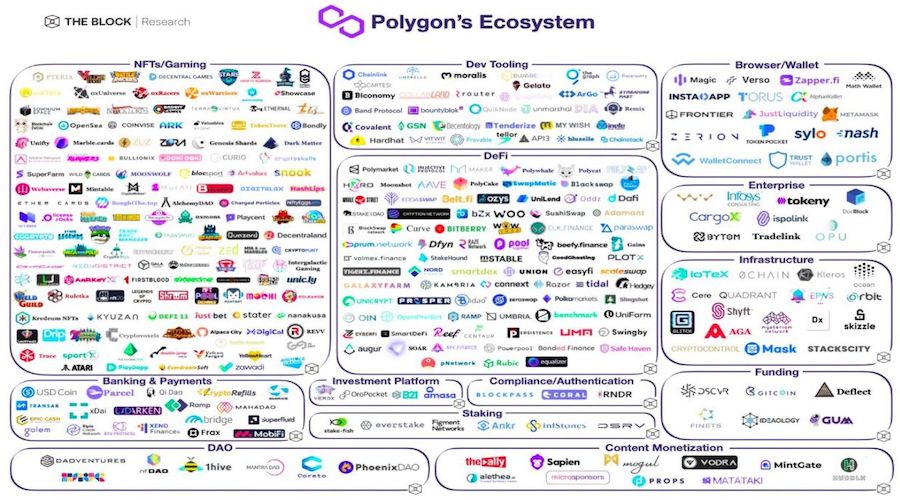 Currently, Polygon's PoS has achieved more than 500 development projects within its ecosystem, although there have not been many recent advancements. This includes significant DeFi projects such as Aave, Balancer, Uniswap, Curve, Stargate, and Opensea. Going forward, Polygon is focusing on expanding its offerings, particularly NFT, Gaming, and SocialFi, as part of its development efforts.
Polygon zkEVM
The Polygon zkEVM is a Layer 2 scaling solution that utilizes Zero Knowledge Rollup technology while also supporting programming language zkEVM. As classified by Ethereum founder Vitalik, Polygon zkEVM can be categorized as a type 2 zkEVM.
Polygon's Type 2 equivalent of the Polygon zkEVM will be fully compatible with EVM, albeit with some minor modifications before it can execute commands. Additionally, some applications may not be compatible. Currently, the status of the Polygon zkEVM is Type 3 (EVM-compatible), but it has not yet reached the Type 2 level as planned.
The birth of Polygon zkEVM was brought about by the acquisition of two developments in ZK technology by Polygon: Mir for a price of $400 million USD in December 2021 and Hermez Network for a price of $250 million USD in August 2021, both of which were long-standing targets for Polygon and are expected to play a significant role in its future endeavors.
Polygon Miden
Polygon Miden is a technology solution that aims to expand Layer 2 using zk-STARKs technology, in order to facilitate scalability for Ethereum. According to Polygon, Miden will support the EVM language, which will make it easier for developers to execute their codes. Additionally, Polygon has introduced the Miden Virtual Machine (Miden VM), which is the first virtual machine based on the STARK security technology.
Polygon Supernets
Polygon Supernets is an App-chain product of Polygon, which shares similarities with other App-chains such as Avalanche Subnet, Polkadot Parachains, and BNB Application Sidechain. The key feature of App-chains is to enable projects to easily customize the parameters of their blockchain to suit specific project needs while maintaining the advantages of main chain characteristics, such as interactivity and security.
Currently, Polygon Supernets has not attained significant success, although it has established a few initial partnerships.
DeFi & Gaming: Nu, Lemon, Ripio, Nexon, Plai Labs,…
Cơ sở hạ tầng: Axelar, ANKR, Airchains, Bitquery, Bware, Bundlr, Band protocol, Covalent, Layer Zero, Sequence,…
Support partner:  Settlemint, Ethrenal, Blockchain Studios, Nethermind, Gateway,…
Polygon ID
Polygon ID is an infrastructure solution for identity determination in the Web3 market. The product was launched in March 2022 and is expected to play a significant role in all of the chains developed by Polygon.
The utilization of Theo Polygon in conjunction with Polygon ID could potentially facilitate a more equitable and convenient approach to managing and participating in DAOs for users, while simultaneously preserving their privacy.
Other Polygon products
Prior to the restructuring phase in 2023, Polygon boasts an impressive array of over five listed products. In addition, there are several products that have yet to be listed, which include the following.
Polygon Hermez (ZK): Polygon Hermez is an open-source technology solution for Ethereum that offers a scalable version of Zk-Roll up.
Polygon Avail: The focus of Polygon Avail Blockchain is on data scalability, which entails developing off-chain expansion solutions and independent chains (Modular Blockchain).
Polyon Edge: Polyon Edge is an expansive solution that provides a framework for constructing public or private blockchains that are compatible with Ethereum.
Polygon Nightfall (ZK): The blockchain ecosystem of Polygon Nightfall (ZK) emphasizes privacy-centric features geared towards businesses.
Polygon Zero (ZK): Polygon Zero (ZK), formerly known as Mir Protocol, is a cutting-edge ZK scaling solution that incorporates the Plonky2 feature for lightning-fast transaction processing. With its advanced technology, Polygon Zero (ZK) has the ability to facilitate high-speed transactions in a secure and efficient manner, making it an ideal solution for businesses requiring a reliable and scalable blockchain platform.
However, after this restructuring:
Polygon Hermez (renamed from the acquired company Hermez) has changed its name to Polygon zkEVM.
Polygon Zero (renamed from the acquired Mir Protocol) is no longer on the list.
Polygon Edge is merged into Polygon Supernets.
Polygon Nightfall for business is also no longer mentioned.
Polygon Avail split from Polygon along with co-founder Anurag Arjun.
During this restructuring phase, it is evident that the private blockchains created by Polygon for enterprise purposes have been disregarded. Solutions such as Zero, Miden, Nightfall, and Avail have undergone streamlining measures and only Polygon zkEVM and Polygon Miden remain as viable options.
Polygon's revenue
Currently, Polygon is a sizable company that operates across several branches and product lines. Through investments in projects within their ecosystem or through service fees from their blockchain products, Polygon is able to generate revenue. However, this information is not publicly disclosed by Polygon, and as such, 247btc was able to uncover it.
Among the five products listed, only the blockchain Polygon PoS has third-party verified data. According to data from Cryptofees.info, the average daily revenue of Polygon is $50,000, which translates to $18.2 million annually depending on the level of user activity in the ecosystem.
However, the revenue generated does not belong to Polygon Company, but instead, it will be earned by the MATIC stakers who act as blockchain validators and receive transaction fees from the network. In the event that Polygon Company participates in transaction validation, they will also receive transaction fees. The following list showcases the major validators of Polygon PoS.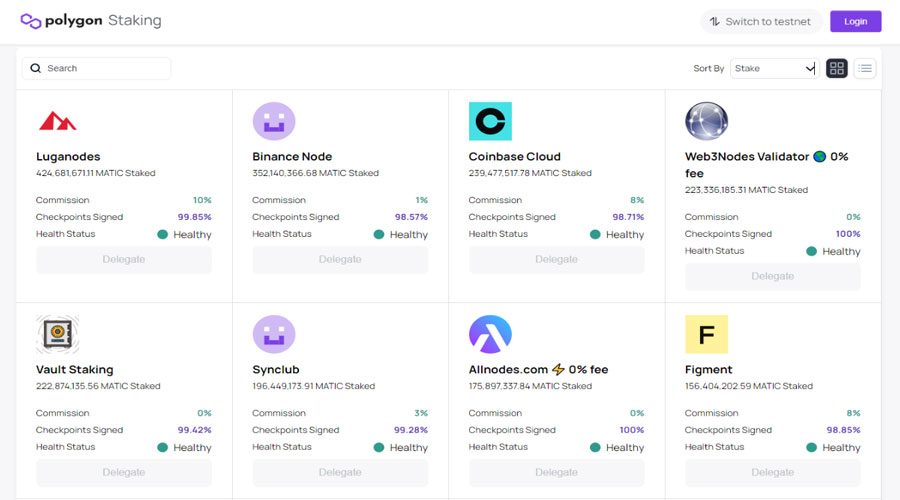 The salient feature of Polygon (MATIC)
Here are some highlights of Polygon:
Polygon is a team that has the ability to lead the Crypto market when there are traditional market partners to major partners in the Crypto market.
Polygon can be considered as Binance's most successful IEO project and one of the few that has continued to grow from 2017 to the present.
Polygon PoS is one of the chains with extremely low transaction fees similar to Solana.
Polygon dynamic team, always updating the new trends of the market to develop. For example, the trend of NFT, Gaming, ZK, App-chain…
Polygon Information (MATIC)
Key Metrics MATIC
Token Name: Polygon
Ticker: MATIC
Blockchain: Polygon, Ethereum, BNB Chain, Solana, Moonbeam.
Token Standard: ERC-20, BEP-20, PRC-20,…
Ethereum Contract: 0x7D1AfA7B718fb893dB30A3aBc0Cfc608AaCfeBB0
BNB Chain Contract: 0xcc42724c6683b7e57334c4e856f4c9965ed682bd
Solana Contract: C7NNPWuZCNjZBfW5p6JvGsR8pUdsRpEdP1ZAhnoDwj7h
Polygon PoS Contract:0x0000000000000000000000000000000000001010
Moonbeam Contract: 0x3405a1bd46b85c5c029483fbecf2f3e611026e45
Token Type: Utility
Total Supply: 10,000,000,000 MATIC
Circulating Supply: 9,080,469,000 MATIC
Matic Token Allocation
With a total supply of 10 billion MATIC, the number of tokens will be distributed as follows
Launchpad (Distributed via launchpad) 19% 1,900,000,000 MATIC
Seed round 2.09% 209,000,000 MATIC
Early Supporter 1.71% 171,000,000 MATIC
Team (Polygon Team) 16% 1,600,000,000 MATIC
Advisors 4% 400,000,000 MATIC
Foundation (Platform) 21.86% 2,186,000,000 MATIC
Ecosystem (Ecosystem) 23.34% 2,334,000,000 MATIC
Staking reward 12% 1,200,000,000 MATIC
Token Sale
Token Release Schedule
A total of 10 billion MATIC tokens will be distributed to the community in October 2022. As of March 2023, it can be assumed that all MATIC tokens have already been distributed according to the original distribution plan. However, CoinMarketCap data reveals that there are still 920 million MATIC tokens that have not yet been unlocked.
Polygon Exchange (MATIC)
Currently, Polygon is listed on various exchanges including DEX and CEX.
CEX exchange: Binance, Coinbase, Kraken, OKX, Huobi,…
DEX: Quickswap (Polygon), Uniswap (Ethereum), Pancakeswap (BNB Chain),…
Roadmaps & Updates
Here are some highlights of Polygon
2017: Matic Network is established in Mumbai.
April 2019: Matic Network launches on Binance via IEO at 0.00263 USD/MATIC.
June 2020: Mainnet launched with POS Chain and Plasma Chain.
February 2021: Matic Network rebrands as Polygon to scale infrastructure solutions and scale.
June 2021: Polygon PoS DeFi TVL reaches an ATH of $9.8 billion.
7/2021: Polygon launches Polygon Studios to catch up with the development trend of NFT and Gaming.
August 2021: Polygon acquires Hermez for $250 million and changes its name to Polygon zkEVM.
December 2021: Polygon acquires Mir for $400 million.
February 2022: Polygon raises $450 million in new venture funding round.
March 2022: Polygon launches a new product, Polygon ID.
April 2022: Polygon commits to a carbon reduction roadmap.
4/2022: Polygon focuses on developing zk technology with 4 products: Polygon Hermez, Polygon Nightfall, Polygon Miden, Polygon Zero.
May 2022: Polygon Nightfall Enterprise Product Launches Mainnet Beta.
January 2023: Polygon Labs was born and was identified as the company responsible for the development of the Polygon project.
January 2023 Polygon Foundation was established by the co-founders of Polygon to promote this project.
March 2023: Polygon launches a virtual server for Polygon Miden, one of the products that continues to be maintained after the refactoring.
March 2023: Avail officially separated from Polygon, following co-founder Anurag Arjun to develop its own project.
March 2023: Polygon zkEVM Mainnet Beta was officially born.
Project team, investors, partners Polygon Crypto
Project team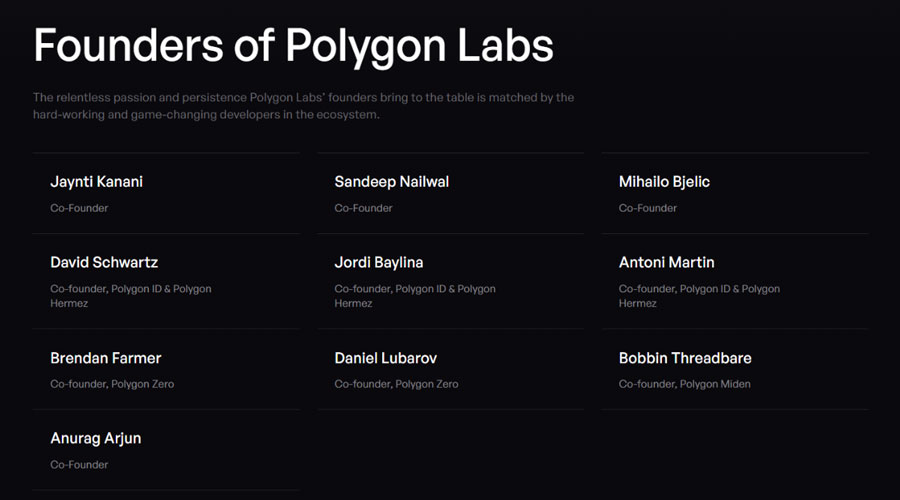 According to the latest announcement in January 2023, the Polygon Labs team will include the following 10 members. Most of these members are founders of sub-projects that Polygon acquired.
Jaynti Kanani (Co-Founder Polygon Labs): Blockchain engineer and developer for Web3, Plasma, WalletConnect. Formerly data scientist at Housing.com.
Sandeep Nailwal (Co-Founder Polygon Labs): Programmer, former CEO of Scopeweaver, CTO of Welspun Group.
Mihailo Bjelic (Co-Founder Polygon Labs): Formerly a developer on Ethereum.
Anurag Arjun (Co-Founder Polygon Labs): Currently left after separating Avail from Polygon.
David Schwartz (Co-founder, Polygon ID & Polygon Hermez).
Jordi Baylina (Co-founder of Polygon ID & Polygon Hermez).
Antoni Martin (Co-founder of Polygon ID & Polygon Hermez).
Brendan Farmer (Co-founder of Polygon Zero).
Daniel Lubarov (Co-founder of Polygon Zero).
Bobbin Threadbare (Co-founder of Polygon Miden).
Investors
To date, Polygon has raised over 456 million USD – a significant amount in the crypto market, but comparatively modest given the scale of Polygon's achievements. Notably, Polygon is among a select few companies able to secure funding from esteemed traditional investment firms such as Sequoia and SoftBank, as well as from purely crypto-focused funds like Animoca Brands and Dragonfly.
In February 2022, the valuation of Polygon is expected to reach a staggering $20 billion, surpassing its all-time high FDV of $19.5 billion in December 2021. This indicates that investors have high expectations for Polygon and the investment potential goes beyond the Polygon MATIC token.
Partner
Up to now, Polygon has accumulated a very large number of partners, mainly from Polygon PoS products.
Traditional Market Partners: Google Cloud, Meta (Facebook), Starbucks, Reddit, Stripe, Adobe,…
Exchange partners: Binance, Coinbase, Kraken, OKX, Huobi,…
Dapp partners: Quickswap, Uniswap, Curve, Balancer, Sushiswap,…
What is the future outlook for the Polygon project, and is it advisable to invest in the MATIC token? This is a question that requires examination and careful consideration to determine the potential profitability and risks associated with such an investment decision.
Recently, the Polygon project has experienced significant growth due to the emergence of major DeFi projects like Sushiswap, 1inch, and Aave. Additionally, Polygon has formed partnerships with entities such as Bitmax to establish a low-cost bridge to directly connect to the Polygon network, which is a key factor in attracting users from other networks. This development highlights the crucial role of Polygon in the crypto market and its capacity to continue expanding in the future.