What is Bifrost (BNC)? This article aims to provide you with all the essential information about this cryptocurrency, Bifrost Network (BNC).
In Ethereum, Terra, and Cosmos, there are respective solutions to Liquid Staking such as Lido, Staderlabs, and pSTAKE, and the question arises as to who would be the representative face for Polkadot. The answer lies with Bifrost, the winning project of Slot 5 in the Parachain auction of Kusama. This article aims to introduce Bifrost along with its relevant information in a formal and informative style.
What is Bifrost? What is special about the working mechanism of the project?
Information about tokenomics and how to store, buy and sell BNC tokens.
Who is the Bifrost project team and development roadmap?
What is The Bifrost Network?
The Bifrost network functions as a cross-chain decentralized platform that facilitates liquidity for bonding assets. Its unique approach leverages the initial staking phase to offer liquidity through Staking derivative instruments.
Bifrost, a DeFi project in the Polkadot ecosystem, has launched vToken (Voucher Token). This system allows users to exchange PoS tokens for vTokens, providing liquidity and accumulation of rewards through Bifrost at any time.
The salient feature of Bifrost Network
At present, there is a significant issue with the utilization of assets, namely Staking, resulting in funds being tied up despite users receiving interest. Due to this problem, a number of assets are remaining unable to be accessed.
Through Bifrost, users engage in Staking and subsequently receive a corresponding vToken as a reward (e.g. Staking DOT results in obtaining vDOT). Following a specific formula, users are able to mint a quantity of vTokens equivalent to the initial asset provided. As the value of the asset increases due to interest earned through Staking, the formula is adjusted accordingly to allow users to Redeem the original quantity of assets in addition to the corresponding interest received from Staking.
When utilizing Bifrost, it is possible for individuals to earn interest through Staking while still having the ability to utilize vToken for transactions if necessary.
Additionally, Bifrost provides support for select projects participating in auctions on Kusama or Polkadot through the use of the SALP (Slot Auction Liquid Protocol) feature. By demonstrating support for these projects via Bifrost and contributing with KSM or DOT, individuals will be rewarded with vsKSM and vsDOT.
By utilizing vsKSM and vsDOT, we have the ability to execute Swaps and utilize them as collateral without worrying about being locked in, as is commonly seen in traditional Crowdloan methods. Additionally, we are able to receive BNC tokens throughout the Staking process.
Detailed information about BNC token
Key Metrics 
Token Name: BNC Token
Ticker: BNC
Blockchain: Updating…
Token Standard: Updating…
Contract: Updating…
Token Type:

 

POLKADOT
Role of Token: UTILITY
Total Supply: 80,000,000 BNC
Circulating Supply: 20,382,189 BNC
BNC Token Allocation
Ecosystem: 50%
Founder: 20%
Foundation: 10%
Seed Sale: 10%

Seed Sale 1: 6%
Seed Sale 2: 4%

Private Sale: 3%

Marketing & Community Build: 3%

Strategic Sale: 2%

Mint Drop: 2%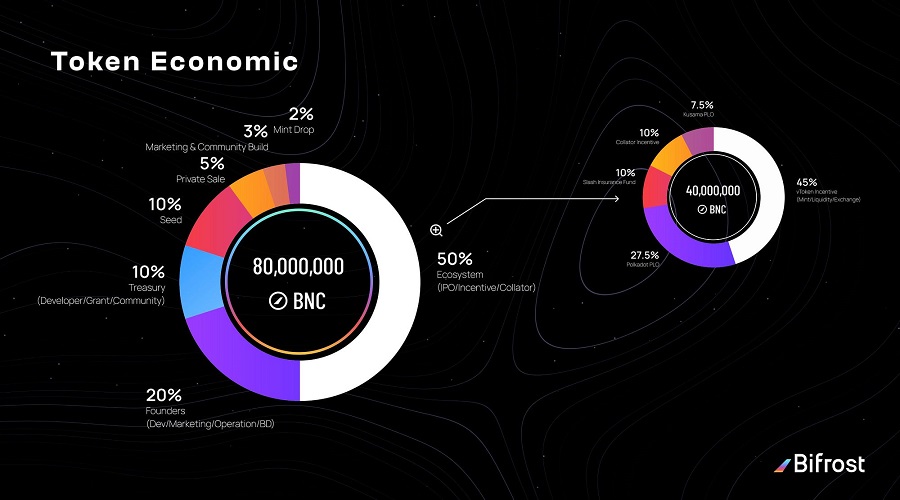 BNC Token Sale
ICO Token Price: 1 BNC = 10.6 USD
BNC Token Release Schedule
BNC Use Case
The transaction fee, payable in various tokens, levied by BNC towards transactions, transfers, collaterals and other related activities, shall be accumulated in the Vault.
The collateral assets assume the role of node, whereby BNC is utilized for staking in order to become a node.
BNC holders shall be vested with the authority to vote on project parameters as part of the governance mechanism.
The BNC repurchase mechanism entails utilizing a portion of the Staking rewards generated by Bifrost to acquire BNC and subsequently place it into the Vault.
The methodology for acquiring and possessing BNC Tokens
The end-users have the capability to mint vTokens, thereby obtaining BNC rewards.
Becoming a Collator also merits BNC rewards, which involves the responsibility of collecting query information, creating blocks, and forwarding them to the Validator.
Bifrost will also provide incentives to groups that contribute to the successful auctioning of Parachain in a technical and formal manner.
Furthermore, users have the ability to make purchases on BNC-supported platforms.
BNC Token exchange & storage wallet
BNC Token storage wallet
As Bifrost has yet to issue any tokens, the token standards remain unclear. However, it is expected that Bifrost will be based on either Polkadot or Ethereum platforms, hence BNC is likely to be supported on Coin98 Wallet and Metamask.
BNC Token Exchange
The stock exchange platforms that have enlisted BNC comprise of Kucoin, Kraken, Gate.io, and Mexc.
Roadmaps & Updates
Q1 2021
IPO & Auction Page Announcement.
Polkadot SLOT Auction.
Support DOT position auction.
Supports vDOT / vKSM / vETH (2.0) / vEOS.
Q2 2021
Dapp Grant Derivatives.
vToken Listing.
Run vToken statistics.
Support vATOM/vALGO/vONE.
Q3 2021
Release of vToken refinement/support standards.
Mortgage Derivatives (More than Staking).
Team, Investors & Partnership
Team
Updating…
Investors
The following are project-supporting investors, among whom DFG is included, with investments in projects such as Near, Solana, Avalanche, and Polkadot.
Partner
Below are the current partners involved in the project:
Summary
I have provided you with all the necessary information regarding the Bifrost project and its associated BNC. I would like to inquire about your perspective regarding the potential for the project's development. Please feel free to comment below and engage in discussion with 247BTC.