The Cetus Protocol coin, which functions as a decentralized exchange (DEX) on Sui and Aptos platforms, recently completed its initial DEX offering (IDO) sale. As of May 10th, the coin has been officially listed on both Kucoin and OKX exchanges. Due to its exceptional features and promising potential, the project has attracted the attention of esteemed investment funds such as Jump Crypto, Animoca Brands, and OKX Blockchain Ventures, among others.
What is Cetus Coin and what sets it apart? How does Cetus perform in the realm of AMM Dex, and what are its potential growth prospects in the future? The following article, curated by Coinlize, will provide detailed insights regarding this exchange platform.
What is Cetus Protocol Coin?
Cetus Protocol is a decentralized exchange (AMM DEX) taking inspiration from renowned DEXs like Trader Joe and PancakeSwap. The exchange employs the Concentrated Liquidity Market Maker (CLMM) mechanism for liquidity provision on the Sui and Aptos ecosystems. This mechanism enhances liquidity while mitigating price slippage during trading activities on the platform.
Cetus has been developed using the Move programming language, and it supports the Sui and Aptos ecosystems. Cetus provides unrestricted access to all users, who can create accounts and conduct transactions without the need for any licensing. Additionally, developers may create their own products and participate in a robust liquidity source by integrating Cetus with the available SDK and Smart Contracts.
The project focuses on enhancing the user trading experience by leveraging superior liquidity through the development of a centralized liquidity protocol and functional modules. Users may engage with the project by connecting their e-wallet through either the Sui Chain or Aptos Chain.
Supported wallets on each chain include the following
The Sui wallet can be connected to various other wallets such as Suiet, Fewcha, Martian, OKX, Morphis, Ethos, through an integration process to expand its functionality and versatility.
Aptos wallet is integrated with several other e-wallets, namely Petra, BitKeep, Martian, OpenBlock, TokenPocket, Rise, among others, to provide users with a wider range of crypto-currency storage options.
The main products of the Cetus Protocol ecosystem
Cetus Protocol, being a decentralized exchange platform, offers its users a diverse range of products to facilitate transactions, generate liquidity, and earn profits. Its primary products are Swap, Pools, Launchpad, Bridge, and Stats (statistics), catering to the needs of its clientele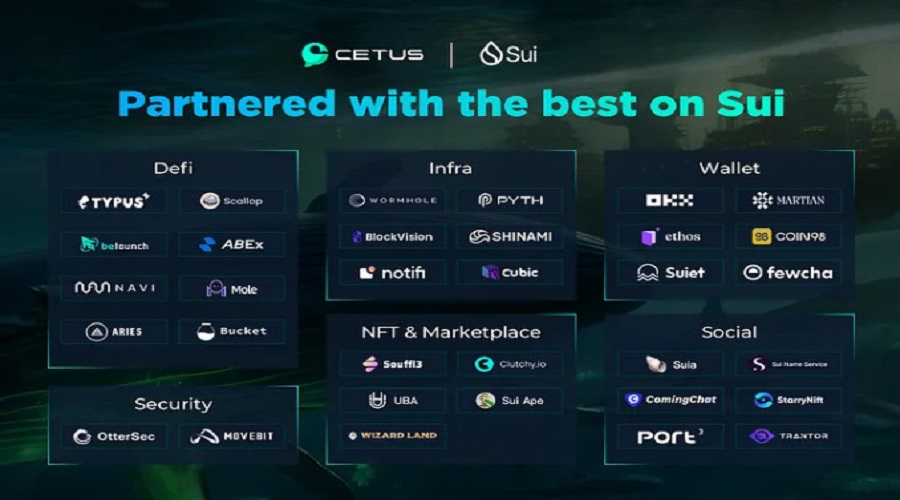 This feature facilitates the direct Swap transaction between two types of Tokens, making it easier for users. The low transaction fees and quick processing speed of transactions enhance the convenience of Swap transactions on Cetus. Additionally, the Cetus Swap platform displays the chart and exchange rate of the two respective Tokens, providing users with comprehensive information.
Nevertheless, it should be noted that although the Cetus platform is highly functional. Its support for token pairing is still somewhat limited, as only 13 token pairs are currently available for trading on the exchange.
Pools
Cetus offers liquidity pools that allow users to participate in providing liquidity and receive APR corresponding to each pool. Within the platform, users can set up multiple pools for the same pair of tokens with varying fees. Initially, the protocol allows for four levels of fees: 0.01%, 0.05%, 0.25%, and 1%.
The Pools will function according to the CLMM model, enabling liquidity providers to enhance the liquidity of specific Token pairs within a particular price range.
Given varying levels of profitability and risk, Cetus supports four investment price ranges as follows:
Conservative: Assisting users to invest within a safe price range with a low level of loss and a low APR percentage is our aim.
Active: The pricing regime is relatively narrower compared to the equivalent Conservative pricing with a percentage annual percentage rate (APR). And its level of loss is also higher. This pricing regime is suitable for individuals who have a need to constantly monitor the market and regularly update prices on the platform.
Full Range: This particular system enables users to operate within all price ranges while minimizing losses. However, the APR of this system is comparatively lower than that of other systems. Making it suitable for individuals seeking a secure investment option but lacking the time to keep up with market prices.
Custom: The Custom mode enables users to personalize their pricing range and attain a corresponding % APR. Making it suitable for individuals with a profound understanding of the market and who stay up-to-date with price fluctuations.
Furthermore, Cetus also offers Loyalty Incentivization programs for liquidity providers. Whereby participation in these programs can result in rewards being earned.
Launchpad
This is the Token Launchpad designed for new projects on Cetus. The operational model of Launchpad on Cetus is similar to that of Binance Launchpad. To participate, users are required to deposit SUI and allocate funding according to their respective contributions. Consequently, the more SUI deposited, the higher the allocation ratio.
Nonetheless, it is important to note that at present, this feature only supports the Launch Token Cetus of the parent project.
Bridge
This bridge serves as a means of converting tokens through the Portal Bridge platform. It currently accommodates various types of assets, such as tokens and NFTs on Multi-chain. Users can connect their platform to a non-custodial wallet and conduct transactions through the bridge to transfer their assets to Sui Chain or Aptos Chain.
Stats (Stats)
The Stats feature enables users to view and analyze data related to transactions on Cetus, including Total Value Locked (TVL), trading volume, number of transactions, and Pool liquidity. Such information can provide valuable insights into market trends and user behavior, making it a crucial tool for informed decision-making.
These numerical data will assist users in assessing the potential of the project and identifying which pools and tokens are receiving the most attention from the community.
Advantages of Cetus Protocol
Overall, the Cetus project possesses the following noteworthy features:
The platform's primary tools and functions adhere to the Permissionless standard, allowing other users or applications to utilize Cetus products at any time without the need for licensing.
The Cetus Protocol has developed a liquidity protocol based on CLMM that enables users to execute various trading strategies ranging from simple to complex, similar to those available on CEX exchanges. In addition, users can implement various Maker strategies to maximize their profitability.
If other applications are built on the Cetus platform, integrating liquidity can be easily accomplished.
Currently, Cetus is implementing a dual Token model consisting of CETUS and xCETUS. Users who make positive contributions to the platform will receive corresponding benefits.
What is Cetus Coin?
The CETUS cryptocurrency protocol is employed as the foundation for the Cetus platform.
Details
Token Name: Cetus
Ticket: CETUS
Blockchain: Sui
Contract: 0x6864a6f921804860930db6ddbe2e16acdf8504495ea7481637a1c8b9a8fe54b
Token Pype: Utility
Total Supply: 1.000.000.000 CETUS
Circulating Supply: 80.000.000 CETUS
Allocation rate
Community & LP: 50%
Team & Advisors: 20%
Investors: 15%
Eco Treasury: 15%
Function
The CETUS coin serves two primary functions, namely:
Governance: Protocol Administration
The Cetus Protocol offers a range of utilities that can be leveraged for accomplishing various tasks.
Furthermore, when CETUS coin Stake is converted into xCETUS – a staking and voting representation, it will be utilized for the following purposes:
Governance
Farm Boosting
Join Launchpad
Cetus Token Sale
At present, the Cetus Protocol network is conducting a Token Sale IDO on its Launchpad feature, with a specific schedule and timeframe as follows:
IDO Starts takes place at 17:00 PM on 08/05/2023
IDO End takes place at 17:00 PM on 10/05/2023
Join to receive IDO Token from 17:00 PM on 10/05/2023. With a total supply of ISO of 20,000,000 CETUS accounting for 2% of the total supply of CETUS
In which, 1 CETUS = 0.04 SUI. Thus, 20,000,000 CETUS is a Hard Cap of 800,000 SUI.
The utilization of the SUI quantity is divided as follows: 70% is designated for inclusion in the CETUS liquidity pool as an initial payment. Meanwhile, the remaining 30% of SUI will be utilized as a betting reward for the xCETUS platform during the first 3 months. This allocation plan is presented in a formal and informative manner.
Token Release Schedule
The release schedule of CETUS coin is as follows:
Community & LP: 50% will be distributed through Farming and liquidity incentive programs on the platform
Team & Advisors: 20% will be locked within 12 months and released quarterly for the next 24 months
Investors: 15% will be locked within 6 months and released quarterly for the next 12 months
Eco Treasury: 15% is reserved for initial liquidity, long-term community campaigns along with insurance funds.
Conversion Rate and Redeem Token
When users do Stake CETUS with a ratio of 1:1, xCETUS will be generated. If you want to convert xCETUS to CETUS, it will entail a different rate mechanism and vesting time. As follows:
Vesting within 15 days with xCETUS:CETUS ratio 1:0.5
Vesting within 180 days with a ratio of xCETUS:CETUS 1:1
Storage wallet
At present, users have the option to store CETUS coin in any wallet that supports the Sui Chain or Aptos Chain network. Some of the recommended options include Sui Wallet, OKX, and Martian.
Earn and own CETUS Coin
In order to acquire CETUS, individuals can purchase them through IDO sales hosted on the platform's official website, by committing to stake Sui Tokens. On May 10th, 2023, CETUS was also officially listed on two centralized cryptocurrency exchanges, Kucoin and OKX.
Development team, investors and partners
Development team
The current status regarding the development team of the project remains obscure as Cetus has yet to disclose the roster. 247btc.net will ensure to provide updated information as soon as it becomes available.
Investors
The project has achieved success in raising funds from the seed funding round, with detailed information provided as follows:
On the date of May 2nd, 2023, a capital call shall be made.
Amount of capital called: undisclosed
Participating funds include: Kucoin Ventures, OKX Blockdream Ventures, Animoca Brands, Jump Crypto, NGC Ventures, Adverse, Comma3 Ventures, IDG Capital, AC Capital and Leland Ventures.
Partner
At present, Cetus is engaged in collaborations with several prominent partners from various domains such as social media, Web3 wallet, and NFT markets. Some of the esteemed partners of Cetus include Crew3, ComingChat, Port3, StarryNift, Suia, Trantor, OKX Wallet, Martian, Suiet, Ethos, Fewcha, and Clutchy, amongst others. Additionally, Cetus is also forming partnerships with several other projects within the Sui ecosystem, such as Tocen, Mobius, and Morphis.
An analysis of Cetus' strengths in the AMM DEX sector was conducted
As analyzed, Cetus Protocol is an AMM DEX that draws inspiration from Uniswap, while Trader Joe has been developed on the Sui and Aptos networks. The strategic decision to develop on both Aptos and Sui – where there are few established DEX CLMMs – demonstrates the wise approach of the project. This enables the project to expand its resources through collaborations with relevant ecosystem organizations and attract potential investors in the future.
The establishment of Cetus was based on the use of the Move programming language, which ensures the safety of smart contracts while also allowing for the sharing of data among the user community. These contracts are designed with high security standards and effectively address a number of potential vulnerabilities seen in classical Web3, providing additional protection for programming tools.
Moreover, Cetus possesses the ability to concentrate liquidity and offers a variety of tools for liquidity providers to execute Maker strategies that optimize capital utilization. Every user has the right to access Cetus for liquidity creation and trading purposes.
Thanks to Cetus, users are able to conduct transactions based on a specific price level determined by a precise formula utilizing their reserve liquidity. Furthermore, users can also provide liquidity to reserves in order to earn fees for ongoing exchange transactions.
Summary
In summary, the Cetus Protocol project is introducing a solution for the development of the DeFi ecosystem on the Blockchain platform. Furthermore, the project is demonstrating its intelligence by selecting Sui and Aptos – two networks that currently have limited AMM DEX products with the CLMM mechanism to gain a competitive advantage.
The website 247btc.net recently shared an article titled "Cetus Coin: Analysis of Strengths in the AMM Dex Domain" with its readers. It is hoped that this piece provided valuable information about the Cetus project, enabling readers to make informed investment decisions. However, it should be noted that Coinlize is not responsible for any investment decisions made by its readers. We wish you success in profiting from this potential market.