The meaning of swap crypto currency is often brought up in investment circles. But a number of people are uncertain about how this transaction type differs from others. It can be mentioned under varied nomenclatures depending on the context. If you fall into the category of someone who is new to this concept or still grappling with doubts. Then it would be advisable to read this article attentively to gain a clearer understanding.
What is swap crypto currency?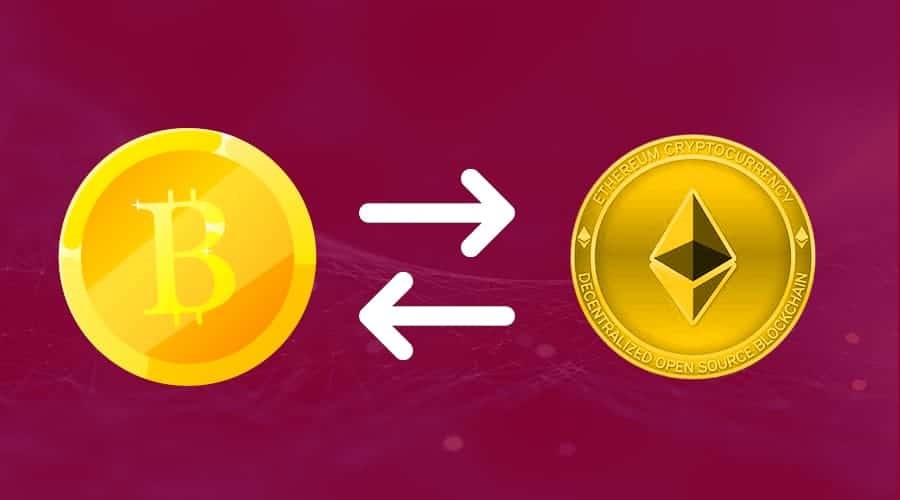 The term commonly utilized in the DeFi community is "Swap crypto currency," which refers to the process of conversion or replacement. In other words, swapping tokens involves transferring them from one blockchain to another. This terminology has garnered significant use among DeFi users.
The term "Swap crypto currency" has been widely used in various financial markets before being adopted into the Crypto ecosystem. And is commonly known as Currency Swap. However, in the Forex market, this term may imply different meanings such as overnight position interest rates. This article primarily addresses the topic of Swap in the Crypto market.
When executing a swap on various platforms, it is a straightforward process whereby one exchanges a specified amount of coin/token A in exchange for coin/token B at a predetermined rate. For example, if one wants to exchange 100 1INCH for AAVE, they can utilize decentralized exchange platforms (DEXs) that support the 1INCH/AAVE trading pair to execute the swap from 1INCH to AAVE. It is important to note that users will be required to pay a certain amount of fees throughout this process.
Swap is different from buying and selling coins?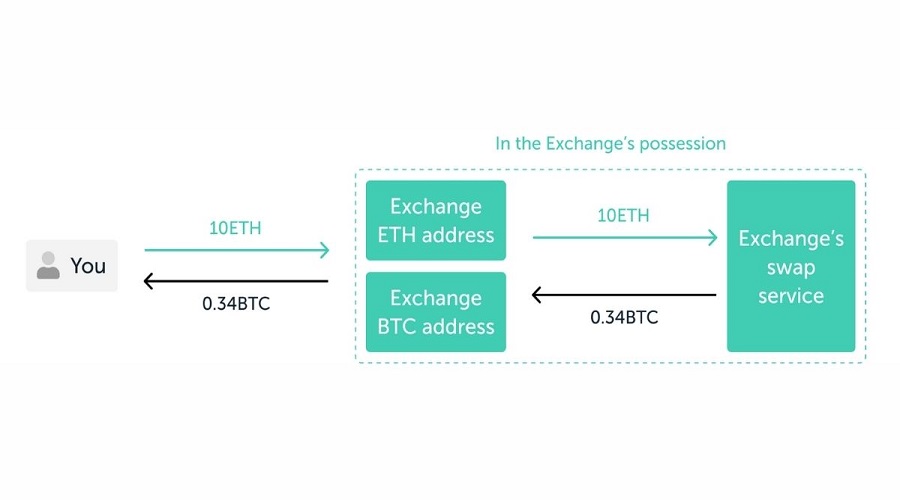 When engaging in cryptocurrency transactions, we primarily conduct trades on centralized exchanges (CEXs), where asset values are determined by supply and demand and prone to certain fluctuations that can be difficult to calculate and anticipate. To execute trades successfully, we are heavily reliant on the pairs of coins available on the exchange, often necessitating the use of stablecoins like USDT. For example, if we have ADA and wish to purchase UNI, we would need to sell our ADA for USDT and use that USDT to buy UNI. Additionally, users must deposit assets onto the exchange before engaging in any trades.
For the Swap process, it is recommended to use Decentralized Exchanges (DEX) or more specifically. Automated Market Maker (AMM) platforms which operate with Smart Contracts. Liquidity Providers (LP) are individuals who contribute liquidity by adding their assets to the Liquidity Pool, receiving LP tokens or other incentives according to a predetermined ratio. When intending to execute a Swap, one can easily locate a Pool that includes the respective token seeking to be exchanged. Essentially, the Swap process involves the use of a Liquidity Pool and a Smart Contract enabling the automatic exchange of tokens based on a predetermined formula and ratio. Importantly, one can quickly connect their personal wallet for seamless transactions, without the need to deposit funds onto the platform.
What are the risks of doing a Crypto currency swap?
Once individuals have a thorough understanding of the concept and fundamental characteristics of Swap. They may feel that executing a token swap is a facile and relatively risk-free process, especially when trading with assets held in a personal wallet. However, it is important to note that swapping assets also carries considerable risk if users are not proficient in employing the platform effectively.
In contrast to CEX, DEX is a highly decentralized environment. As such, users must perform all necessary functions themselves, including finding pools, executing swaps, adjusting gas fees, and so on. Throughout this process, users may encounter various challenges, such as difficulties selecting a DEX or connecting a wallet. Insufficiently liquid or fraudulent pools, and improper gas fee adjustments, resulting in slow or delayed transactions.
How to do Swap properly
If common errors can be avoided, the process of swapping will become much simpler and more convenient for everyone.
Be fully prepared
To ensure a secure transaction, it is imperative to select a reputable digital wallet and decentralized exchange (DEX). Popular wallet options such as Metamask and Trust Wallet are recommended, while established DEXs like PancakeSwap, Uniswap, 1Inch, SushiSwap, Curve Finance should be prioritized. Once the necessary components have been acquired. Connecting the wallet to the DEX is a straightforward process that involves clicking "Connect wallet" on the DEX platform and authorizing the connection through one's personal digital wallet.
Choose a prestigious Pool
In order for a Swap to occur smoothly, it is necessary to locate a Pool that contains the coin pair intended for exchange and has the requisite liquidity. To avoid falling victim to Scam Pools, it is advisable to search for the Contract of the asset on Coinmarketcap or CoinGecko and copy the token address. Experienced individuals may find it relatively straightforward to identify reliable Pools based on their past experiences. However, beginners may find it challenging to discern between legitimate coins and Scam token addresses.
Once you have confirmed that the tokens in the pool are not scam tokens, it is essential to ensure that the liquidity in the pool is balanced with the amount of tokens you wish to exchange. Only when the liquidity in the pool exceeds the amount of money you intend to exchange can the transaction be successfully executed. It is imperative to maintain this balance to avoid any potential risks or complications in the trading process.
In addition to the consideration of Pool, it is equally important for one to pay attention to the matter of price slippage in order to ensure that their investment capital is not overly affected.
Fee alignment
As previously mentioned, executing a Swap will require payment of a specific fee, which will vary depending on the chosen DEX platform. For instance, if Uniswap is selected, payment of fees will be required in ETH, whereas for PancakeSwap, fees should be paid in BNB. Prior to executing the transaction. Ensure sufficient research has been performed to understand the applicable platform fee. And be certain to have a predetermined amount of tokens on hand to cover these fees.
In addition to the Swap fee, it is crucial for traders to also consider the Gas fee on their wallet so that their transactions can be executed smoothly. While balancing the fees, it is advisable to opt for the average or fast level to prevent any significant delay in executing trades. However, in comparison to other networks, the Ethereum network has significantly higher Gas fees. Despite Ethereum's efforts to address this problem with Ethereum 2.0, traders with small capital should avoid participating in this network to optimize their profits.
Is it possible to make a profit from Swap?
Aside from utilizing Swap to fulfill personal needs and objectives, there is also potential for substantial profit gains through this process. The specific details are as follows.
Liquidity Provider – Provides liquidity
As mentioned, in order to establish a Liquidity Pool, it is essential to have Liquidity Providers who supply the necessary liquidity. By adding their assets to the Pool, users can receive LP tokens or various other advantages. LP tokens represent the amount of assets added to the Pool and reflect the LP's percentage of ownership in the Pools.
Furthermore, LP tokens hold multiple functions, such as participating in the governance process or engaging in Farming for profit-making purposes. Although the incentives of holding LP tokens may differ across various platforms, becoming an LP token holder provides numerous benefits and opportunities for profit generation on the exchange.
Earn profit from system programs
Several platforms provide highly attractive Airdrop programs, enabling users to obtain a certain amount of assets by participating in Swap. Uniswap is an example of such a platform, enabling users to earn up to 400 UNI, equivalent to approximately 300 million VND, by participating in Swap on the protocol before September 1st, 2020. Other exchanges are also implementing similar programs or initiatives to attract users to participate in Swap on their protocols.
Therefore, individuals can explore this opportunity for potential projects that have not yet released their native tokens. Through researching the project and understanding their loyalty programs, one can potentially generate considerable profits. Furthermore, if one frequently uses Swap, they can utilize this method to increase their earning potential by utilizing new protocols.
Some notes when making profits with Swap
You have now grasped some important precautions to avoid risks when engaging in Swap as well as two legitimate ways to profit from it, based on the information provided earlier. It is advisable to consider these two methods thoroughly. However, after conducting careful research, you may also become aware of some exploitative cases involving the Swap Crypto mechanism. Between protocols for unlawful gains, known as Flashloan attacks. A useful lesson to learn in this regard is the bZx case, wherein millions of USD were misappropriated due to the loopholes present during the consistent swapping of five different protocols. It must be emphasized that this is an illegitimate method of profit-making and is not encouraged in any way.
It is hoped that through the aforementioned sharing, one would have gained a clear understanding of what Swap entails, as well as its operational procedures, risks, and how to avoid unnecessary complications associated with this form of trading. As a result, it is expected that individuals can make appropriate choices while seeking favorable opportunities in a diverse and prosperous DeFi environment.