The Ronin Network is not only the blockchain utilized by Axie game, it also presents a promising landscape for numerous new gaming products in the future. Herein, we present a recent study on the Ronin Network by 247BTC.
Ronin was a blockchain that was highly anticipated, however, following the Ronin Bridge hack, this ecosystem was somewhat negatively impacted. In reality, Ronin is still developing quietly, but is its developmental speed as expected? Is the RON token worthwhile for investment? Are there any events that could draw users' attention to this ecosystem again?
Expectations for a Gaming/NFT Ecosystem
Ronin and the Vietnamese unicorn startup valued at 4.5 billion dollars
The Ronin Network is a blockchain technology that has been thoroughly researched and developed by Sky Mavis, a reputable company based in Vietnam. It is specifically designed to facilitate the growth of NFT Gaming, with the Axie Infinity project being its most prominent endeavor thus far.
The Ronin mainnet is set to launch in the second quarter of 2021, with the RON token officially launching in October of the same year. Sky Mavis successfully completed its fourth round of funding on April 6th, 2022, bringing the total funding amount to 311 million USD. Currently, Sky Mavis has a valuation of 4.5 billion USD. This information is presented in a formal and informative style.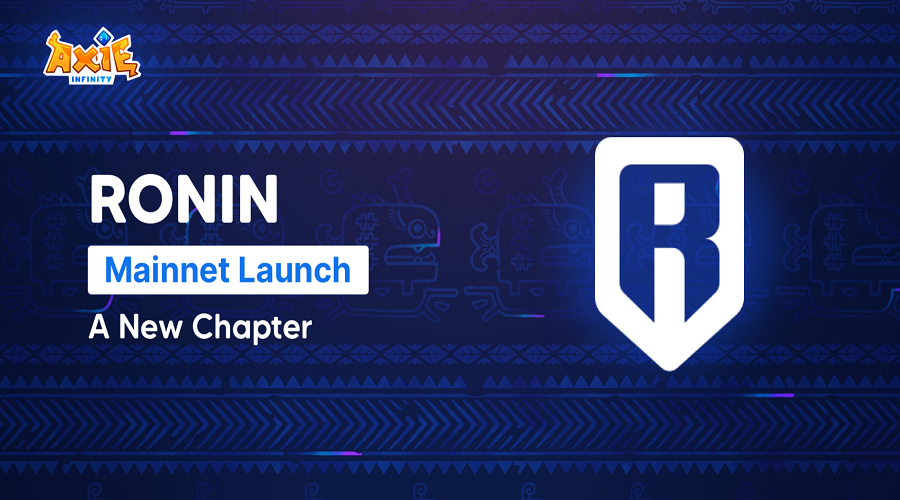 Sky Mavis has a total of 29 investors, both large and small, among whom there are notable funds such as a16z, Paradigm, Amonica Brands, and Binance.
Expectations for Ronin
Initially, Ronin was introduced by Sky Mavis as a solution to enhance the gaming experience of players in Axie Infinity. However, Ronin is not limited to improving user experience only, as the project is aimed at developing all aspects of NFT Gaming. Ronin strives to establish an ecosystem that comprises multiple gaming projects.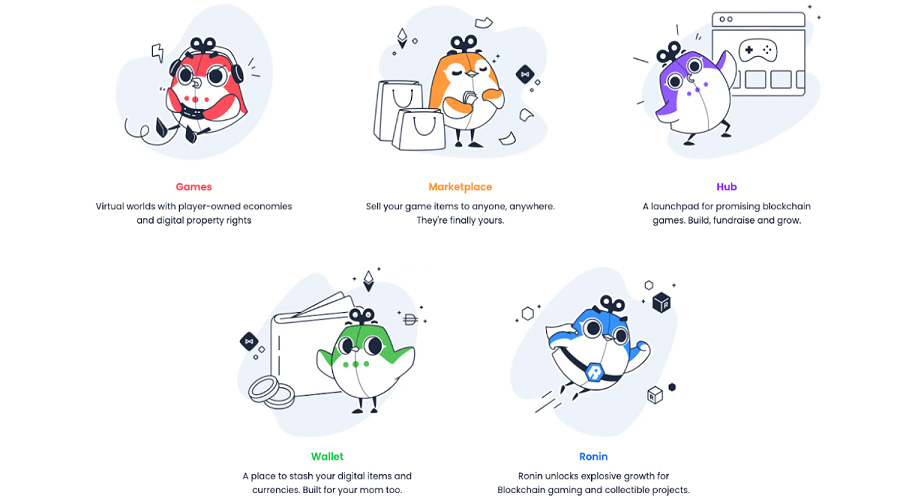 Sky Mavis, a traditional large company, has established collaborative relationships with numerous investors. Through their primary product, the Ronin Network, it is anticipated that they will achieve a widespread acceptance of cryptocurrency, in general, and NFT gaming, in particular, which will eventually lead to mass adoption.
Let us review Ronin's recent development in order to evaluate the future prospects and growth potential of both Ronin and its native token RON.
Ronin (RON) at the moment
Network efficiency parameters Ron

Since the launch of the T2/2021 mainnet, the Ronin network has achieved numerous impressive figures, indicating significant growth and progress:
Fast transaction speed, blocktime is only about 3 seconds (Ethereum has a blocktime of 13 seconds)
Cheap transaction fees
Over 11 million wallet addresses generated
More than 400 million transactions
The achievement of these figures is attributed to the market dominance of Axie Infinity over a period of time. Additionally, the daily transaction volume on Ronin remained stable during the decline in the Gaming industry.
The year 2022 is anticipated to witness a slight recovery in transaction volume, with Ronin currently recording approximately 100,000 daily transactions. The peak transaction volume recorded in 2023 is high, at 589,000 transactions.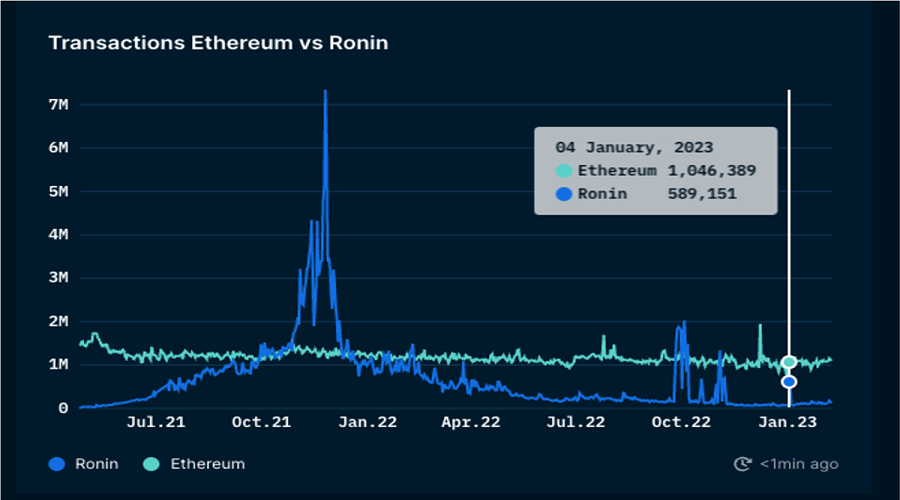 Towards the end of 2022 and beginning of 2023, the Ronin network is set to introduce significant updates that will impact the entire network. Further details on these updates will be discussed in the next section for a comprehensive understanding.
In terms of TVL, Ronin lacks noteworthy features, as the current ecosystem only includes the Katana DEX for determining the value of locked assets. Despite experiencing a significant drop from its peak, Ronin's TVL has increased by approximately 70% over the course of one month, and has now returned to its value from the time of the Ronin Bridge hack incident.
In addition to experiencing growth in TVL, Ronin has recently recorded increased growth in NFT metrics over the course of a month. Ronin has achieved the eighth position in terms of NFT transaction volume, with both the number of transactions and the number of buyers and sellers showing slight growth. This indicates that Ronin is making steady progress in establishing a strong presence in the NFT market.
Along with the market's momentum, the Total Value Locked (TVL) of Ethereum-related bridges has experienced a slight increase. Ronin Bridge is no exception, with its TVL increasing by 64% and currently sitting at USD 820 million, ranking fourth among Ethereum Bridges.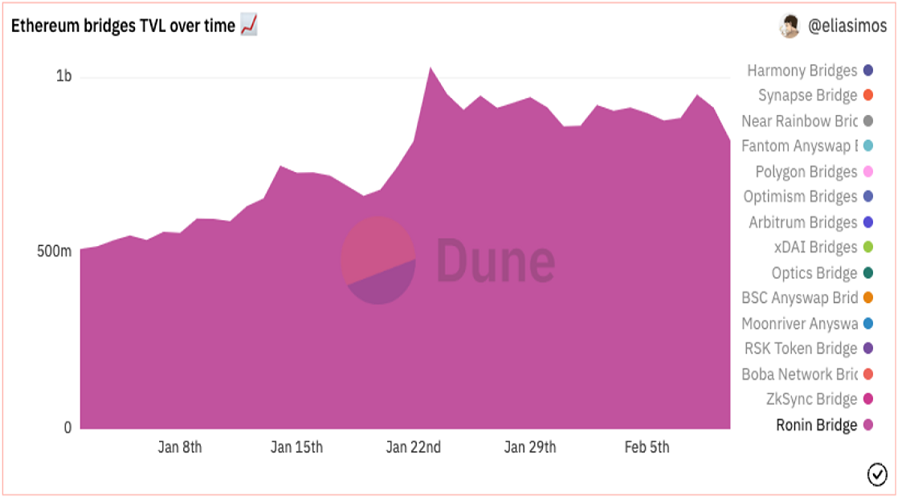 RON Token
The RON token is the native cryptocurrency of the Ronin Network, possessing a total supply of one billion tokens, of which only 17% has been unlocked so far. The allocation of RON tokens follows the following proportion:
Staking Rewards: 25%
Incentives: 30%
Sky Mavis: 30%
Ecosystem Fund: 15%
The token economics of RON can be observed to possess a rather simple design, as the official implementation of RON Staking has yet to occur. Consequently, the majority of tokens are highly likely to remain under the control of the team comprising of Sky Mavis & Ecosystem Fund.
The unlocking of RON is set to commence from the first quarter of 2022. Notably, seven days prior to the most recent unlock (27/1/2023), RON experienced a significant upsurge of 46%. The next unlocking is expected to occur approximately 75 days after (27/4/2023), a period that coincides with several significant events and news updates relating to the Ronin Network and its native token, RON.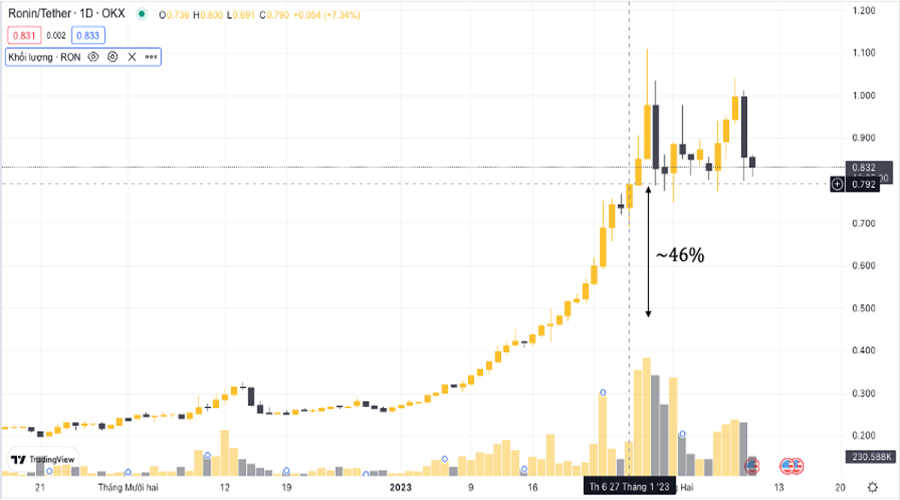 Redirect from PoA to DPoS
Recently, Ronin announced to the community about the launch of the Saigon Validator Program on the Ronin Saigon Testnet. This program marks a significant milestone for Ronin as it transitions from a PoA mechanism to DPoS. As a result, small-scale investors can also begin staking RON and receiving rewards.
The Proof of Authority (PoA) mechanism grants priority to reputable Validators, often larger partners, which leads to issues of decentralization and a lack of diversity among Validators, resulting in lesser benefits for RON holders.
DPoS (Delegated Proof of Stake) employs a more democratic mechanism for selecting validators in which validators are chosen based on their reputation as a legitimate staker rather than their wealth or true identity.
Several major blockchains that utilize this consensus mechanism include Tron, EOS, and Cardano.
The program is scheduled to run until late March, followed by the deployment of the mainnet where users can run nodes and stake RON. Additionally, the project is preparing to update its features to serve RON token management needs. This information is conveyed in a formal tone, providing details on the timing of the program and its accompanying developments.
Basic Ecosystem
The ecosystem on Ronin is not yet fully developed, nevertheless it is not stagnant. Recently, a significant new addition has emerged, contributing to the ecosystem's progression.
Katana DEX
The Katana DEX is the sole native AMM platform on the Ronin blockchain, boasting essential features such as swapping, liquidity provisioning, and farming. Users can utilize Katana DEX to engage in swapping and farming of tokens related to Ronin, as well as Axie Infinity.

Katana DEX is currently exhibiting the most significant recovery since the bridge hack incident. Starting from the beginning of 2023, the liquidity of this DEX platform has increased almost twofold, and the trading volume is also on a rising trend since early 2023. These metrics demonstrate the positive progress of Katana DEX towards recuperating its market position after the previous security breach.
An explanation for this can be attributed to the recent launch of Ronin's "2023 Katana Liquidity Mining Program". As per the program's guidelines, the incentives for participating will be halved compared to the 2022 program. However, the program will offer increased incentives for trading pairs associated with the RON token.
The purpose of this endeavor is to bolster the liquidity of the RON token, in preparation for its upcoming staking launch in the DPoS version. Presently, RON enjoys the highest liquidity and trading volume among all the tokens present in Katana DEX.
Launching MetaLend
MetaLend, a lending project on the Ronin network, is scheduled to launch in early Q2 2023. This platform will enable players to use NFTs as collateral to borrow WETH. As of now, approximately 6000 NFTs (including Axie and Axie Land) have been used as collateral on MetaLend.
Launching MetaLend not only provides Axie players with more liquidity options, but also confirms the emerging trend of NFT Finance and simultaneously improves the currently rudimentary ecosystem of the Ronin Network.
In the future, MetaLend shall continue to provide lending support for staking assets such as staking AXS and staking RON. Therefore, Ronin platform is presently witnessing the convergence of two major market trends, namely NFT Finance and Liquid Staking Assets.
Launching Ronin Wallet
The provision of a wallet is a critical component in engaging with any blockchain network. Ronin has recently launched its dedicated wallet, named the Ronin Wallet, for this purpose. The wallet is designed with a simple interface to facilitate easy token and NFT management by users.
The Ronin Wallet is fully integrated into all dapps on the Ronin platform, and additionally facilitates the straightforward purchase of standard currency-denominated ETH, RON, and AXS. Those who wish to participate in the various activities within the Ronin ecosystem, such as farming or upcoming RON staking, will require the use of the Ronin Wallet.
GameFi
In addition to its traditional Axie Battleground version, Sky Mavis is set to further expand its gaming ecosystem. The latest announcement reveals the launch of "Project K" – a venture that utilizes Axie and Axie NFT to construct a kingdom through Mavis Hub 2.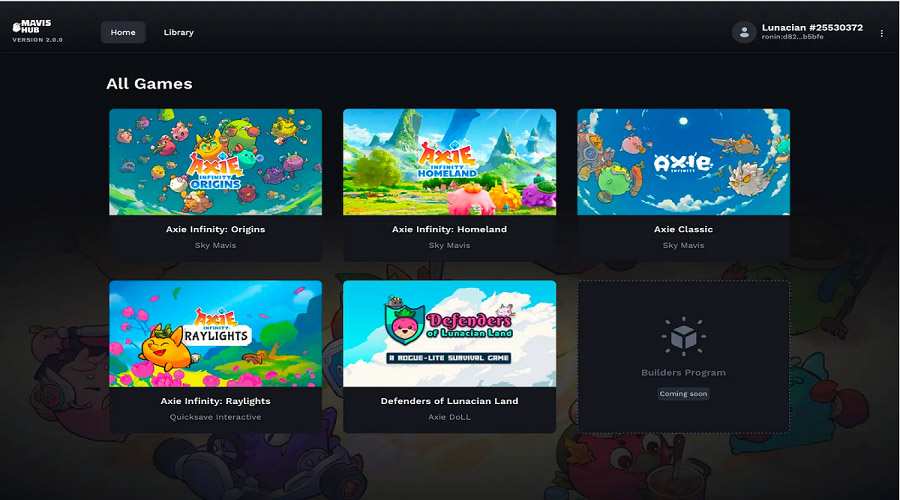 In late 2022, Sky Mavis hosted AxieCon to announce their new partner, Google, and encourage game studios to participate in building their product. As of now, there are over 250 potential game studio partners listed by Sky Mavis.
In order to invest in and support projects within Ronin's ecosystem, Sky Mavis has allocated 42 million USD from its Ecosystem Fund, as well as an additional 10 million USD from its own funds. This significant investment is expected to provide strong impetus for the ecosystem's growth over the next six months to a year.
Investor's expectations about Ronin Network (RON)
Observing the developmental progress of Ronin Network, one can easily discern that the blockchain ecosystem is still heavily reliant on Axie Infinity and remains relatively rudimentary. Despite Sky Mavis' ambition of becoming the Web3 Gaming Hub, the goal still seems distant, considering the absence of a completely novel game built on Ronin. Furthermore, investors currently harbor substantial doubts regarding the potential revival of the Game NFT trend.
In line with the development of Axie Infinity, recent activities by Sky Mavis have demonstrated an increased focus on RON token. Sky Mavis is gradually preparing to enhance liquidity for RON, shifting towards a Delegated Proof of Stake to provide greater benefits for token holders, and introducing RON Staking. It is possible that there will be forthcoming news regarding this token in the future.
All of these factors contribute to RON's potential for long-term growth. If the price of RON increases while the Game projects on Ronin are fully developed, RON can help bring attention to this ecosystem, much like AXS previously.
With successful fundraising exceeding 300 million USD and a strong financial capability, as well as numerous notable partnerships within and outside the blockchain industry, Sky Mavis is well positioned to embark on the strategic development of a gaming ecosystem on Ronin, both in the intermediate and long term. Should Ronin attain success, it is highly plausible that the market will witness an upsurge in blockchain gaming offerings in the future.
Therefore, although the Ronin ecosystem may not have a high TVL, it is still an ecosystem that should not be overlooked.
Summary
Gaming has been and continues to be an area where many large venture capitalists spare no expense in investing in product development. When high-quality gaming projects are released, they will be the group of projects that bring new users to the crypto market.
Sky Mavis shares the vision of developing Ronin Network into a gaming ecosystem. In the short term, the development of the RON token will be the main focus. However, it will take time to verify the actual demand of the GameFi market, as well as the crypto market as a whole.