The DeFi industry is experiencing robust growth and providing significant practical benefits to users. Nonetheless, along with the advantages of DeFi, certain limitations related to fees, scalability, and transaction speeds persist. Recognizing this, the DeFiChain (DFI) project was established to optimize and provide solutions to these issues. In essence, what is DeFiChain (DFI)?
What is DeFiChain Crypto (DFI)?
DeFiChain is a project that provides various financial services in the DeFi space, including lending and borrowing, saving, and many other DeFi services. Similar to lending protocols in the market, DeFiChain operates in a decentralized manner, free from control by any individuals or organizations.
DeFiChain Products and Revenue
Products of DeFiChain
The DeFi project has a diverse range of services, with a primary focus on lending and borrowing functions. Therefore, the core products of DeFiChain typically comprise features that cater to user needs such as:

Decentralized Assets
dToken is a collective term for Decentralized Asset, which serves as a representation of a user's asset on the DeFiChain. Leveraging the lending protocol mechanism, participants can collateralize and receive a commensurate quantity of dToken (commonly referred to as minting) by depositing their assets. The successfully minted dToken is usable for trade and profit-making activities within the DeFiChain ecosystem.
DeFiChain Wallet
DeFiChain has introduced storage wallets to their community that incorporate fundamental security features and smooth accessibility. These wallets are specifically designed to complement the protocol's ecosystem and consist of two key wallets.
DeFiChain walle
DFX wallet (mobile app).
Furthermore, DeFiChain has introduced advanced functionalities such as:
DeFi wallet Raspberry Pi: The customized version of Raspberry Pi OS (32-bit) specifically designed for system administrators features a storage capacity of 4GB.
CLI: Facilitation of transactions and interaction with the protocol is achieved through the utilization of command lines and nodes.
DeFiChain Electrum: regarding the use of funds, etc.
DeFiLinks/DeFiChain Universe
DeFiLinks is a specialized platform that provides links and information on various projects to the community. This tool serves as a time-saving resource for individuals seeking to access and update information on a particular project. It functions similarly to a bookmark utilized on a computer. With DeFiLinks, users can access and create a free account, and categorize project links into multiple subsets for efficient management.
Defichain's mechanism of action
The operational mechanism of Defichain encompasses a range of products which comprise the following:
Decentralized Assets: DTokens are a significant product of the DeFiChain blockchain. Unlike other products and stocks, dTokens are not issued by any company or project but exist solely on the Defichain platform, providing a 1:1 exchange through lending to mint stablecoin and collateralizing their assets. To obtain dTokens, users must pledge their assets and lock them up, a process known as minting stablecoin. Once users have received dTokens, they can use them to engage in trading and profit-making activities through the Defichain protocol.
Decentralized Exchange: The Decentralized Exchange is a platform that enables users to exchange and trade various Coin/Token assets through trading pairs, ensuring that users always have complete control of their assets without the need to rely on any third-party for transaction support. Additionally, the Decentralized Exchange also provides Liquidity Mining and Staking features, allowing users to earn profits with the primary DFI token as a reward. This platform facilitates liquidity and empowers users to manage their assets with utmost efficiency and independence.

Defichain Wallet: The DeFiChain Wallet is a user-friendly product offered by DeFiChain that provides basic security features, allowing users to easily manage their assets and participate in exchange and liquidity mining activities on the Decentralized Exchange. Currently, the DeFiChain Wallet can be downloaded on iOS, Android, and Desktop devices.

Masternodes: Masternodes are key components of the Defichain network, facilitating user participation in the consensus protocol and offering rewards for staking their coins. In particular, these nodes assume responsibility for allocating rewards and transaction fees, as well as providing governance proposals to other network participants.
DefiScan: DefiScan is a website that presents data about the DeFiChain network, including details about transactions, blocks, wallet addresses, smart contracts, and on-chain data, much like how Etherscan and BSCscan operate.
The Defichain difference
The Defichain platform incorporates the high security and privacy features of Bitcoin, while adding new functionalities to support users with faster transactions and full autonomy over their asset management.
Defichain has developed a unique consensus mechanism by combining Proof of Work (POW) and Proof of Stake (POS), two familiar mechanisms used in DeFi. This mechanism provides various benefits for users including the ability to create decentralized applications, scale the network, enhance security, increase transaction processing speed, decentralized governance, and support for multiple tokens.
Masternodes constitute a crucial component of DeFiChain, facilitating the network's maintenance and operations. Users can participate in the nodes and earn profits while also exercising their voting rights to contribute to the project team's governance decisions.
The salient feature of DeFiChain
DeFiChain possesses several notable features that set it apart from other lending and borrowing platforms, including:
Combination of Proof of Work and Proof of Stake
The consensus mechanisms of PoS and PoW are well-known within the DeFi space. They have been combined by the DeFiChain protocol to create a unique hybrid mechanism. This mechanism is utilized to implement solutions for users, such as:
Ability to initialize dApp.
Scaling up.
Enhanced security and transaction processing speed.
Decentralized governance.
Supports many different tokens.
Non-Turing-Complete Smart Contracts
The terms Turing and Non-Turing Complete frequently find application in programming languages. Such as: C++, Python, Javascript… The advantages offered by this feature make blockchain projects commonly incorporate it during the coding process for their projects/smart contracts. DeFiChain also opts to utilize Non-Turing Complete in their system in order to reduce security risks, facilitate code verification, and maintain efficient network usage.
Decentralized Wrapping Token
The DeFiChain ecosystem provides a mechanism, similar to the functioning of cross-chain, which enables users to wrap assets across multiple blockchains without the need for any intermediary.
For instance, if you possess Bitcoin and the borrower requires Ether, utilizing this technology will allow you to convert that token into Ether, thus matching the borrowing needs appropriately.
DeFiChain is committed to ensuring the security of its protocol and provides several layers of security that are supported by Bitcoin, a leading blockchain platform in the current cryptocurrency market. Additionally, DeFiChain is designed to meet the fundamental features required for lending and borrowing such as pricing oracles, exchange, and asset tokenization.
What is DFI Token?
DFI is a utility token of DeFiChain platform. On May 11, 2020, DFI fund released approximately 600 million DFI tokens.
Tokenomics
DFI Token Key Metric 
​​Token Name: DeFiChain
Ticker: DFI
Blockchain: BNB Chain, Ethereum
Token Contract
BNB Chain: 0x361c60b7c2828fcab80988d00d1d542c83387b50
Ethereum: 0x8fc8f8269ebca376d046ce292dc7eac40c8d358a
Token Type: Utility
Total Supply: 1,200,000,000 DFI
Circulating Supply: 665,254,768 DFI
DFI Token Use Cases
The DFI token has various use cases, which are outlined as follows:
The provision of liquidity within pools shall be ensured.
The token serves as collateral for the purpose of minting or borrowing stock tokens and dUSD stablecoin.
This compensation system is employed to reward both lenders/borrowers and stakers.
The DeFiChain DAO manages its governance protocol by utilizing locked DFI.
During the DFI lock-up period, users are entitled to a portion of the fee generated from the protocol.
DFI Token Allocation
Foundation: 36.6%
Masternodes: 21%
Burned DFI: 20.8%
Other addresses: 13.4%
Liquidity Pool: 5.65%
Community fund: 1.74%
DFI token: 0.704%
ERC-20 Collateral: 0.106%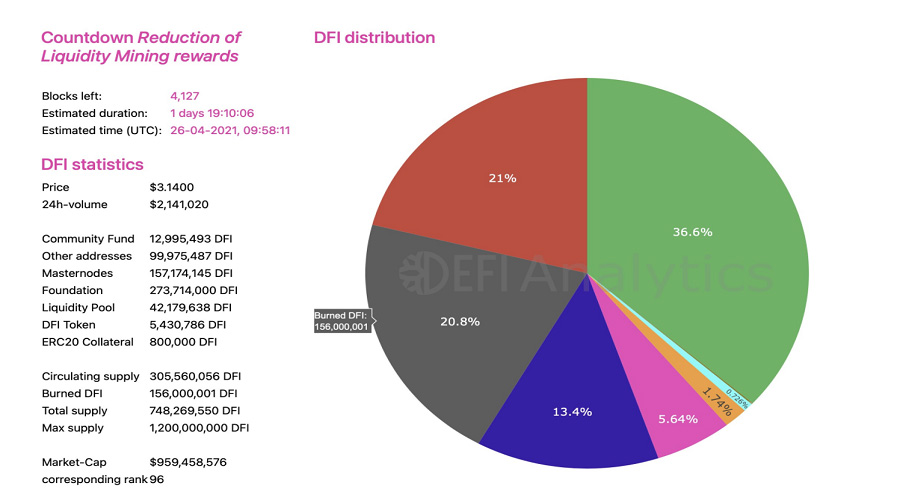 Token Release Schedule
Where to buy DFI Token?
The acquisition of DFI tokens is feasible for users via the following means:
Centralized Exchanges (CEX): KuCoin, Bittrex
Decentralized Exchange (DEX): Uniswap
DFI Token Storage Wallet
Users have the ability to store DFI tokens in any Ethereum network-supported wallet, with reputable wallets such as Coin98 Super App, Metamask, Trust Wallet, Trezor, Ledger being among the list of options.
Roadmaps & updates
The development roadmap of the project in 2022 is as follows:
Quarter 1
On-chain governance
Quarter 2
Launched Desktop Light Wallet
Launch of browser extension version wallet
More features and options
Quarter 3 – 4
NFT Support
Integration with hardware wallet
Ethereum EVM Support
In the year 2023, DeFiChain shall provide a meticulous and comprehensive account of its specific plans, as follows:
Q1/2023
DeFiChain Consortium Launched
DeFiChain On-Chain Governance: on-chain governance
Deployment of a bridge for standard ERC-20 . tokens
DeFi Meta Chain
Introducing DeFi Meta Chain Explorer
DeFiChain Devnet (test run)
DeFiChain.com website redesign
Deploy Desktop Light Wallet version
Launch of DeFi Meta Chain launchpad
DeFi Meta Chain launchpool launch
DeFi Meta Chain Hackathon
DeFi Meta Chain Incubator Program
Project team Defichain
The current project has not publicized all information pertaining to the development team. Nevertheless, the following representatives constitute the team:
Core Team: U-Zyn Chua, Julian Hosp
Developers: Jonas Surmann
Investors & Partners
Investors and funding rounds
The development team has refrained from divulging any information regarding investors and funding rounds. Additionally, there have been no IDO rounds on DeFiChain; the project has solely distributed airdrops to its users.
Partner
DeFiChain has entered into partnerships with several major staking companies such as Staking Rewards and Cake DeFi, as well as prominent entities including Messari, CoinGecko, Blockspot, and ACryptoS, within the staking domain.