Klaytn crypto is a public blockchain that offers security and transparency for businesses. The project's standout feature can be found in its tokenomics, which can be explored in detail. On June 24th, 2021, Binance announced the listing of Klaytn (KLAY) on its trading platform. As such, Klaytn is an active project in a specific field, and its potential is worth considering. For an in-depth understanding, please refer to the article below.
What is Klaytn (KLAY)?
The public blockchain platform, Klaytn, has been developed by Ground X, a blockchain subsidiary of the Korean Internet giant KAKAO, which boasts a staggering 50 million users worldwide. KAKAO has constructed an exclusive blockchain platform to address the network congestion issue faced by current mobile and online services due to performance limitations of existing blockchain platforms.
Klaytn is constructing an opportunity for businesses seeking to incorporate blockchain technology with its distinct features of affordable fees, high throughput, and low latency. Furthermore, Klaytn is focused on creating a flexible expansion capability, ensuring that businesses and developers can keep up with the rapidly evolving blockchain world.
The salient features of Klaytn
In this section, I shall expound upon the practical applications of Klaytn in daily life. I implore the reader to pay heed to the forthcoming details.
The team responsible for developing BApp (Blockchain App) is considered to be the most crucial component within the Klaytn ecosystem, as well as a differentiating factor compared to other blockchain projects.
The BApp designers facilitate the optimal user experience for their clients by leveraging the integration of multiple features within Klaytn, encompassing but not limited to:
Fast network response, strong transaction speed,
Flexible scalability.
Subsidizing transaction costs for the last person.
Moreover, BApp possesses robust interaction capabilities with legacy enterprise assets (via enterprise proxies), enabling companies to seamlessly incorporate Blockchain technology into existing services for immediate use.
Having incorporated the Blockchain technology into several domains, the project has endowed itself with the following features:
Entertainment: The entertainment industry, which is constantly in high demand, is poised for significant growth through the creation of BApps and the monetization of copyright-protected music and film services, as well as value-added communication services between celebrities and their fans.
Gaming: The Esport Gaming industry has great potential and is expected to attract developers who will build BApps for game item exchange services and livestreaming platforms that connect gamers and fans in the future.
Payment/Remittance: The application of financial payment services facilitates the transfer of funds between individual users.
Web-Based Content: The collection of service fees through the licensing and distribution of copyrighted manga and anime content from readers is expected to flourish in the future.
How Klaytn Crypto Solves Problems on Blockchain
The extant issues present on the Blockchain
Below are the limitations that other existing Blockchain platforms are currently encountering.
The ability to scale: In simple terms, it refers to the capacity to handle multiple tasks swiftly. Presently, Blockchain projects are encountering challenges with scalability, leading to slower processing of transactions. This issue has resulted in adverse consequences.
Currently, Visa processes approximately 1700 transactions per second, whereas Bitcoin only manages 7 transactions per second (in reality, only 2 to 5 transactions). Ethereum, on the other hand, can handle around 15 to 20 transactions per second. This creates an unpleasant user experience as users have to wait for a considerable amount of time for their transactions to be processed.
One limitation of current Blockchain technology is the lack of finiteness. Finiteness is a characteristic of a block in the Blockchain system that ensures the integrity of transactions within the block and guarantees their accurate completion without any discrepancies. However, this feature is currently absent in many Blockchain implementations, and it hinders their reliability and effectiveness.
For example, if one uses Bitcoin to purchase an airline ticket, the transaction will be recorded in the ledger at that moment. However, it should be noted that the transaction will not be processed immediately and there is no guarantee of its success. The system only provides the capability to process transactions, meaning that one may have already paid but could later realize that the payment has not been successful.

The time required to achieve finite computing with Bitcoin is 60 minutes, while with Ethereum it only takes 6 minutes. Verification of this step ensures a higher level of security for your transactions. However, the time-consuming nature of this verification process makes it difficult to commercialize cryptocurrencies. Waiting for long periods on the Blockchain network can have a negative impact on your business.
Branching is a phenomenon where a single entity is divided into two or more branches.
For instance, when a branch is formed in the third block, as is customary, it must wait for the fourth block. However, hackers can now create and add the fourth block by utilizing greater computing power for faster block creation.

By utilizing this method, a hacker can discreetly extend their blockchain without informing other nodes. This approach adheres to the rule of adding blocks to the blockchain network by selecting the longest chain at the end of the branch, thus allowing the hacker to alter transactions on the blockchain network.
Klaytn's solution
In the preceding section, the issues facing the current state of Blockchain have been discussed. In the following section, we shall elucidate upon the mechanism employed by Klaytn to address these issues through its consensus algorithm.
Klaytn has adopted the Istanbul BFT (Byzantine Fault Tolerant) consensus algorithm, which has the ability to integrate the best qualities of Public Blockchain and Private Blockchain.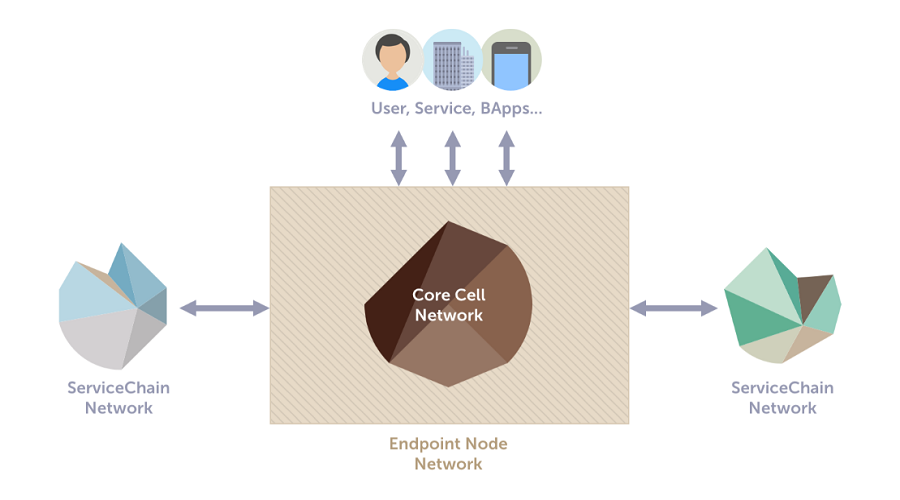 The Consensus Node (CN) is randomly selected to act as the block producer, while users can connect to the network and participate as a Rangers Node (RN) tasked with verifying the blocks produced by the CN.
By utilizing a hybrid of consensus mechanisms between centralized nodes (CN) and decentralized nodes (RN), Klaytn's network has achieved an impressive level of scalability. Consequently, Klaytn is able to process 3000 transactions per second, which is 150 times faster than Ethereum and almost twice as fast as Visa. This remarkable achievement is a testament to Klaytn's ability to provide a fast and reliable network for its users.
The network connectivity diagram for the project is presented below
A committee of industry experts will be responsible for approving newly generated blocks, and the said block will be endorsed if two-thirds of the nodes concur.
By means of publicly available information, both end-users and manufacturers can verify the creation of blocks. As the network expands, this leads to the absence of limited imperfections. As a result, transactions are completed immediately.
In order for a proposed block to be accepted, it must receive at least 2/3 signatures from the committee members. Once a consensus is reached, the new block will be sent to all nodes and the consensus round will end. The newly created block will then be born. Through this method, Klaytn has effectively resolved the issue of blockchain fragmentation present in current systems.
The project details on Klaytn, alongside the KLAY Token
Key Metrics KLAY
Token Name: Klaytn.
Ticker: KLAY.
Blockchain: Klaytn Service Chain (EVM Compatible).
Fungible Token Standard: KIP-7.
Non-fungible Token Standard: KIP-17.
Consensus: Proof of Contribution.
Token Type: Utility & Governance.
Total Supply: 10,602,731,555 KLAY.
Circulating Supply: 2,476,554,233 KLAY.
KLAY Token Allocation
The total number of KLAY tokens shall be allocated in the following manner:
Protocol Reserves: 53% – 5,619,598,369 KLAY.
Private Sale: 18% – 1,908,542,842 KLAY.
Business Development: 16% – 1,696,482,526 KLAY.
R&D and Technology: 8% – 848,241,263 KLAY.
Team: 5% – 530,150,789 KLAY.
KLAY Token Sale
Klaytn has conducted three phases of KLAY token sales in the past, but the statistics are only available from 2019 onwards and Klaytn has made changes to the allocation for each phase. Thus, there is no accurate information regarding the quantity of KLAY tokens sold in each phase.
Private sale 1 (12/2018): $0.03/KLAY.
Private sale 2 (4/2019): $0.08/KLAY.
Upbit Auction (9/2019): $0.15/KLAY.
KLAY Token Release Schedule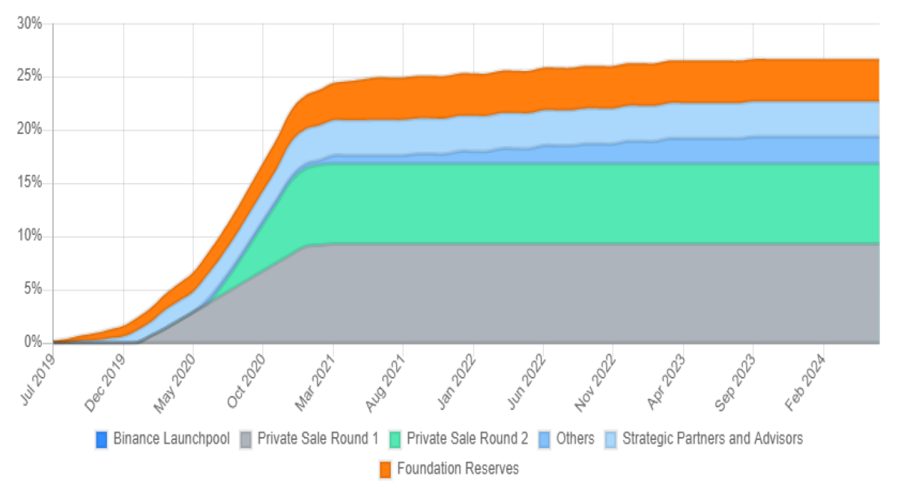 During the Mainnet launch, the KLAY token will be minted at a rate of 9.6 KLAY/block, a figure that takes into account a 3% annual inflation rate, which amounts to approximately 300 million KLAY out of the initial supply of 10 billion KLAY.
The quantity of KLAY that is minted can be adjusted through the Klaytn Governance Process. Provided that the current pace and quantity of releases remain unchanged, the total supply of Klaytn will be fully unlocked by June 2024.
KLAY Token Use Case
The KLAY token shall serve as the native token for the Klaytn blockchain and shall entail the following applications:
Network Utilization: KLAY can be utilized as a payment method and transaction confirmation fee on the Ethereum blockchain, in similar fashion to ETH.
DeFi Protocol: Various applications including KLAYswap, KLAYstation, and KLAT Staking are utilized within the DeFi ecosystem of the Klaytn blockchain.
Minting NFTs: KLAY can be utilized for the purpose of minting NFTs.
How to earn and own KLAY Token
At present, KLAY can be purchased directly from leading exchange platforms such as Binance, Okex, Coinone, Gate, MXC, among others, by interested parties.
Klaytn Ecosystem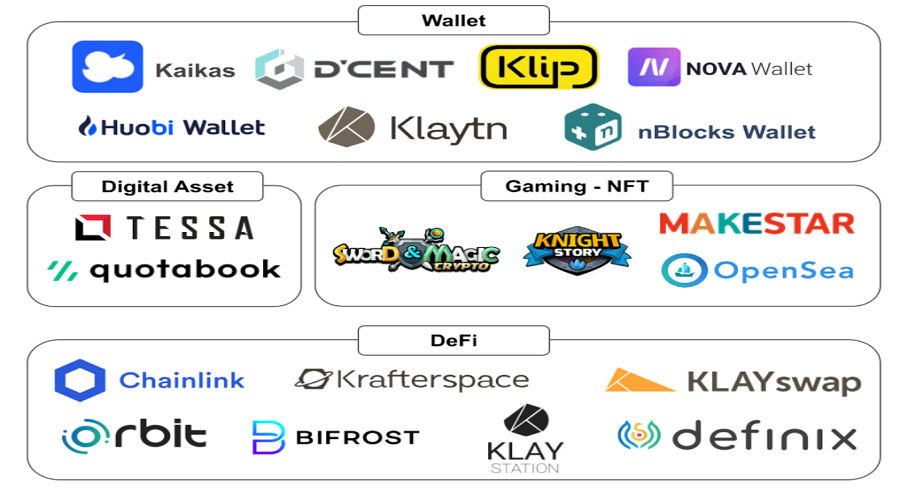 Overall, the Klaytn ecosystem is still lacking a significant number of projects. Despite organizing a competition to attract developers, Klaytn's appeal fell short, resulting in many projects halting their operations.
The ongoing projects primarily consist of those that are either developed by the core development team of Klaytn or backed by Klaytn itself. This information is presented in a formal and informative tone.
Roadmaps & Updates
2019 – Infrastructure
Building blockchain infrastructure.
Develop a toolkit for developers to use.
Build a network with applications that have many users in many different fields such as gaming, healthcare, entertainment, finance, …
2020 – Users
Extend user files through partner applications.
Improved stability and interoperability of dApps.
Encourage developers to develop dApps on the Klaytn blockchain.
2021 – Klaytn World
Klaytn officially launched Mainstream.
Enhanced performance, scalability, and security.
Project team, investors, partners
Development team and advisor
Presently, Klaytn is being constructed and developed by the Klaytn Foundation, which comprises of members who possess substantial experience in the field of technology and blockchain.
Sangmin Seo (Director of Klaytn Foundation): The individual holds a Ph.D. from Seoul National University and has extensive experience working in the field of technology for large companies and organizations including Samsung, ManyCoreSoft, and the U.S. National Argonne Laboratory. Currently, they serve as both the Chief Technology Officer and Chief Product Officer at Ground X.
David Shin (Global Adoption): The individual in question possesses extensive years of experience in management, consulting, and business, having worked with numerous reputable organizations and large companies such as Manulife Financial, IBM Canada, Morgan Stanley Japan, Standard Chartered Bank, Barclays Investment Bank, Tezos Foundation, and TZ APAC.
Younho Lee (Leader of Strategy and Investment): Before joining Ground X alongside Klaytn, Anh previously held the position of Investment Director at Lindeman Asia Investment and Huobi Korea.
Junghyun Kim (Core Development Team Leader): Prior to joining the Klaytn Foundation, Anh possessed several years of valuable experience as a senior software engineer at two leading technology companies, namely Samsung and Ground X.
Terry Wilkinson (Ecosystem Development Lead): The individual is currently serving as the Founder and CEO of two technology companies, Polytree and Anchor Value. Prior to this, he worked as an engineer, team leader, and Director of Blockchain Development at iSTOX, Finterra Technologies, and Asset Exchange YOSEMITE.
Neo C.K. Yiu (Technology Advocacy Team Leader): With several years of experience as a software engineer, consultant, and technology director for esteemed establishments such as Oxford Blockchain Society, BCG Digital Ventures, Krust Universe, and De Beers Group, Anh has an extensive professional background in the industry.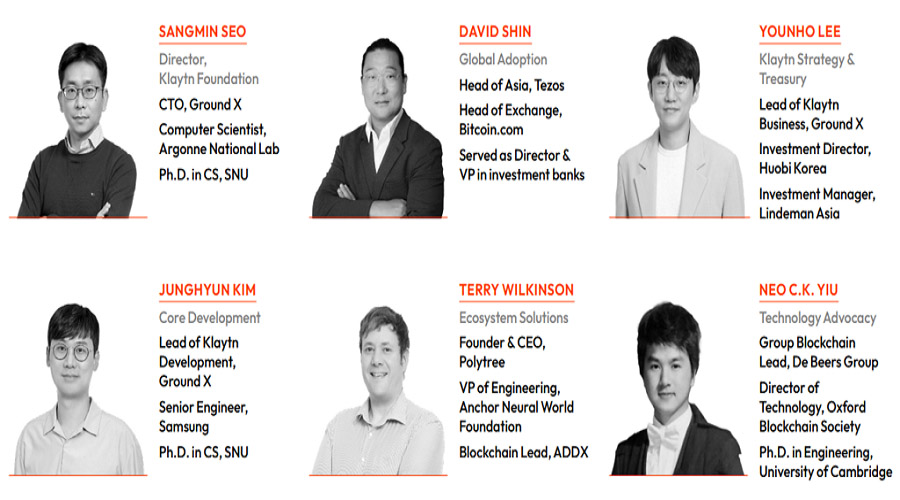 Investors
At present, Klaytn has not disclosed the specific individuals who have invested in the project. However, it is possible that in order to become a member of Klaytn's board of directors, they may have invested a portion of funds into the project. One notable example is Hashed, an investment fund that has invested in Klaytn and subsequently joined the project's board of directors.
Partner
Thanks to the support of its parent company, KAKAO Group, the project has collaborated with several prominent players in the entertainment and service industry.
In May 2018, the Cosmochain platform project entered into a collaboration with Klaytn with the objective of integrating blockchain technology into its ecosystem. This strategic partnership was initiated to enhance the functionality and security of the platform while augmenting its overall capabilities.
It has been announced by Terra, a stablecoin platform, that they have partnered with Klaytn in an effort to implement blockchain applications in e-commerce.
On June 27, 2019, the project established a multinational coalition of businesses and organizations known as the "Klaytn Governance Council" to oversee platform management, coordinate node operations, and promote ecosystem growth.
Within the alliance, prominent corporations that can be mentioned include:
LG Electronics (subsidiary of the famous Korean electronics group LG).
PUBG game studio (available in over 150 countries, over 400 million players).
Biopharmaceutical company Celltrion (2nd company capitalization in Korea).
In addition, there are Netmarble (the largest game company in Korea), Union Bank (the largest bank in the Philippines).
Furthermore, subsequent to the launch of Klaytn's Mainnet in July, the project has collaborated to facilitate the development of nine other Blockchain projects, with the most notable being:
HintChain – food data marketplace;
Antube – video entertainment service;
Pibble – image SNS service.
Moreover, the project has effectively collaborated with 34 service providers and 4 security companies, aiming to ensure the stability of the network. This effort aims to deliver the optimal Blockchain experience to the users.