OpenSea is a state-of-the-art tool that caters to the new demand of humans in today's era, which involves the buying and selling of NFT products. For those who are not yet familiar with OpenSea, this informative article offers detailed clarification about its functionalities and features, including how to earn money through its platform.
What is OpenSea?
OpenSea functions as a trading platform for non-fungible tokens (NFTs). It facilitates the listing, exchange, and trading of NFT assets through blockchain technology-based smart contracts, empowering users to transact seamlessly on the platform.
Through OpenSea, users can participate in trading, buying, and selling a variety of collectible NFT items, ranging from in-game items and characters to artistic videos and other unique items. Many well-known artists around the world, including Lupe Fiasco, Kevin Kelly, and Xèo Chu, a Vietnamese artist, have earned up to $23,000 from selling their NFT artworks.
The design and development of OpenSea align closely with current market trends, resulting in a significant liquidity pool for both crypto and non-crypto NFTs.
One notable feature of OpenSea
The transactions will be manifested in the form of smart contracts, obviating the need for intermediaries.
Limit exchange risks because assets will be stored directly on the user's wallet.
Users can fully own NFTs purchased on OpenSea.
Feel free to create and NFTs are also recognized by auctions on the exchange.
Free transactions, no constraints and reasonable fees.
Instructions on utilizing the OpenSea platform
In order to engage in trading on the OpenSea platform, the primary requirement is the possession of a digital wallet such as Metamask or Coinbase Wallet, which serves the purpose of connecting to the payment gateway for transactions, and also facilitates the receipt of other trades.
Step 1: Connect the wallet to OpenSea
Please visit the website: https://opensea.io/
Method 1: Click "Create" → "Use a different wallet"
Method 2: Or you can directly access the wallet icon on the right corner of the interface screen
Note: To use OpenSea, you need to deposit some ETH into your wallet before trading.
Step 2: Create Collections and add NFTs
The term "My Collections" refers to the user's personal collection, which serves as a storage hub for NFTs that are either intended for sale or for collection purposes. In order to establish a Collection, individuals may consult the following steps:
Upon clicking "Create" and selecting "Create a collection", OpenSea will present a selection of NFT creation tools, such as Rarible, MintBase, Cargo, Mintable, and Zora for consideration.
Within "My Collections", one has the ability to generate one or multiple compilations to archive NFTs. In this instance, a personal compilation entitled "Men with coins" has already been devised. To include an NFT, please select "Add Item".
The interface of the item will be displayed as follows, where the user needs to fill in the necessary information and subsequently select the "Create" option to successfully generate the NFT.
Step 3: Set up selling price for NFTs
After creating an NFT, select the "Sell" option on the user interface and then "Connect Wallet" to set the price for your NFT in a technically precise and formal manner.
Note: In this step, please switch the network on the wallet to the Ethereum network and adjust the price for NFT.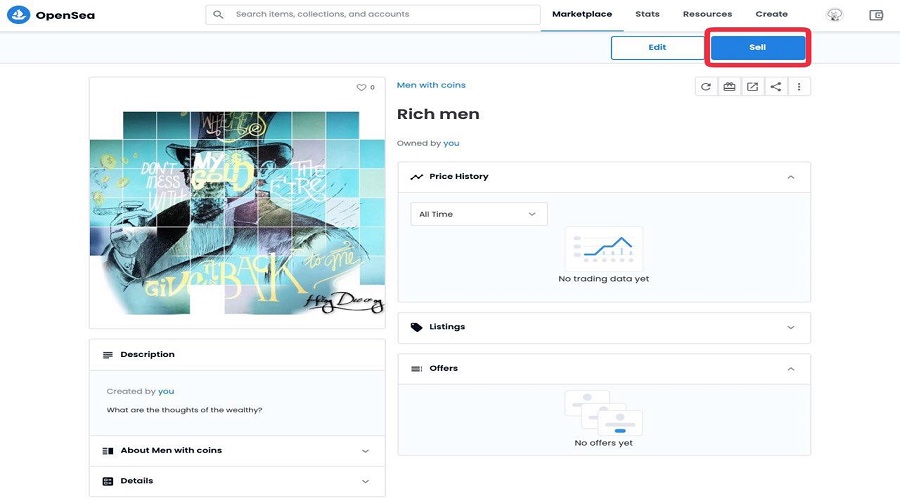 Set the price for the NFT and click "Post your listing"
Subsequently, the Metamask wallet interface shall be presented to debit the listing fee (a discount of 2.5% on NFTs). Press the "Confirm" button to validate the payment transaction.
If you have many NFTs, you can add them according to the above steps, then the Collections interface will display as follows: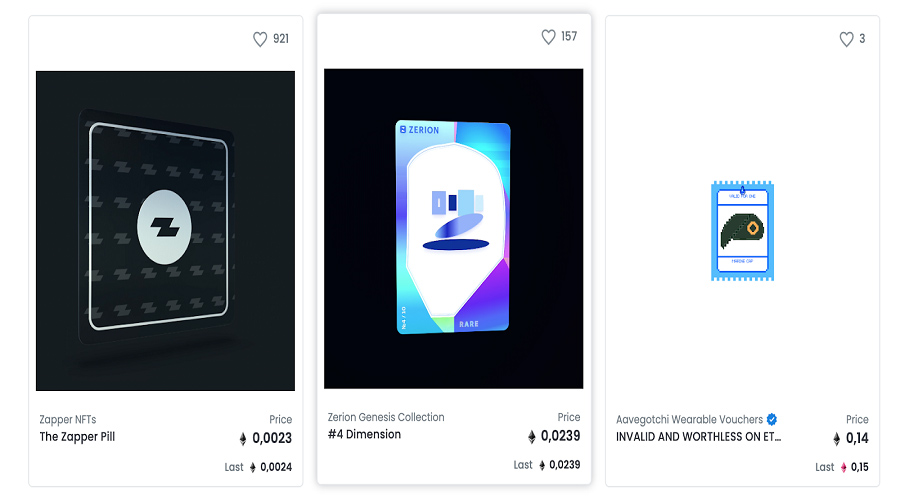 Note: For each NFT, you can customize the price you want & time the Gwei gas accordingly so you don't have to spend too much on listing fees.
Summary
It has been brought to my attention that OpenSea is a highly sought-after Marketplace for trading NFTs due to its favorable features. Although the cost of listing may be relatively high, the platform remains promising as the NFT trend is still in its early stages with much potential to explore. As more NFT projects are launched, marketplaces like OpenSea are anticipated to become the center of monetary transactions.
Besides, experiencing with OpenSea can potentially provide retroactive rewards in the future for those who enjoy NFTs. If you are interested in this field, we recommend trying out the products. If you have any questions or opinions, please feel free to comment below for discussions with our admins and other members.